Kindness ROCKS!!!!
Come join us for a day of FREE painting fun with this special community event, promoting kindness and positivity!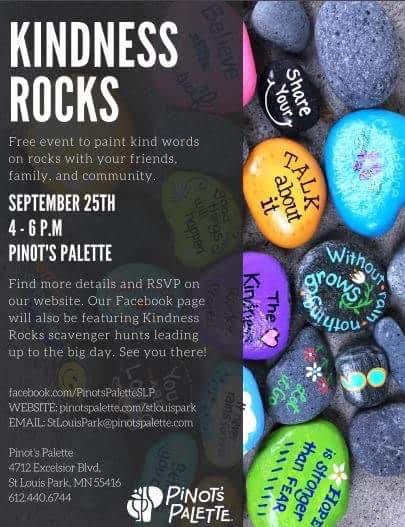 One message, at just the right moment, can change someone's entire day, outlook, and even their life. You've likely seen social media posts and photos about some of these lovely rocks!!!
On September 25, we're hosting a rock painting event for the public! We're big believers in the contagiousness of positivity and want to help spread it around! We hope you'll join us! Bring friends and family out to paint some colorful, inspirational rocks with you, for a unique and fun day out! We offer various events through our, 'Painting It Forward' program. We try to use painting classes as a fun way to raise money for nonprofit and community programs.
*Call or email us for more information about these classes.
Once you've created your rock, take it and hide it somewhere unexpected for someone to find. It will likely make their entire day and possibly serve as a sign they've been looking for. We will be providing all of the rocks and painting supplies. As stated, the event is free, but we'll be collecting $5 at the door for our charity partner (and neighbor), 'Wayside Recovery Center'
(*Read more about this organization here):
http://waysi...recovery.org/
***Be sure to register on the link, below, as seats will fill up quickly.
***ALSO: Be sure to follow us on Facebook for more information about the event, as well as info about our KINDNESS ROCKS SCAVENGER HUNT!!!
Facebook:
https://m.fa...tsPaletteSLP/
We hope to see you on September 25, from 4-6pm!!! You're sure to enjoy getting creative and painting a beautiful rock. We think you'll get a lot out of it, and you'll certainly be giving someone else the chance to get something out of it, as well!
_____________________________________________________________________________________________________
What is the 'Kindness Rocks Project'???
Goal #1: Inspire others through randomly placed rocks along the way
Goal #2: Recruit every person who stumbles upon them, to join in the pursuit of inspiring others through random acts of kindness
The woman who started the project, would walk on the beach and use the time and scenery to think. During stressful times, she would find herself looking for signs on her walks. She would hope to see a heart shaped rock or piece of sea glass; she would perceive these beautiful treasures as a divine message and the inspiration she needed to signify that things would be ok.
What began with one woman, dropping a few rocks, has turned into a worldwide movement! These incredible 'Kindness Rocks' reach as far as Canada, Australia, New Zealand, Germany, Ireland, Thailand, Haiti, Italy, and England!!
(*Read all about the movement here):
http://theki...sproject.com/
An inspirational (short) video about the project:
https://yout...e/e_iBnQ19Yhs
Share Sign up for the FREE rock painting event | View our entire calendar