What's The Best Way To Make The Most Out Of The New Year?
What Is The Best Way To Keep Your Resolutions And Make The Most Out Of The New Year?!
A VISION BOARD!!!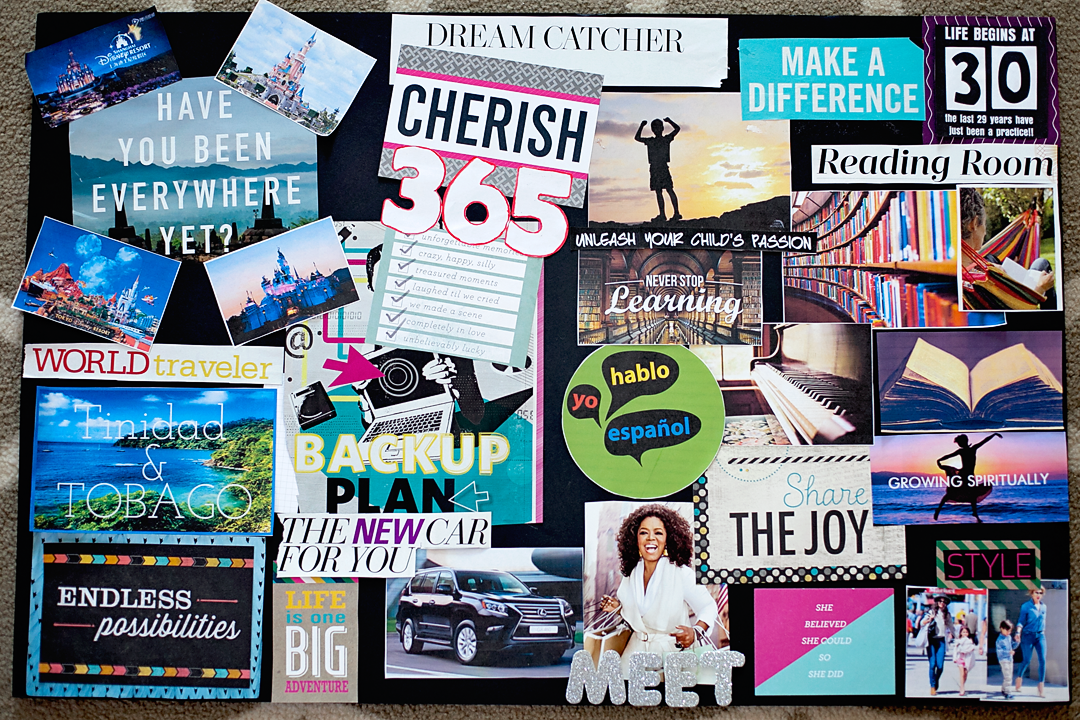 "New year, new you"…. It's something we've all, undoubtedly, heard, many times throughout our lives. Of course, it tends to be this time of year when we hear it, most.
The beginning of a new year is a wonderful feeling for so many people. It's the idea of a fresh start, making changes to yourself and your life, and having a whole 365 days ahead of you to make those changes and see where you'll be in one year. This time of year is always nice to evaluate yourself and where you are in life…. and where you want to be. Whether you make lists, silently make promises to yourself, or post on Social Media for everyone to hold you to it, you likely have some sort of resolutions to start the year off, right.
While any way that works for you is perfectly fine, in correlation to your visions, dreams, and goals, we'd like to offer an additional tactic for taking on your "new life". By creating a visual reference of your hopes and dreams, for you to see everyday, you will be more likely to achieve what you're after.
Making a VISION BOARD is an effective and creative way to see, live, and reach your goals!
"Also known as dream boards, these simple devices are one of the most valuable visualization tools available to you. The inspirational collages serve as your image of the future - a tangible example, idea or representation of where you are going. They should represent your dreams, your goals, and your ideal life. By representing your goals with pictures and images you will actually strengthen and stimulate your emotions because your mind responds strongly to visual stimulation...  and your emotions are the vibrational energy that activates the Law of Attraction. The saying "A picture is worth a thousand words," certainly holds true here."
**************************************************************************************************************
ALL ABOUT CREATING YOUR BOARD!!!!
(1) What's the best way to create your board?
*Fill it with anything that inspires and motivates you!
The purpose of your vision board is to bring everything on it to life. Start by thinking about what your goals are in the following areas: relationships, career and finances, home, travel, personal growth (including spirituality, social life, education) and health.
You don't have to cover each area the same way, just take a mental inventory of what you want each of them to look like and write them down.
*Always handwrite your goals instead of typing them, there's something energetic about actually handwriting your goals. From your goals and aspirations, think about what you want on your vision board. You'll be amazed at how things just start popping up all over the place once you set the intention for what you want and how you want to feel.
*You can add to or re-do your vision board, whenever it feels right. You can always leave blank space on your vision board so you can accept new things as they appear in your life, and add and rearrange during the year when you feel it.
Then, at the start or each new year, you can give the board a total refresh to get clear about what you want in the new year, ahead. Some things can stay and some have served their purpose, so they don't make the cut.
(2) What will you need to make your board?
* Any kind of board, if you're new maybe start with a cork board or poster board from the hardware store, they run about a dollar. Try to find a bulletin board or something pretty you like to look at! Remember to have fun with your design!
* Scissors, tape, pins, and/or a glue-stick to put your board together.
* Magazines that you can cut images and quotes from or sites like 'Pinterest' to gather images or quotes from and handwrite them on your own or print them out
* (Optional): fun markers, stickers, or anything else you can think of to deck out your board.
**Most importantly, the stuff you want to look at every day. Photos, quotes, sayings, images of places you want to go, reminders of events, places, or people, postcards from friends and just about anything that will inspire you.
* Be sure to give yourself time to create the special board. Enjoy putting your creativity and heart into this emotional and inspirational project. Use a quite and special time, find the perfect place, and commit to making this something truly yours!
(3) Tips for making your board:
Set the mood!! Turn the TV off, turn on some relaxing music., light a candle, and clear your space.
When it comes to actually putting your stuff on the board, it's good to leave space in between each item because clutter can cloud the mind. However, while some may love (and need) that space, others may love the feeling of closeness and want everything to touch and overlap; If this is the case, then feel free to huddle it all together and overlap your objects. As for choosing what makes the final cut, lay everything out before you start finalizing your items on the board so you can get an idea of where you want everything!
**************************************************************************************************************
For many people, trying new things and having new experiences is their top resolution for the new year! Why not make Pinot's Palette, St. Louis Park, the ultimate new experience?!
We're designed for the first-timers (though, anyone at any skill level will enjoy our classes), so don't worry about not being able to paint! That's what we're here for! We offer 2-3 hour painting classes where one of our talented instructors will walk you through a painting, step by step. We're available for all ages, provide you with all the supplies you'll need, offer wine and beer, and always have some great playlists, full of excellent music during class!
We constantly offer a wide variety of paintings, but be sure to view some of our upcoming classes ASAP! We'll have winter scenes and football themes throughout January, followed by some great Valentine's (and ) Day classes! Remember to keep us in mind for a unique date night this Valentine's season, or even as a great gift idea! Come in and create a handmade masterpiece for your Valentine or gift them with a Pinot's Palette gift certificate!
(Purchase a gift certificate here):
https://www....-certificates
If you live in St. Louis Park, Edina, Bloomington, Minneapolis, Minnetonka or other surrounding suburbs, we hope you'll joins us for a class in our studio! Bring the whole family out to join in the fun with you, making it a perfect way to spend time with loved ones in a unique and creative environment!
If you have any further questions call us at 612.440.6744 or email stlouispark@pinotspalette.com.
"I have been to Pinot's Palette many times with friends and my 11-year-old daughter and have had so much fun every time. Recently we had my daughter's birthday party there and it was just as fun - loved every minute. I highly recommend PP for a night out with friends, time with kids, date night, or private parties."
-Kristen B.
Share https://www.youtube.com/watch?v=ThiMg33aIow | https://www.pinotspalette.com/stlouispark