We're Geeking Out About 'May The Fourth'!! How Will YOU Spend This Special Day?
In celebration of this amazing holiday, we're offering some classes that'll get you in the mood to honor a galaxy, far, far away (and all other geeky, awesome things)!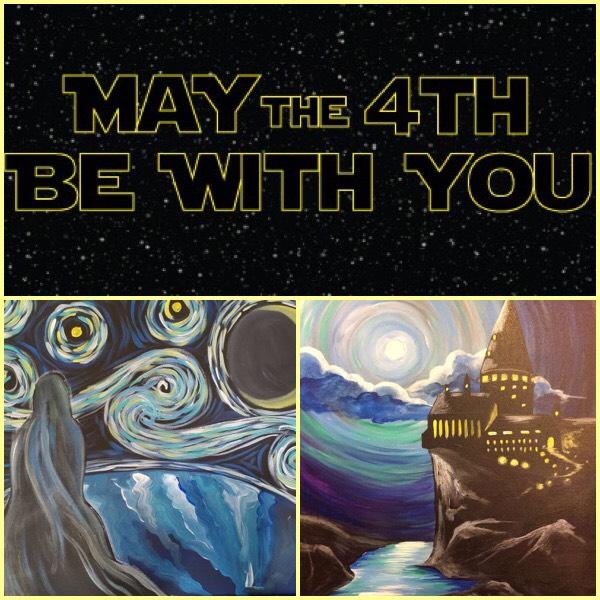 Pinot's Palette, St. Louis Park, is fully ready to celebrate this fantastically-amazing holiday with all of our customers! We know so many of you, like us, are big fans of fantasy and sci fi books & movies, whether they're old or new. They introduce us to a world that we would have never known, leading us to thrilling and intriguing storylines and characters! First (publicly) used in 1979, the term, 'May The Fourth' has been observed in various ways by people all over the world, delighting in the unique and fun "holiday" connecting them with some of the most known, watched, and quoted movies of all time: 'Star Wars'.
CLASS 1
If Jedis and Death Stars are your thing, we're offering a class on Wednesday, May 2nd (7-9pm), title, 'Starry Night Galaxy'. This is a Van Gogh inspired painting, model after 'The Starry Night', van Gogh's most recognized (and duplicated), work of art. This fun and whimsical painting consists of quick and easy-to-make brushstrokes, muted colors, and a modern (feeling) style. Fun to make and super easy for first-timers, this painting will look gorgeous in any room, and is the perfect, modern mash-up of both, a world-renowned painting AND movie, which are equally timeless and classic.
CLASS 2
If you're looking to join us on Friday, May 4th (6:30-9:30pm), we'll be offering another one of our most popular paintings, titled, 'The Painting That Must Not Be Named'. If you're a fan of this infamous book/movie series, you can undoubtedly guess what this painting's theme is… Potter fans, unite! While this painting is a 3 hour class, consisting of more detail than our Van Gogh painting on 5/2, our talented instructor (and amazing assists) will walk you through this painting, step by step, helping with anything you may need, throughout the whole class, so have NO fear!!! In the past, when we've taught this painting, we've seen some of our guests come in, dressed in their favorite wizard wardrobes, adding an extra layer of fun and excitement to the evening… so feel free to let your geek-flag, fly!
Coming to a Pinot's Palette class is amazing because you'll be spending time in a fun and creative environment, hanging out with friends and family while sipping wine, listening to music, and making two things that you'll treasure forever: A handmade work of art… And memories.
In addition to our painting and wine classes, there are other way to celebrate this special day in May. While there's a full list, provided below from 'Star Wars.com', we wanted to suggest 3 of our favorite ideas of ways to spend 'May The Fourth':
1-Dress up!
Wearing some form of costume for special occasions is so much fun, and May the 4th is no different. Wearing anything from your favorite Star Wars t-shirt to full-on stormtrooper gear is completely acceptable. There's no need to limit your love for all things 'Star Wars' (or Harry Potter, Star Trek, etc…) to Halloween when there's whole day, set aside for everyone who loves the movie franchise, just as much as you!
2- Movie Marathon!
Have a Star Wars movie marathon with friends and family! Where do you start? The Phantom Menace seems logical, but maybe a mini-marathon of Rogue One and A New Hope would provide just enough Star Wars for an evening. Do you mix in some episodes of Star Wars Rebels? Perhaps the 'Family Guy' versions OR some funny YouTube fan videos. It's your day, so decide yourself you must. Whether you're hosting the marathon or attending one, be sure to have some super fun foods that fit perfectly with the theme of the day!
Get some recipes, here:
http://www.s...-wars-recipes
3- Play games!
Battle it out in some lightsaber fights with friends, talk like Yoda the entire day, play trivia games with you friends, or even play the 'Star Wars' themed monoplogy game! Have some friends over for a themed party, check your local bars to see if there are trivia nights for this holiday, or just do an internet search for what's going on around your area May 4th (or the weekend, following). (*Many local theaters will put the movies back on the big screen for this holiday, as well).
Monopoly:
https://www....wl13=&veh=sem
Light sabers:
https://www....=light+sabers
**MORE FUN!!!
Even more, amazing ways to spend May The Fourth:
http://www.s...e-may-the-4th
**About May the 4th:
How this date became a sacred day for Star Wars fans
https://www....ry-definition
If you're super excited about attending one of our fabulous classes but don't want to wait until May to come paint with us, here's the link to view our full, current calendar! You'll be able to see all of the amazing class dates, times, and paintings we're offering throughout all of March and April, as well as sign up for them! Remember to invite all of your loved ones along for a night out that you'll never forget! If you're looking for something fun to do around the area, come in for a date night, girls' night out, private event, and more, at Pinot's Palette, St. Louis Park! We're especially perfect for those that live in (or are visiting) St. Louis Park, Edina, Bloomington, The Twin Cities, Minneapolis, Minnetonka or other surrounding suburbs, so come on in to paint, drink, and have fun!
**See more, amazing painting on our full calendar:
https://www....ispark/events
"My husband and I had such a great time painting and meeting new people. Jessica, the artist, was awesome! I definitely recommend it if you're looking for a fun, interactive and all around good time."
-Rosa C.
(satisfied customer)
Share Sign up for 'Starry Night Galaxy' | Sign up for 'The Painting That Must Not Be Named'
Enter your contact info and request details below, and we will contact you with details about your private party!