Ways painting will improve your health and make you happier!
We have some great news! Painting actually can lead to Mindfulness in your life!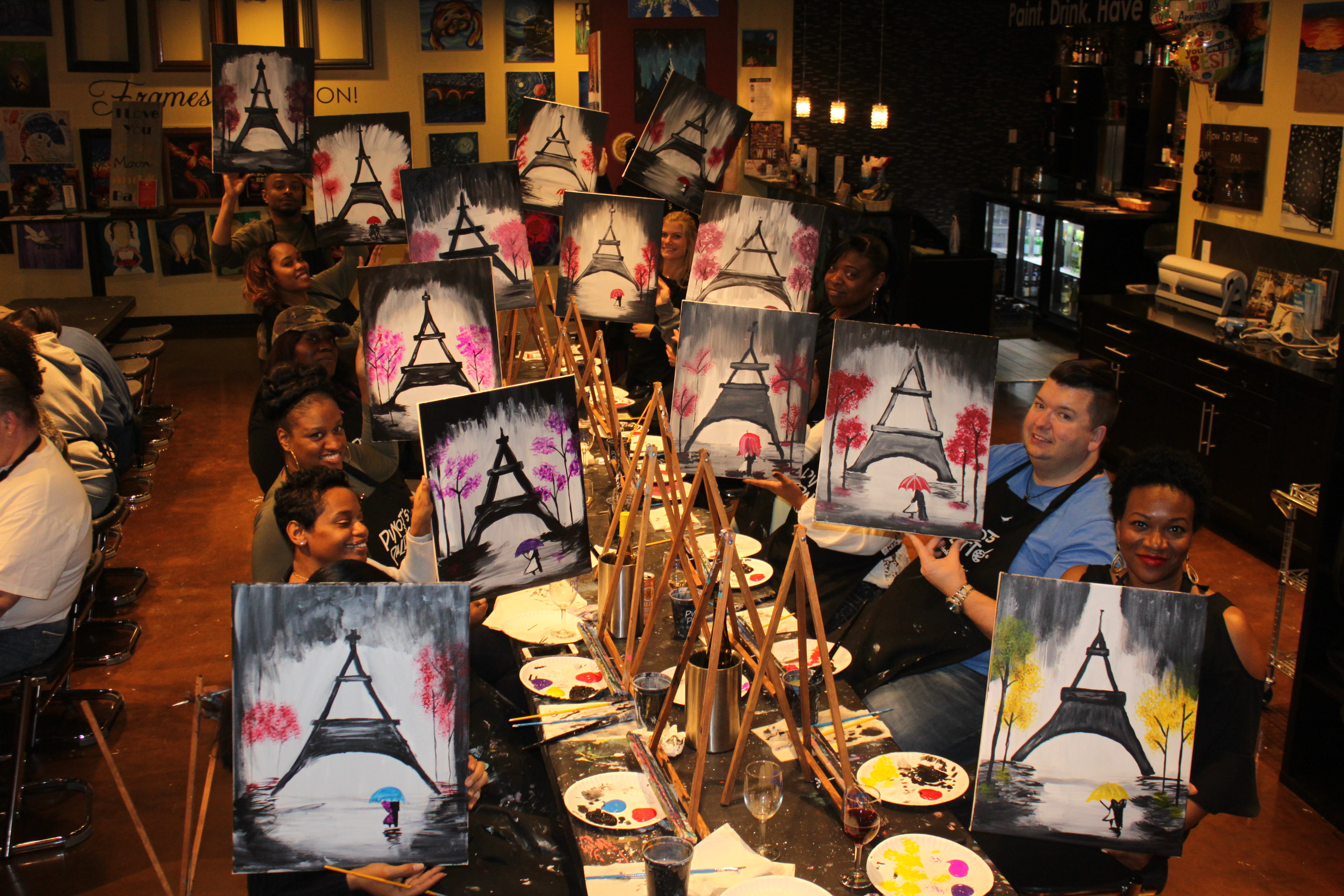 A lot of people think "I can't paint!", but you would be surprised what a little guidance and support could unfold in yourself! Painting is something that can be an experience, can be fun! Creativity is a great and effective way to stimulate the brain, and anyone can do it. We have compiled five ways in which painting at Pinot's Palette St. Louis park can make you healthier and happier.
1. Stress Reduction
Picking up the brush has been proven to reduce stress levels and gives you a positive mindset, builds confidence in yourself! It can be a great outlet for pressing "pause" on your worries for a while and just let yourself enter a mindful state of "Ahhhh!" Being a therapeutic exercise, it lets the mind focus on images at hand and nothing else. The focus towards one central task can relieve stress and help the body become at ease.
2. Feeling accomplished
Many who would consider themselves "not artistic" would be surprised at how completing a painting can cultivate a feeling of accomplishment and boosted self-esteem. When we have a higher self-esteem, we are more motivated and confident to tackle challenges we are faced with!
3. Boost your critical thinking skills
Although at Pinot's Palette we take care of all the details, we also encourage you to express your individual creativity. You can mix it up a bit and paint with different brushes and colors. You can even be a rebel and create whatever strikes your mood! Many have even taken to painting as a hobby outside our studio. Choosing which image to paint, brush to use, and colors to mix could help you become more decisive. Identifying an image and working towards completing the painting of your imagination presents you with an opportunity to continue making decisions as you continue towards your goal. All, of course, while having fun!
Concentrating on your composition or even just having a keen attention to detail with your painting builds essential skills. Painting sharpens your fine motor skills from very broad backgrounds to very fine details; practicing with painting makes your hand- eye coordination better and boosts motor skills.
4. Medium of healing and non-verbal communication.
At times, our thoughts and feelings can become difficult to express with language. Painting is a way of communicating and expressing yourself visually through your canvas. The colors could correspond to your mood. The breadth and intensity of your brush strokes could express emotion and your mood. The images that form on your canvas could help you identify what you may be working through. Art therapy is a very effective way of healing for many.
So, with this we say join us! At Pinot's Palette we strive to give you a couple hours out of your day to escape, be with those you care about and paint, drink, and have fun! Sign up today and experience a night of relaxed good times!
"1st Time I've ever painted something. Quite pleased with the outcome of the painting" - Tanya Mueller