Headline: The secret 71 million people know
Pinot's Palette and pets have more in common than you might think. In broad terms, they both make us happy, albeit in different ways. For Pinot's Palette St. Louis Park, the answer is easy: our unique paint and sip studio offers a fun experience that combines good food, good friends, and fine wine. But for the estimated 71 million American pet owners, "they just do" is often their first and only answer.
On June 26, our paint and sip studio is offering a unique opportunity for Twin Cities pet owners to honor their friends - furry, feathered, or finned - by painting a canvas with their image. But first, let's dig into why our pets make us happy.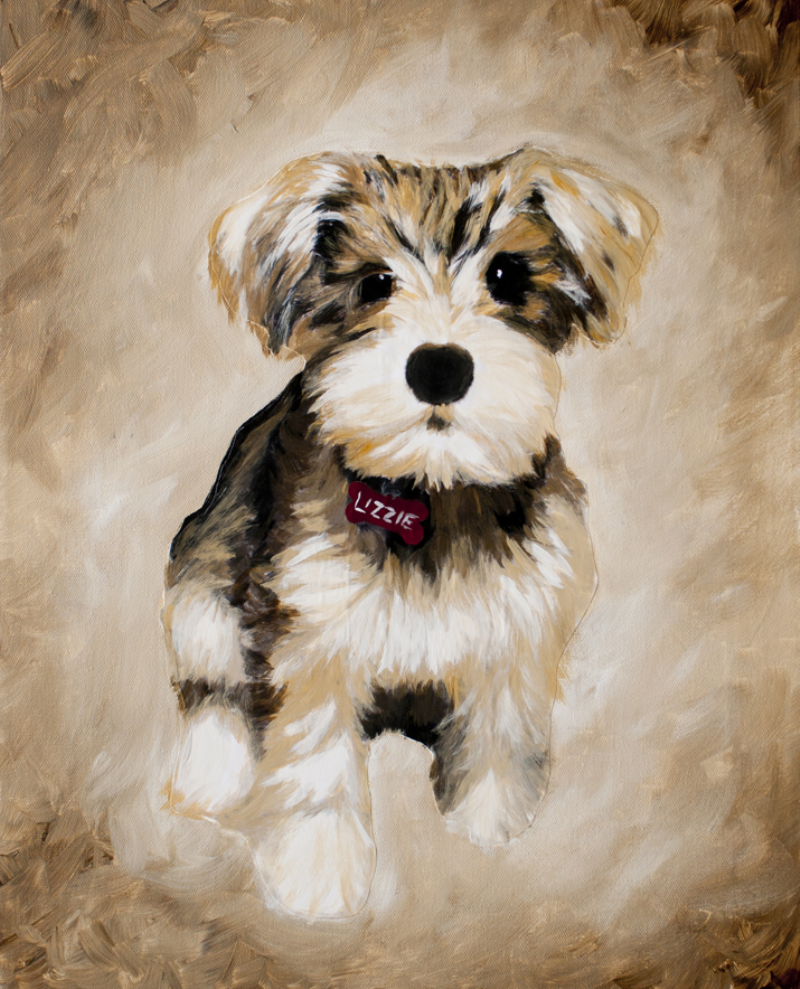 Pets: low stress; high reward
According to the National Center for Health Research, the social support pets give us is akin to unconditional love. While social support comes from humans as well, even the best relationships have their stressful moments. For example, mother-child relationships are often spotted with a few stressful moments, despite mom's position as the ultimate granter of unconditional love. In contrast, relationships with our pets are largely stress-free. The daily chores of walking, feeding, and caring for our pets add meaning to our lives which boosts our feelings of self-worth. In return, our pets give us truly unconditional love, a condition that can also be linked to higher levels of confidence and self esteem.
Pets create happiness through chemistry
Rebecca Johnson, director of the Research Center for Human-Animal Interaction at the University of Missouri College of Veterinary Medicine, is an expert in deciphering why pets make us happy. When discussing the topic, Johnson cites a Swedish study that found that simply looking at our pets increases levels of ocytocin, a chemical that helps our brains feel joy and happiness, and decreases levels of cortisol, a stress hormone. According to Johnson, these chemical reactions may help explain why animals – dogs, in particular – are often used to help veterans overcome post traumatic stress syndrome.
Pets bring us together
Pets also help us overcome feelings of isolation and loneliness. Pets create opportunities for us to talk with other people, which, according to several studies, may have a positive impact on our overall happiness. Taking your dog may for a walk can lead to chance encounters with fellow dog owners and dog lovers(called the magnet effect), while watching your cat dart through your apartment can be an easy icebreaker when entertaining guests (lovingly called the "isn't my cat crazy" effect).
Paint your pet
As we've shown above, pets and Pinot's Palette share many similarities in the ways they make us happy. Pets provide unconditional love, boost our mental health, and bring us closer to people. Similarly, Pinot's Palette provides the Twin Cities with a non-judgmental, sophisticated, creative experience that brings friends and family together for the ultimate pairing of painting and wine.
On Sunday, June 26, Pinot's Palette St. Louis Park is combining pets and painting in a unique, afternoon class where you can paint and sip while honoring your pet. Just sign up for our Project Pet class, email us a photo of your pet, and we'll help you paint a canvas with a custom portrait of your favorite animal. Come enjoy our selection of fine wines and tasty food while creating a cherished keepsake of your favorite animal friend. Sign up at
https://www..../event/103494
soon to ensure your place in this unique paint and sip event!