Whats All The Craze About Succulents?
What is all the craze about succulents? I mean you see them all over the place, in garden centers, grocery stores, everywhere! People are using them to decorate their homes, they are being used in weddings, and as garden décor. People of all ages are growing them and even people who have never gardened before.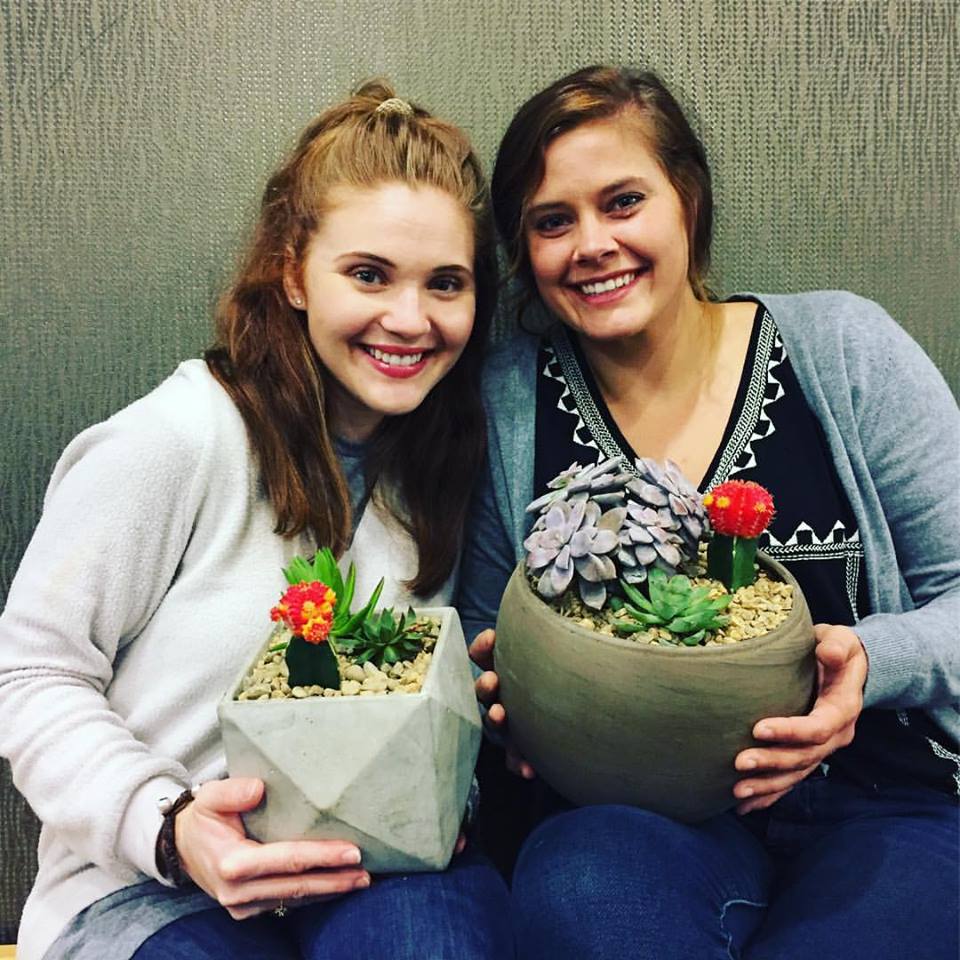 The two beauties in the picture above (the arrangements and the girls- one of which is a long time patron of Pinot's Palette Springdale) recently showed me their spectacular Succulent Container Gardens that they made at the Arkansas Flower and Garden show in Little Rock, which is the largest 3 day celebration of gardening in the state. I can see why people are drawn to them, they are beautiful, with lots of texture and colors - kind of like art.
With this newfound hobby came a lot of information jammed into one container! Pun intended! While planting succulents is pretty straightforward, there are a few things that will help ensure your new arrangement looks great and grows healthy. Here are a few tips:
1. Plant above the rim - If your soil is below the rim of the pot, water can easily pool up. The leaves inside the pot will quickly rot from the water and that can cause a host of problems for the rest of the plant.
2. Pack it tight, or not : - You can definitely plant succulents close together and they will be just fine. When succulents are close together they grow more slowly so they maintain the original design of the arrangement better. Just the opposite is also true, if you leave a little more space between your plants, they will grow a little quicker (although in general, they are pretty slow growers), and they will get bigger or reproduce on their own more easily.
3. Let succulents hang over the edge of your pot - This is more of a design tip rather than necessity for the health of your succulents. This just make s your arrangement more interesting.
4. Add some height Another design tip, if you are looking for a great way to make a statement this is a good place to start.
5.. Add a top dressing and use pot fee - Always finish up your arrangement by using a top dressing - which is just decorative rocks. This will make your design have a more professional look. Always be sure to use a pot with drainage holes, because no one likes soggy feet, and use pot feet to give your plants better airflow.
Whether you are an expert or just a beginner, succulent container gardens are another artful way to express yourself and your style!
Cheers!
Enter your contact info and request details below, and we will contact you with details about your private party!