Uncorking Arkansas' Wine Country
I was searching for the perfect weekend getaway, and came upon Arkansas- Trips and Trails guide. What a variety of things to do and see in this great natural state we live in! There were a few that really peaked my interest: The Wine Trail (who would have thought- ha), The Brewery Trail (we might have to do this one next week), and many, many more including a Cheese Dip Trail as long and wide as the state!!!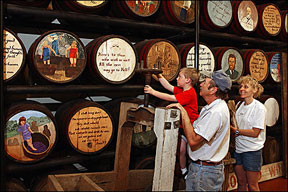 Starting off with my #1 is The Wine Trail. Each of Arkansas/s Wineries offers visitors a unique look at the process of grape growing and wine making. They all have a gift shop and /or tasting room and many offer tours of the winery, cellars, and/ or vineyards.
So where do I start? Can you tell I am getting giddy anticipating the weekend? Well, how about we start as close to home (Springdale) as possible.
Sassafras Springs Vineyard, Winery & Events Center – Springdale
Tontitown Winery – Tontitown
Keels Creek Winery – Eureka Springs
Railway Winery & Vineyards – Eureka Springs
BoBrook Farms LLC & River Bottom Winery – Roland
Cowie Wine Cellars & Vineyards - Paris (Extra excited about this one, they have a Gallery of Barrels, which features oil paintings on the barrel heads.)
Chateau Aux Arc Vineyards & Winery – Altus
Dionysus Wine & Brew LLC – Altus
Mount Bethel Winery – Altus
Post Winery - Altus
Neumeier Winery – Wiederkehr Village
Wiederkehr Wine Cellars, Inc. – Wiederkehr Village
Movie House Winery, LLC – Morrilton
An Enchanting Evening Small Farm Winery – Little Rock
Raimondo Winery – Mountain Home
Happy Trails! Cheers!
Enter your contact info and request details below, and we will contact you with details about your private party!