The Ultimate Thanksgiving Debate: Ham vs. Turkey
On Thanksgiving, do you prefer the slow roasted, juicy turkey that you spend hours brining and basting? or does your crowd want that sweet- savory holiday ham with brown sugar glaze?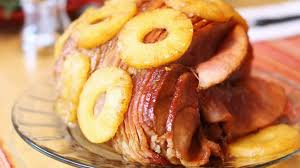 How do you decide? Do you weigh the turkey vs. ham nutrition debate - which is healthier? Do you ask yourself if you want turkey vs. ham sandwiches for an entire week after Thanksgiving? Well let me tell you how we decide - I can cook a ham! My family will tell you, "mom's turkey stinks", it doesn't actually smell, it's just as dry as dust - but hey, isn't that what gravy is for! They will tell you loudly and with much enthusiasm just how much they dislike my turkey cooking skills! I can cook; I just never cook a turkey. That's my cousin's job she does a great job at it, and it is always moist and juicy. So why mess with a good thing?
It's my turn this year, so at our house we are thankful for the Thanksgiving Ham. I usually make our ham adorned with pineapple rings and a brown sugar glaze and cook on a low temp for hours. The sweetness of the ham makes it perfect to pair with a wine that also has a touch of sweetness. According to the Bubbly Professor, don't worry about having sweet wines on the dinner table... the sweetness in the ham will make the wine taste dry. So... I'm pretty sure that this is one case (yes! pun intended) where the Moscato drinkers and the sweet wine lovers may just have an edge.
Whichever you prefer- Turkey or Ham, make sure to enjoy yourself, your family and friends, and the wine!
Cheers!
Enter your contact info and request details below, and we will contact you with details about your private party!