Color Your Front Porch with Mums
I love the cool evenings we've been having the past few days. Does that mean fall has arrived? I sure hope so, I am so ready! I am ready to pull out the sweat shirts, I am ready to toast marshmallows by the fire, I am ready to stop mowing, and I am ready for the leaves to change color! I am ready for mums on the front porch and I am ready for fall y'all!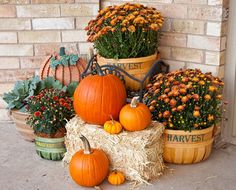 I love mums! They are a beautiful addition to any space. There Is such a variety of colors available (you know we love color around here), from vibrant yellow and oranges to reds and purples. They just seem to bring new life to any area, and I am so ready to perk up my front porch!
Here are a few fall decorating ideas to create a fall porch you can be proud of:
1. Start with a clean slate, in other words clean your porch! Remove all the stray pots, dead plants, etc. Take down any summer décor like flags or wreaths, that you are not going to re-use. Lastly make sure to sweep your porch, get all those summer cobwebs, and maybe hose it off. This will make such a big difference in the end.
2. Choose a single-color palette or a combination of 2 colors. Consider pairing yellow and red, or purple and yellow, yellow and orange, or orange and purple.
3. Buy your mums in odd numbers – 1,3,5, etc. This creates balance and interest to your arrangement.
4. Vary the looks amazing and gives your guests a warm welcome as they approach your house. Also, be sure to vary the heights of your planters, or stack them on boxes, small bales of hay, or other containers.
5. Mix in other fall decorations. Mix in some pumpkins or gourds into a group or arrangement on your porch. Look for unusual shapes and sizes to create interest.
Remember to have fun with whatever you are creating, and create something beautiful!
#BeBold, #HaveFunInSpringdale #BringOnFall #BringOnMums
Cheers!
Enter your contact info and request details below, and we will contact you with details about your private party!