10 Tips to Personalize Your Bedroom
When it comes to home décor, living rooms and dining rooms seem to get all the love. Well that's for good reason- they are the most seen and most used spaces in the home. But just because your bedroom gets a little less traffic doesn't mean it should be neglected in your decorating plans. Here are 10 ways to personalize your bedroom so it's a place you will want to spend more time.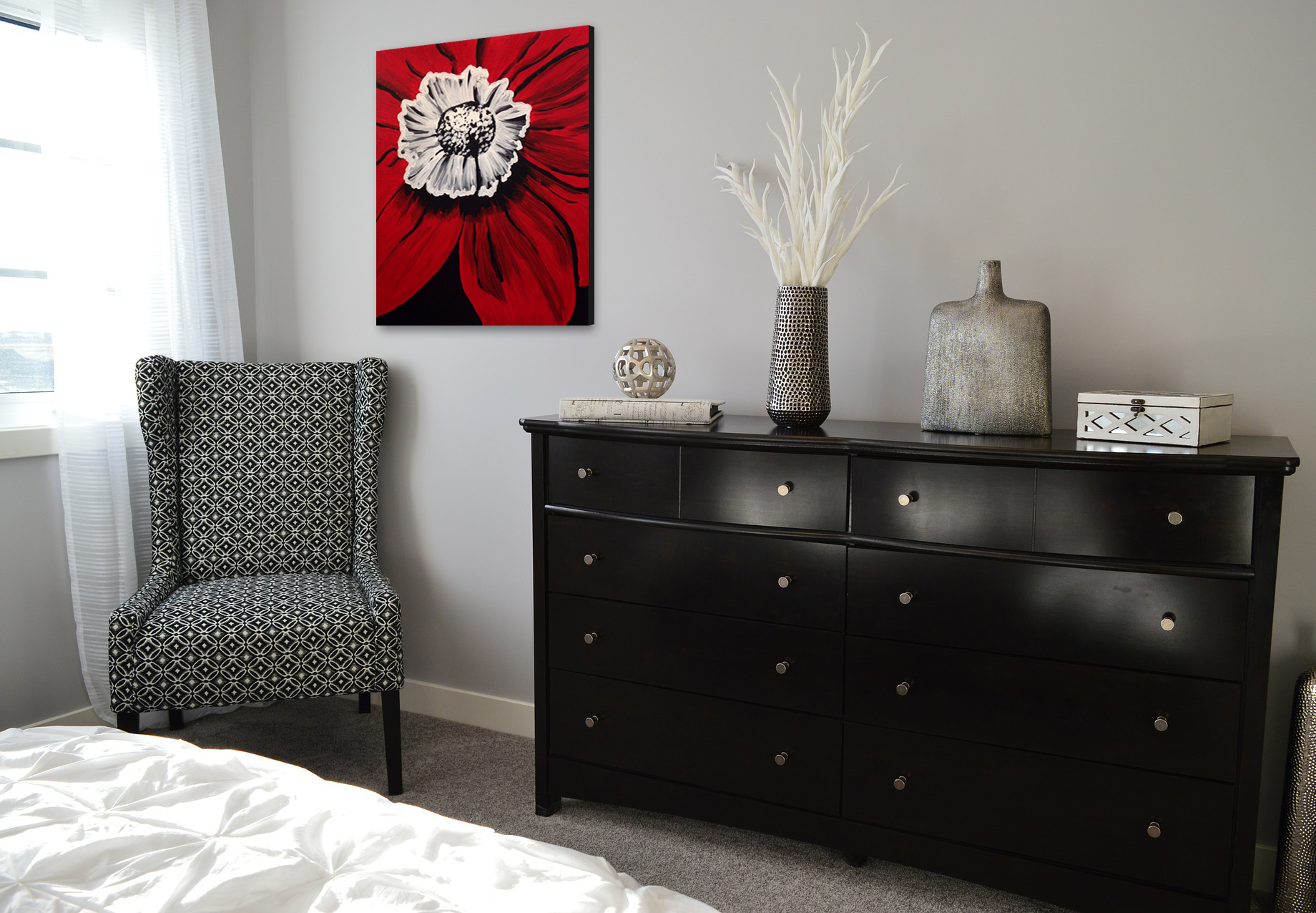 1. DIY Artwork- Paint a custom masterpiece at Pinot's Palette! Let's be honest, what better art is there to adorn your walls with than your very own? The painting you see above is our very chic Regal Red, originating from a very talented artist at our Springdale Studio.
2. Monograms & Initials - You can find wooden and metal letters almost anywhere - in craft stores, home décor boutiques,, antique shops, and beyond! Paint, refinish, or glue on flowers, beads, or rhinestones for extra pop. You can also look for monogrammed pillow cases and throw pillows for a cute addition to your bed.
3. Mix and Match - If you often find unique, one-of- a-kind pieces you love while shopping in
antique stores and boutiques, don't be afraid to throw them all together. Let your creativity soar with an eclectic look that perfectly captures your personality.
4. Use Pieces in Different Ways - An old, refinished ladder can be turned into a fantastic, statement piece bookshelf. A small bookshelf, or even a stack of old suitcases can make a very cool side table.
5. Create Comfy Resting Places - Your bed doesn't have to be the only place you curl up to read a good book. Let an eccentrically patterned arm chair make a statement in the corner.
6. Add Softness - Add more pillows, a feathery down blanket, or super soft throw. Throw a thick or furry rug on the floor to make that first step in the morning just a a little easier. Use different colors, prints, and textures till your hearts content! Varied textiles make a room more inviting.
7. Soft Lighting - There's a reason you look so amazing in dressing rooms. Design your very own mood lighting by hanging string lights or mix different sizes and even colors of lamps to create the ultimate relaxing atmosphere.
8. Go for Monochrome - Utilize your favorite color in a variety of shades and textures on your bed, floor, and walls to achieve a multidimensional, sophisticated design.
9, Pops of Color - Not big on commitment? Go neutral on the major pieces and throw in pops of color with simple, inexpensive décor that can easily be switched out at your desire!
10. Your favorite memories make for the best ambiance - Turn your photos into art by adding cute frames or printing them on a canvas, like a painting.
No matter how you decide to personalize your bedroom #BeBold and make it your own!
Cheers!
Enter your contact info and request details below, and we will contact you with details about your private party!