Raid Pinot's Palette Reno On September 20th And Create A Painting That's Out Of This World!
With the talk of an Area 51 raid, trending big time right now, we've got something else in mind for September 21st… A new painting for you and your friends to come in and enjoy! Join us for this fun Raid Area 51 Painting Party.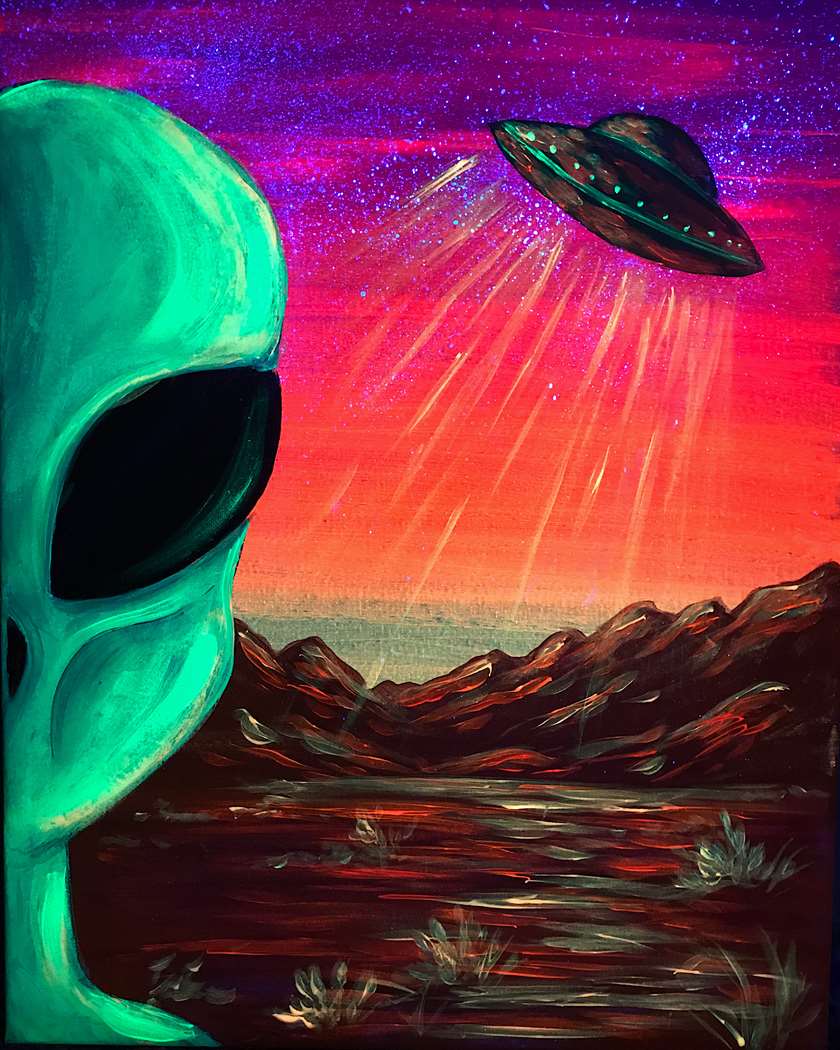 Are you planning on raiding Area 51 on September 21st? Social media sites have been buzzing for weeks, taking about the joke-of-an-idea to storm the well-protected walls of this secret facility and see what's going on in there. For years, movies, video games, and TV shows have lured us as to what is actually taking place behind the secured and guarded site; Conspiracy theorists say that's where the aliens are kept, along with UFOs and other foreign subjects, protected from everyone in the world by the top officials who are sworn to secrecy about such things.
And, heck, maybe you're absolutely positive that's exactly what's going on out there (they can't fool us!)....
Or maybe you think it's funny that people believe such foolishness and you know it's just some Government testing or some other rational explanation...
Whatever your theories are of this top secret desert destination, we're hosting a fun way to play along with the big event that's going down at the end of September!
-------------- COME PAINT WITH US! ---------------
Cancel your raid plans and join us for a blacklight painting and costume party!
On Friday, September 20th!
We'll be painting a FUN work of art titled, 'I Believe, Do You?"
You'll feel like you're raiding Area 51 with this interstellar blacklight Alien painting!
*** Costumes are highly encouraged for this FUN, themed event!! Dress the part to celebrate the occasion as prizes will be given to the best dressed!
— Sign up for this class:
https://www..../event/355259
BRING YOUR FRIENDS!
Remember the more the merrier- Invite your friends! Take advantage of our Summer Sale, running throughout August and save $$ when you buy more seats! Buy 3 seats and get the 4th seat FREE when you enter code: SUMMERVIBES at checkout!
"In the middle of the barren Nevada desert, there's a dusty unmarked road that leads to the front gate of Area 51. It's protected by little more than a chain link fence, a boom gate, and intimidating trespassing signs. One would think that America's much mythicized top secret military base would be under closer guard, but make no mistake. They are watching.
Beyond the gate, cameras see every angle. On the distant hilltop, there's a white pickup truck with a tinted windshield peering down on everything below. Locals says the base knows every desert tortoise and jackrabbit that hops the fence. Others claim there are embedded sensors in the approaching road.
What exactly goes on inside of Area 51 has led to decades of wild speculation. There are, of course, the alien conspiracies that galactic visitors are tucked away somewhere inside. One of the more colorful rumors insists the infamous 1947 Roswell crash was actually a Soviet aircraft piloted by mutated midgets and the wreckage remains on the grounds of Area 51. Some even believe that the U.S. government filmed the 1969 moon landing in one of the base's hangars."
There's a lot of history behind the myths or speculations about what's been going on inside this discreet government area of operations for decades, and "the truth" might depend on who you ask…