Things To Do, In & Around Reno, This Fall!
Reno In The Fall: There's Nothing Like It <3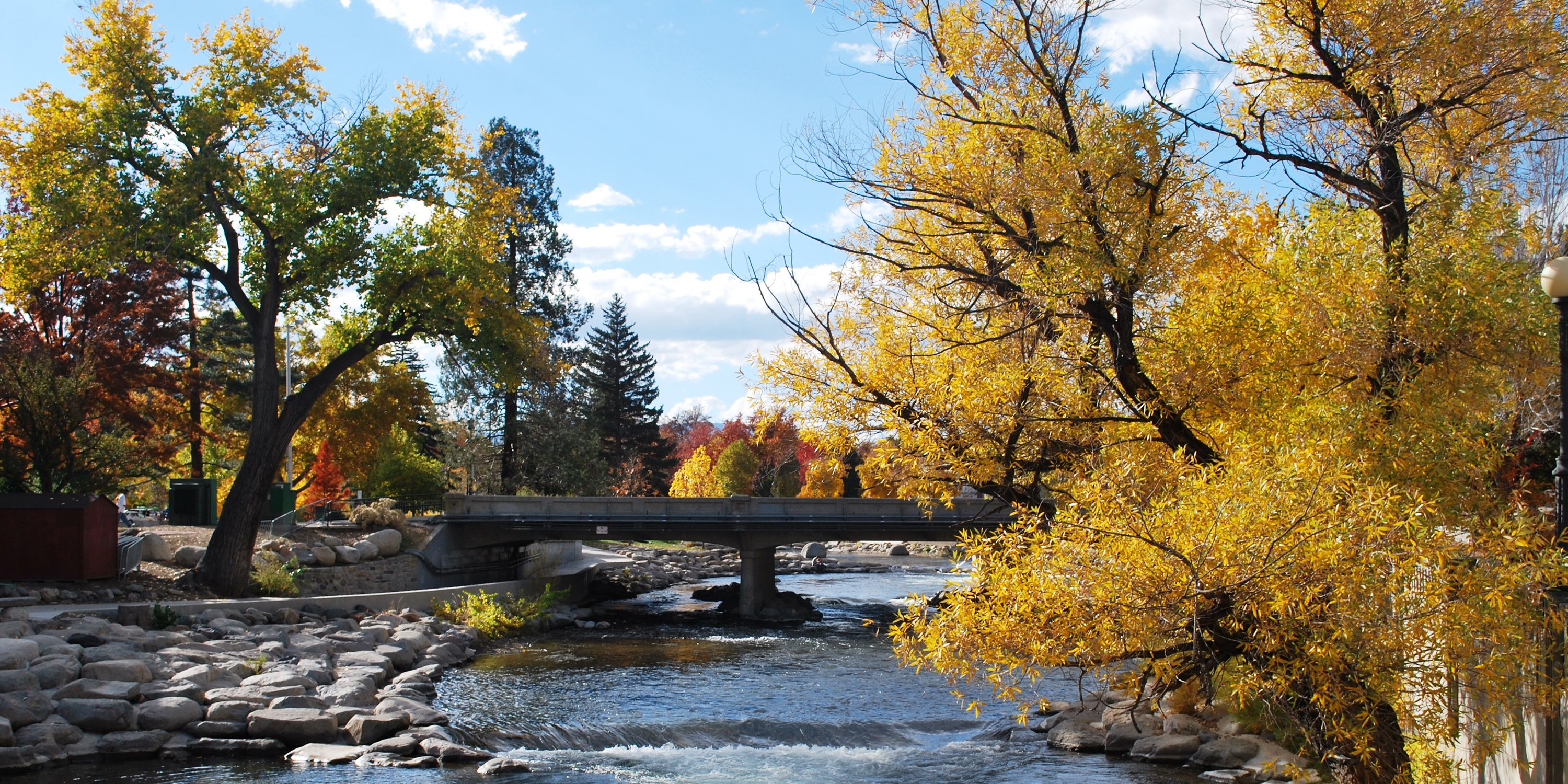 We can all agree that anytime of year is a great time to reside in or visit Reno. There's so much to see and do, with friendly people, exciting activities, and breathtaking views, everywhere you look. But there's just something extra-special about this time of year, a season that the majority of Americans call, 'Favorite'; The weather is nice, nature becomes extra-lovely, and the mass amount of holidays and seasonal traditions, are by far the best! From football and crockpot meals, to warm and cozy everything, Fall is a great time to explore your city, even if you've lived here forever!
Grab some friends, your spouse, or the whole family and take some time to relax, reconnect, and appreciate everything this season has to offer.
Here are some ideas of ways to spend time this Fall, including some great events, going on around town:
*** Go To A Pumpkin Patch ***
Enjoy hay rides, corn mazes, apple cider, and of course, picking out your pumpkins to carve at one of the many great Pumpkin Patches in the area!
- Corley Ranch October Harvest Festival and Pumpkin Patch (Gardnerville, Nevada)
Enjoy the Hay Slide, Kiddie Land, Straw Maze, Farm Animals, Miniature Golf, Pig Races, Hay Wagon Rides & the Corn Maze, in addition to the Pumpkin Patch and Country Store!
https://corl...anch.com/home
- Ferrari Farms Corn Maze and Pumpkin Patch (Reno)
Ferrari Farms in Reno puts on a terrific Halloween event. It has a corn maze, bounce house, farm animals, hayrides, pumpkin patch, train ride, and haunted corn field. Plus there are pumpkins and squash for sale. The hayride takes you on a tour of the farm with a view of the Truckee River. You can also go out in the field and pick your own pumpkin and for afterward book a private campfire and roast marshmallows, an experience your kids might remember all their lives.
https://neva...errari-farms/
- Andelin Family Farm Pumpkin Patch
https://www....amilyfarm.com
- Lattin Farms Fall Festival
http://www.l...-festival.php
*** Visit The Farmer's Market ***
Taking place on the 3rd Thursday of each month, this family-friendly event is part classic street fair, and part artisans market, and part lecture series.
The event features farmers from around the region, arts and crafts, and live cooking demos from local celebrity chefs.
Stock up on that delicious Fall produce for all of the cozy meals and holiday celebrations, coming up this season!
(*35 Fall Recipes To Try):
https://www....able-recipes/
*** Have Fun Browsing and Shopping at A Craft Show or Antique Fair! ***
The holidays will be here before you know it, so why not get a jump start on your shopping with some locally-made arts, crafts, and more?!
10/23-10/24 Tanners Marketplace Antiques Collectibles and Crafts Show
This event will feature products like stamps, shabby chic, art deco, architectural salvage, vintage clothes, furniture, books, glass, pottery, coins, postcards, bottles, primitives, many different crafts, specialty foods - and a wide variety of smalls.
Held at the Reno-Sparks Convention Center
10/26 - Glass Pumpkin Festival
Come out to the 1st Annual Mantra Glass Art Reno-Tahoe Blown Glass Pumpkin Festival where you'll be amazed as you observe this incredible style of art-making! Have you ever seen someone blowing glass? It's absolutely incredible and takes a lot of patience, skill, and bravery to perfect this gleaming, breakable artwork.
Come out to buy some beautiful gifts for friends and family (great for the upcoming holidays), and of course, some for yourself! Decorate your home with the artwork of local artists and their appropriately-seasonal pumpkin pieces!
(*Learn more):
https://www....tival-tickets
10/15 'Artisans Holiday Fair'
https://www....HolidayFaire/
*** Get Creative ***
ANY TIME of year is a great time to make some art, but when you see some of the amazing classes we're offering these next few months, you'll agree that this is the BEST time of year to come in to Pinot's Palette!
From Fall pumpkins and landscapes, to spooky Halloween artwork, and then some festive Holiday paintings, we've got it all and we hope you'll join us!
Come in with your friends for a fun and creative 'Girls' Night Out'; Bring your special someone in for the next date night where you'll have something unique and great to bond over; Bring the whole family in to reconnect and make some memories with one of our special 'All Ages' classes.
However you want to enjoy our classes, we're here to help! We'll provide all of the painting supplies, including the step-by-step instructions, and all you have to do is come in, ready to make some art!
Wine and beer are available for purchase, and they can make a great addition to your creative process, serving as a little 'Liquid Creativity' :)
Join us for one of these 2-3 our classes and let us prove to you that ANYONE can paint!
Make some masterpieces and memories at Pinot's Palette, Reno West!
Check out our calendar:
https://www....nowest/events
*** Enjoy The Nice Weather ***
Reno Tahoe has no shortage of beauty, whether it's mountains, lakes, parks, and trails, we've got it all! Camp, hike, swim, ski, boat, climb, and take lots of photos as you go!
- Lake Tahoe
Lake Tahoe's water is so clear it takes your breath away. On a calm day, a boat on its surface appears to be floating in mid-air. Huge granite boulders are visible 30, 50, even 70 feet below.
- The Mountains
The mountains that surround Lake Tahoe are more than 9,000 feet in elevation, with tremendous hikes and endless mountain-bike rides. Squaw Valley and Heavenly Resort offer plenty to do, with tram or gondola rides to their upper mountains, which include pools, zip lines and other attractions.
- Emerald Bay State Park
"Spectacular in every season, this is Lake Tahoe's signature view: teardrop-shaped Emerald Bay, dotted at its center with a single island, on which sits a stone teahouse. Hidden in the trees on the shoreline of Emerald Bay is Vikingsholm Castle, one of the finest examples of Scandinavian rockwork and architecture in North America."
https://www....ay-state-park
**((Be sure to take plenty of photos at Vikingsholm Castle))
*** MORE FUN EVENTS IN THE AREA:
10/26 - Nevada Day Parade (Carson City)
It just wouldn't be Fall without the annual 'Nevada Day Parade' and this year, we're celebrating the 155 year anniversary!!!
Nevadan's love a parade, but Nevada Day is more than just a parade, it's a grand celebration commemorating Nevada's entry into the Union on October 31, 1864. Nevadan's have the distinction of holding the largest statehood celebration in the nation! The celebration in the State's capital, Carson City, features a large assortment of activities including the Nevada Day Parade, music and arts shows, a Carnival, Pancake Breakfast at the Governor's Mansion, Nevada Day Classic Run/Walk, World Championship Rock Drilling Contest, Beard Contest, Annual Chili Feed, free local concerts and more!
(*More info):
https://www....a-day-parade/
10/31 - 'Halloween Hallow'
Join in the fun of the 2nd Annual Halloween Hollow ON HALLOWEEN!
-Ride the Idlewild Spooky Train!
-Become Mayor for the Day by winning the coloring contest announced at 6p.m.
-Enter the doggie and human costume contest at 6:30p.m. and 7:00p.m.
-Play games and get candy in the midway sponsored by local businesses
-Enter the incredible NEW haunted house for big and small kids!
(Get all of the info):
https://www....447790902549/
11/11 - 'Veteran's Day Parade'
Come out and support this special event, honoring those who have sacrificed to protect our country.
(*Get the details):
https://www....-parade-2019/
11/15-11/17 'Just Between Friends'
This successful event is held in Reno, two times a year, and is the premiere children's and maternity consignment sales event in the Nation.
(*See what it's all about):
https://reno.../homeView.jsp
11/16 - 'Crafts For Christmas'
Get into the holiday season and browse more than 100 craft and gift booths at this gift marketplace featuring local and regional vendors. Enjoy live demonstrations, musical performances and visits with Santa. A great alternative to Black Friday shopping! Parking and admission are free.
This event will be held at Nugget Casino Resort 800-843-2427 /
(Website):
http://www.n...vents-en.html
Share More Fall fun in Reno, NV | View our full class calendar