Meet The Artist ~ Kelly
Meet Kelly ~ One of our many artists!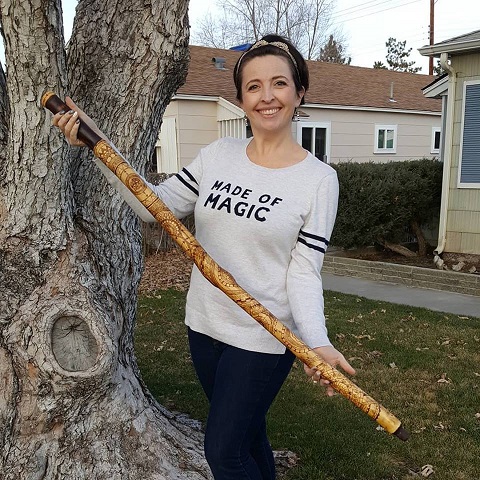 I'm Kelly Bevel (soon to be Kelly Bentley, as I'm getting married June 29, 2019!) and I am so happy to be an Artist here at Pinot's Palette. I consider myself a Renaissance woman, as I love and enjoy every aspect of the arts. I paint, sing, act, dance, write, wood burn, and I just CREATE.
I grew up in beautiful Lake Tahoe, then made my way to Reno for college back in 2000. Once I started college, the arts started flourishing in my life! I found my first passion - SINGING! I minored in Music at UNR, studied piano, acting, and voice, and started performing in multiple musicals, operas, and plays (in Reno, NYC, Southern California, and even New Zealand)! I moved to NYC after college to pursue Broadway, but alas found myself acting as extras in multiple TV shows instead (so much fun!), and eventually decided New York wasn't for me. When I came home to Reno, I needed something new and delved into the world of painting. I had dabbled in my youth, but a few paint and sip classes got me ADDICTED! After that, I found myself at home painting everything and learning as much as I could.
As for now, I am so grateful to be an Artist and bartender at Pinot's Palette. Outside of my amazing job, I continue to perform in musicals and plays. I am also a thriving wood burning mandala artist and I'm working on my own children's book. My biggest recent accomplishment was playing one of my dream roles in one of my favorite musicals: Elisabeth in Young Frankenstein at the Good Luck Macbeth theater. Incredible experience! My goal is to make art and music my life and career, and to travel the world and help others through it.
The Artists life is the life for me! Thank you for supporting our passion, and I hope it sparks a passion in you!