Join Us For A Roaring 20's Party To Celebrate The Start Of The New Year!
This fun roaring 20's themed painting party is a great opportunity to get creative with your sweetie or your pals. Invite a friend and paint your chosen party guest character and bring in the roaring 20's with Pinot's!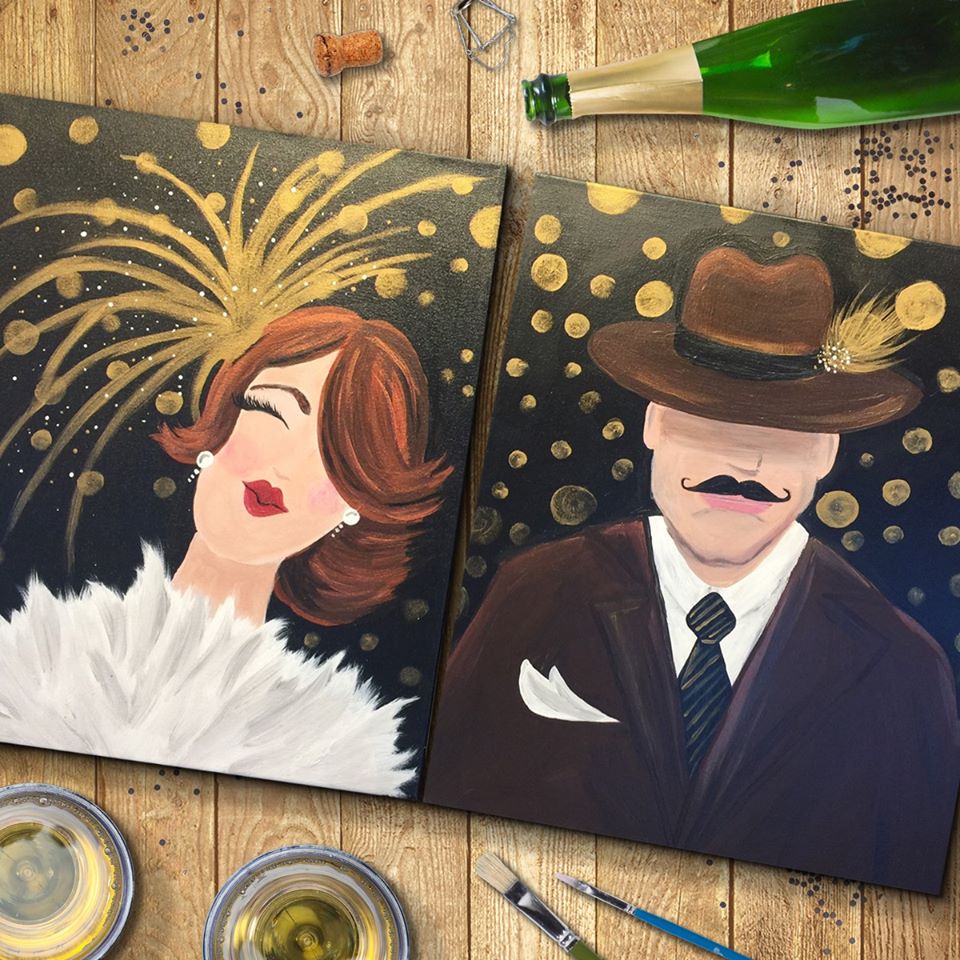 Happy 2020 Everyone!!!
It's been 100 years since women wore flapper dresses, men dressed like Gatsby, and everyone listened to Jazz.
It was the era of Prohibition with the local speakeasy being the place to for boozy fun and foxtrotting with pals.
The 'Roaring Twenties' was quite a time to be alive! Such fun and excitement with the invention of the radio, women getting the right to vote, and the birth of mass media.
We're about to leave this decade and go into the twenties, yet again, and we're pretty excited about the prospects of this new year and what the 2020's will bring.
With the new year, comes some new changes for most of us (if only for a little while).
While the most common resolutions are to get lose weight, eat healthier, exercise more, and save money, another common one is to 'TRY NEW THINGS'!
We're all about this one, as trying new things has many benefits, such as:
-Overcoming Fear
-Getting To Know Yourself Better
-Stimulating Creativity
-Gaining Confidence
When you try something new, even the smallest thing, your brain is working in a new unique way; There's a unique set of rules so your brain will use its creativity to find a way to succeed.
We'd love for you to combine the new decade, with the resolution to try something new and join us for a painting class this January.
But wait! It's not just any old painting class…
It's a celebration of the new decade; A chance to welcome in the 20's, once again, with a special one-time event that you won't want to miss!
***** JOIN US! *****
On Saturday January 4th (6:30-9:30pm)
We'll be painting 'Roaring 20s Party'
This new, 2-canvas creation is going to be a HUGE HIT! Be a part of this fun event and be sure to being all of your friends and family along to paint, too!
While this makes an EXCELLENT 'Date Night' event, you don't have to bring your significant other in to paint with you; Come in with a bff, roomie, family member, or turn the canvas horizontal and paint the whole thing on one piece!
However you choose to utilize this class, we're sure you're going to have a blast celebrating the new decade and making some art for your home!
Remember that this is YOUR masterpiece, so if you want to change the background colors, hair styles and skin tones, and more, you can! Get in touch with your inner-artist and make some fabulous artwork this weekend.
Happy 2020 and here's to a wonderful year!
Cheers!