Help Us Raise Money For Australia With This Special Class
Join us for a special paint and sip class with an extra dose of heart and soul: Our 'Painting It Forwards' classes!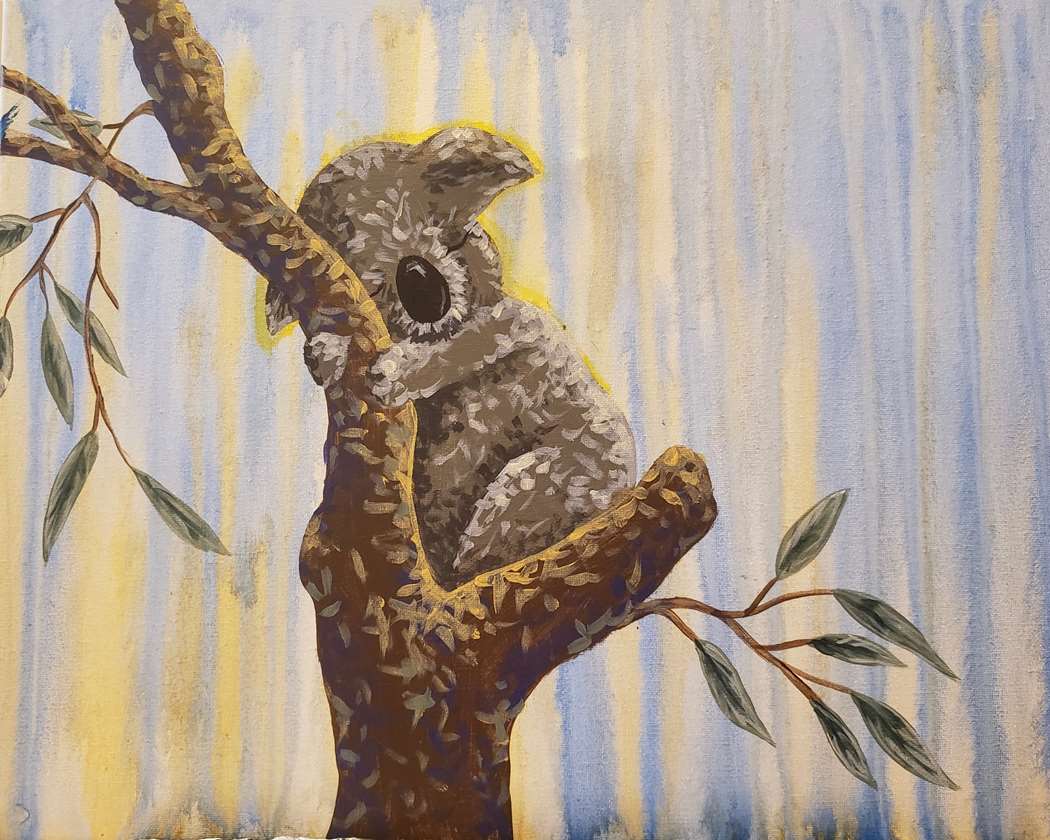 Though the fires in Australia are steadily becoming contained (an Australian fire service announced on 2/13 that all wildfires in the state of South Wales were contained after weeks of firefighters' efforts to battle the blazes), there's still a monumental amount of damage to recover from, both throughout the ecosystem and for the animals themselves.
Since September, at least 27 million acres of Australia have burned in one of the country's worst fire seasons on record. That's an area larger than Portugal, and more than 14 times the area that burned in California in 2018, the state's most destructive year for wildfires.
The fires have now killed at least 29 people and destroyed some 2,500 homes. The destruction to the country's land and biodiversity is harder to fathom. An estimated 1.25 billion animals have been lost, and scientists fear long-term damage to many sensitive ecosystems.
It's so been painful to see and know there's not much we can do about it. While civilian volunteers are no longer being accepted (local and foreign fire fighters, veterinarians, and others are still helping out), we can still do our part in other ways.
A monetary donation in any form is beyond generous and helpful, and so we've decided that we can assist in a similar way: A painting and wine class where proceeds go towards Australian fire relief; It's a fun and creative way to earn money for a great cause and we hope you'll consider being a part of it!
All you have to do is sign up for the class we're offering on 2/19 and tell everyone you know! The more people that sign up for the class, the more money we're able to raise! This is one of our 'Painting It Forward' classes, a paint and sip class with an extra dose of heart and soul. We love and appreciate our community and their support over the years, and are always looking to give back with these special classes. From local charities and non-profits, to supporting national (and foreign) charities and natural disaster relief, Pinot's Palette locations throughout the Nation contribute in even the smallest ways and we couldn't do it without you!
_______________________________________________________________________
*** JOIN US AND HELP A GREAT CAUSE ***
Come out to raise money for a great cause on
March 8th at our studio!
We're hosting a 'Painting it Forward' fundraiser for the World Wild Life organization.
A portion of the proceeds from this class will be donated to their Brushfire Emergency Fund.
We'll be painting, 'Koala Kare' (shown, above), a new work of art that was created with the intent of hosting fundraisers for the relief of Australia from the devastating fires.
This koala painting is so much fun to create! It's the perfect painting for a fundraiser event to raise money for Australia's catastrophic fires that have resulted in the loss of, and displacement of, so many koalas.
This class is for ages 10 and up. so come in with the whole family to raise some money for a worthy cause, while you have fun spending time together.
*Sign up for this event:
https://www..../event/420349
*Learn more about the 'World Wild Life' organization's 'Brushfire Emergency Fund' program here:
https://dona...ate#gs.wgfyw7
_______________________________________________________________________