Spark Creativity and Collaboration with your Team
Use a painting event as the optimal teambuilding event!
A painting event at Pinot's Palette is the perfect venue for your next teambuilding experience. The paint and sip model provides a great opportunity for teams to interact with one another while unleashing their inner artists while engaging in a more creative thinking mode. Plus, it is a great way for your team to work together in a new and fun environment.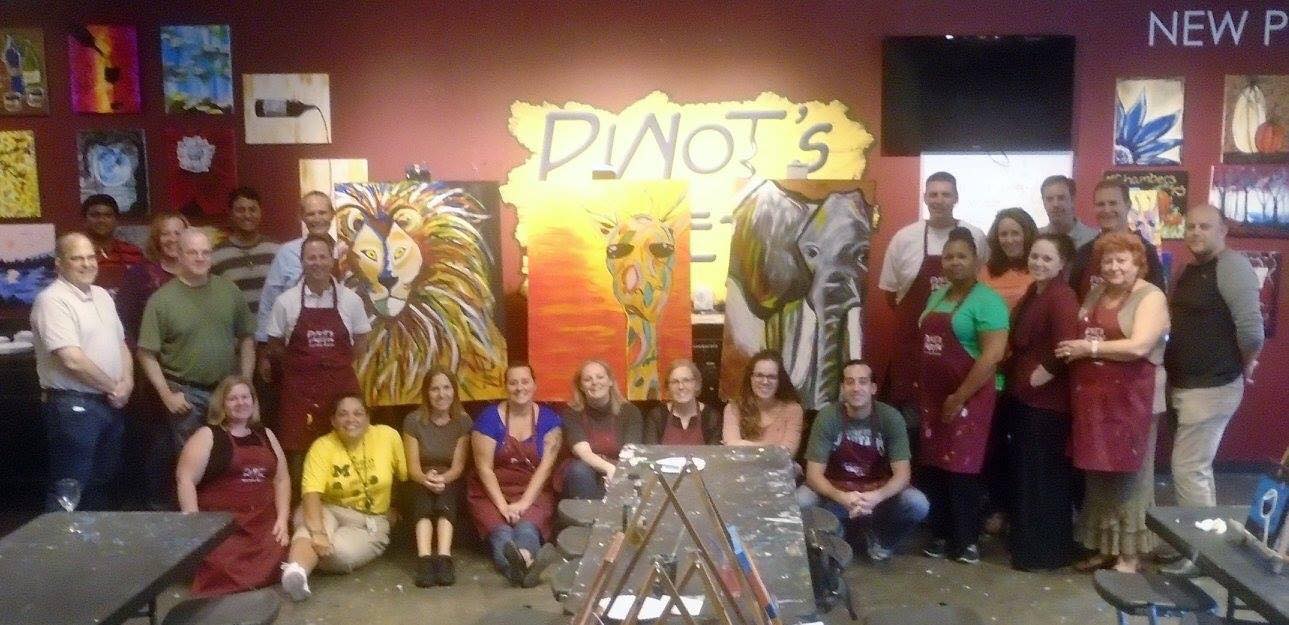 Pinot's Palette has designed multiple activities that can optimize your teambuilding goals for your next planning meeting or even holiday party!
• Individual Paintings - This is the Pinot's Palette original format. Everyone in the class paints and personalizes their own painting with the help of our artists' step by step instructions.
• Collaborative Painting - Everyone in the group contributes to a large 3 x 4 ft painting. One collaborative painting recommended for every 8-10 painters at the event. If you have a large group we can create multiple large canvases that complement each other. (i.e. each canvas highlights a specific strategic goal)
• Mystery Painting or also known as "How well do you follow instructions!"- Our artist takes you through the painting step-by-step. The catch is no one knows what the finished painting looks like until the very end.
• Musical Chair Painting - Paint one step, then move to a different seat to continue on to the next step.
• Jigsaw Puzzle Painting - Each painter completes a portion and when canvases are combined, the full image is revealed. This is especially conducive to utilizing your company logo.
Pinot's Palette can help you create your next teambuilding event that optimizes your team's creativity, allowing them to engage in an activity that they may not have done since a very young age. Our artists are trained to bring out the inner artist in your team in a non-intimidating fun environment. Call 913.671.1837 to book your teambuilding or holiday event.