Pinot's Palette PV…..Kids LOVE to paint for their Birthdays!
We are very excited to offer you additional options for your child's next birthday or special event. These parties are designed for children 6 to 14 years of age. Our artists work hard to help make that special child in your life's party the best ever! Surprise your child with a party they won't ever forget!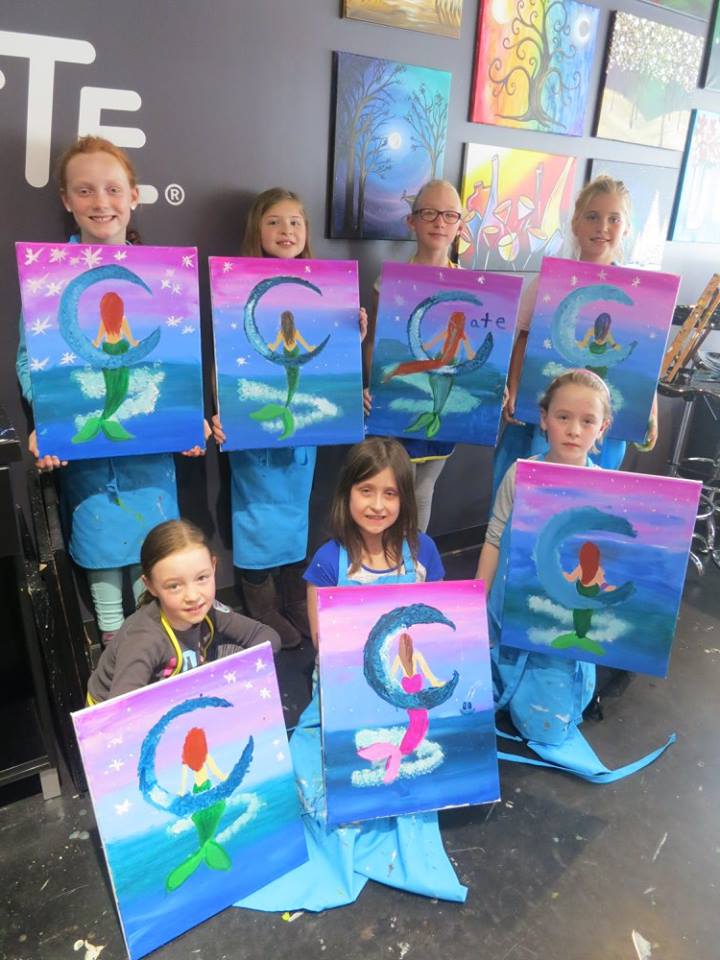 Below are commonly asked questions and guidelines for booking:
1. What is the cost?
 You can book a party in a public class! Prices are $25 for strictly kids classes, and Family Day classes are $30 per painter.
 Full size 16 x 20" canvas paintings cost $300 for up to 15 painters and $25 for each additional painter.
 10x10" or 9x12" canvases are available with an hour and half paint time. The cost is $250 for up to 15 painters and $20 for each additional painter.

2. What day and time is it available? Little Brushes private paint parties can be booked on weekend mornings beginning at 9am or 10am.
3. How do I reserve?
 Public classes can be reserved by paying for seats in the public classes on our calendar.
 Private parties require a $250 deposit to reserve to your date and time: Book your party
 Once event is complete and paid, the $250 deposit is refunded the following business day.
4. How does my little one choose a painting?
 Public classes can be viewed on our calendar, and your child can decide which upcoming painting he or she likes best.
 Private parties can choose their own painting for their date and time from our painting library: www.pinotspalette.com/leawood/painting-library.
 Email your top painting choice 10 days prior to event.
5. Arrive 30 minutes before your official start time:
 Doors open 30 minutes in advance of the official start-time, so that you and your guests may arrive and settle before painting begins.
 Feel free to bring along any type of food and beverage you would like to enjoy! Here in the studio we provide aprons, glasses, ice and ice buckets, paper plates and utensils, napkins and complimentary bottled water for our guests.
6. READ ME: The fine print : Please note that instruction begins at official start time. While we may be flexible with a few minutes, starting a private party 10 minutes after the official start time will result in an additional fee of $50. In addition, events that pass the official end time of more than 30 minutes will be charged a fee of $75.