Studio Grand Re-Opening
We've missed you! On May 22nd we will begin to ease back in to re-opening the studio following the temporary closing due to COVID-19.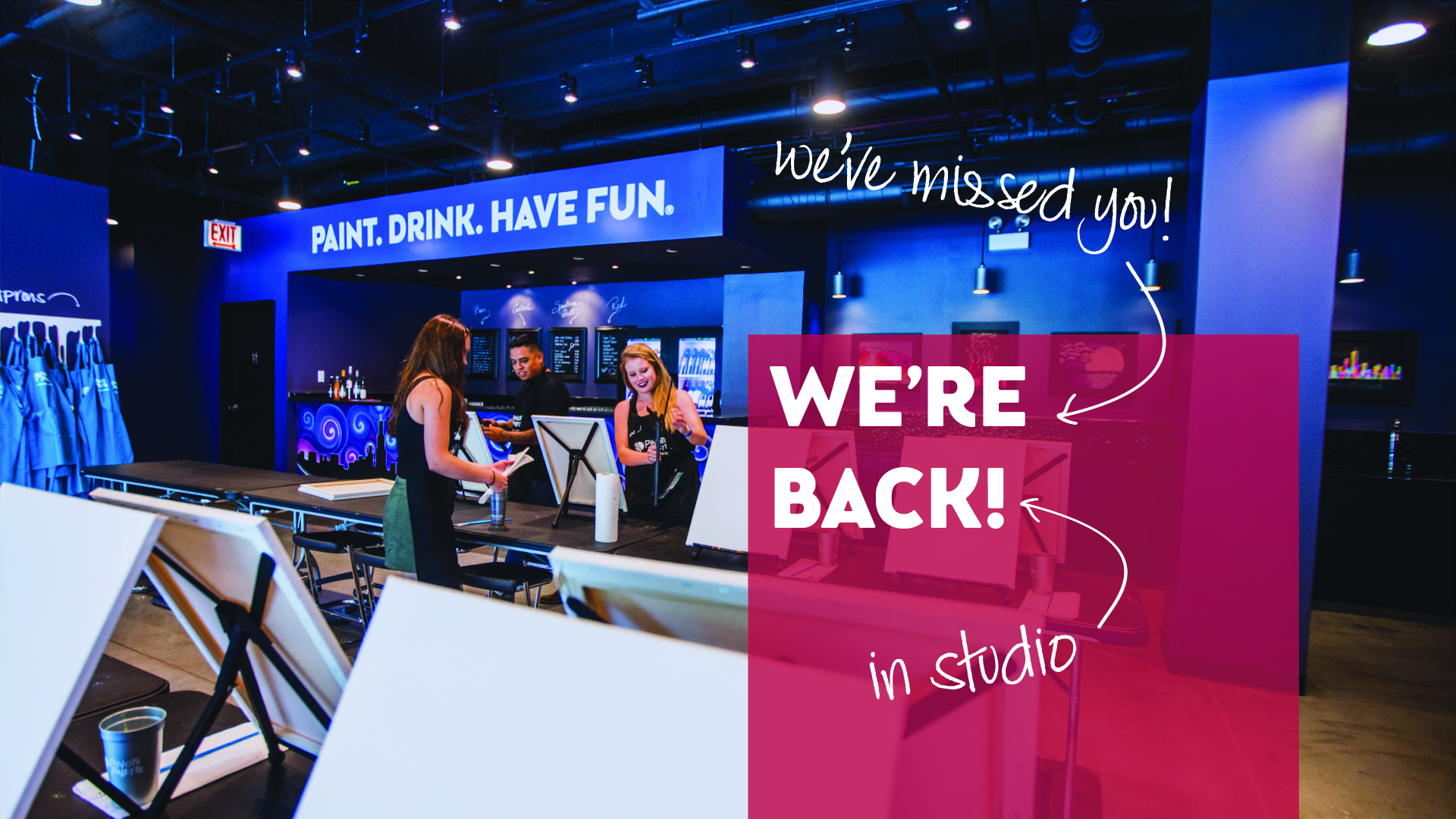 With the temporary close, we have adapted our business model to include Take Home Kits and Virtual Events. This was both fun and challenging. Your support of our small business and patience as we expanded our product line is much appreciated. We are so grateful for the support we have received from our community during this time. It hasn't gone un-noticed!
Our governor has given the "okay" for us to re-open our studio and we will be taking special precautions to ensure the safety of our guests and our staff. We believe we have created a safe environment for everyone while providing a place for guests to be creative and have some well-deserved fun!
In an effort to ease tension and provide everyone with a safe and comfortable experience, please keep a few things in mind when you reserve an in-studio event experience:
1. When making your reservation, please limit the group sizes to TEN OR LESS.
2. We have re-designed our studio floorpan to provide SAFE SEATING DISTANCES between unique groups of guests. If you want to paint in the studio with someone but still need to create extra distance, just let us now so we can accommodate your request. We also have a private party room where guests can arrange a private event.
3. We will greet you at the door and help you find your seat.
4. We will provide HAND SANITIZER at each table.
5. The cloth aprons we use will be WASHED between EVERY USE.
6. We are DISENFECTING all surfaces (tables, counters, door handles, etc.) and tools (paint cups and brushes) between classes.
7. We are LIMITING GUEST MOVEMENT. To accomplish this goal, aprons will be placed on chairs prior to the beginning of classes and drink orders will be taken at guest tables. Not at the bar area.
8. Our staff will be wearing masks and we encourage our guests to wear masks when moving throughout the studio.
9. Please treat others with kindness and love!
Our studio calendar is posted online and classes are noted as "IN-STUDIO EVENT". For guests that still prefer their Pinot's experience "to go", we will continue to offer Take Home Kits and Live Virtual Events. It's very convenient to pick-up supplies for these events. Please note that we can always build a Virtual Event via Zoom if you are celebrating a special occasion or just want to get together with friends for a private event in the privacy and comfort of your own home.
It's such a privilege to PAINT. DRINK. and HAVE FUN with you!