Groupon Paint & Sip Sampler BOGO! Pinot's Palette Little Rock
Always wanted to try the "Paint & Sip" experience but just not sure? Well, here's a fun way to sample us and see if you'll like it!
In celebration of our recent Birthday and as a Thank You to our customers and 24K Facebook Fans, we have released a special Groupon for a Buy One Seat and Get 2nd Seat in Same Session FREE!
This is perfect for:
- First time customers
- Parents wanting to bond with young children through an art experience
- Groups working with fixed budgets
- Ages 6 to Adult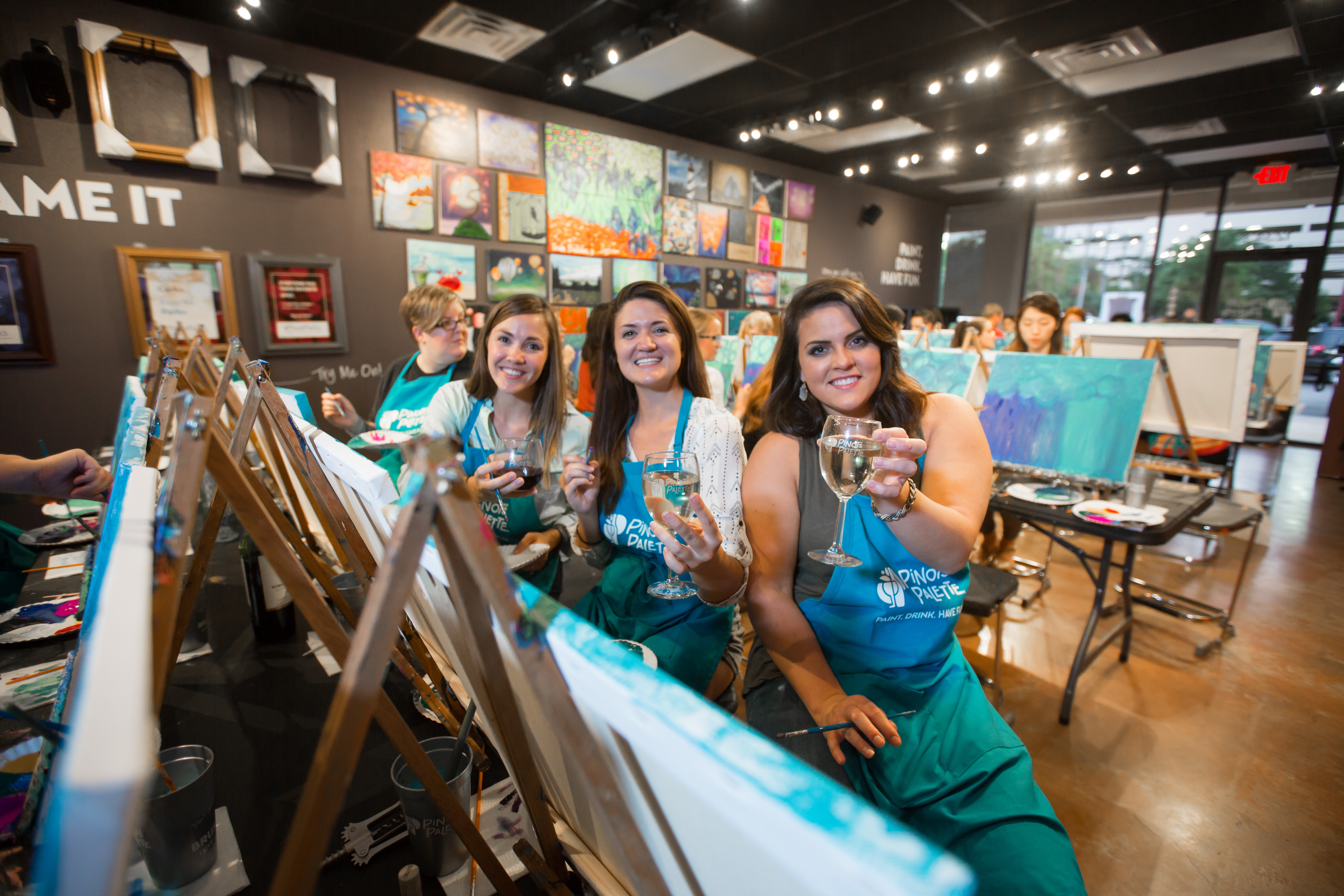 🎨 Instructions for Redeeming 2019 (and beyond) GROUPON Vouchers (Little Rock Studio Only):
1. READ THE FINE PRINT CAREFULLY on your Groupon Deal to make sure you understand what you will be getting for what you paid.
2. Access your Groupon Code from the Groupon website or Mobile app. For assistance, contact Groupon Customer Service: 877-788-7858.
3. We require reservations in advance. Purchasing a Groupon does not automatically schedule you for a reservation at our studio. You must go to our calendar to reserve a seat at: least one day in advance at
http://www.p...tRidge/events
Reservations cannot be booked on the same day that a Groupon is purchased.
4. Click on the art session you would like to attend, then Read the class description to see if it is Groupon Eligible; most are but a few are not and will say "NOT GROUPON ELIGIBLE."
5. Click on the eligible painting of your choice.
6. Select number of people, then click "Register". Each voucher is valid only for 2 people in the same session. We will adjust, and notify you of, incorrectly booked reservations.
7. Select "Click To Enter Guest Information" then add the painters' names and emails.
8. Select "Have A Gift Certificate, Credit or Discount?" then enter your Groupon Code(s). Your code begins with the phrase GRPN followed by a dash and 6 letters. Example: GRPN-FEDCBA. Contact Groupon Customer Service at 877-788-7858 for assistance in locating your code.
9. Click "Proceed To Checkout" to enter your contact and payment info, and then click "Complete Registration". You should receive a confirmation email within 5 minutes of making your reservation; check your spam and junk email folders. Your Groupon Voucher will be redeemed for 2 people for the full Groupon value by us as soon as your reservation is completed because paid reservations are required in advance in order to paint at our studio.
10. Enjoy!
--------------------------------------------------------------------------------------------------------
🎨 Other Important Information About Your GROUPON!!!!
😄 This groupon is valid only for the Little Rock location.
😄 Limited Seats: For each art session there are a limited number of Groupon seats available. Our Groupon cannot be used on the same day that it is purchased, so please plan ahead. Each voucher is valid only for 2 people in the same session.
😄 Canvas Size: The canvas size for your Groupon is stated in the "Fine Print" of your Groupon Deal. An upgrade in canvas size is available onsite at the studio for an additional cost of $10 to $15 depending on the art session; upgrades to Wood or other surfaces besides canvas are not permitted with a groupon.
😄 Groupon Expiration:
- Our Groupon will lose its $74 Promotional Value after the stated date, but the Paid Value is valid at this Little Rock location as long as this location is in operation.
😄 Pricing & Groupon Redemption: Please note that the full paid and promotional value of your Groupon will be redeemed for any art session priced at $37 or below at the time of your reservation. Cancellations made at least 24 hrs in advance of the session will result in a Class Credit that can be used on an eligible art session until the Groupon expires.
🍷BYOB Drink Policy: BYOB Cup, Bottle & Can Drinks (of any kind including take-out drink cups) ARE NOT permitted at our studio. The reason why: BYOB ESTABLISHMENTS ARE ILLEGAL IN THE STATE OF ARKANSAS. Please leave all BYOB and drink containers, including water bottles, in your car. We encourage you to visit our fabulous Wine Bar for nonalcoholic and alcoholic beverages; we offer complimentary water. Your Bar and Souvenir purchases allow us to continue to be able to offer such highly discounted or courtesy free passes to you and future customers as a way to sample our studio to Paint. Happy-Up. Have Fun With Us! We encourage you to make a purchase from our Wine Bar; Our bar menu is available at our website homepage.