Teachers Appreciation Sand Pail Gift
Teacher Appreciation Week
Sand Pail Flowers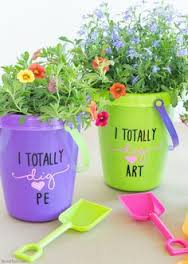 Supplies Needed
*Sharpie Paint Pens
*Sand Pail and Shovel
*Free Printable PDF Pattern
*Masking Tape
*Flowering Plants
Directions
1. First, you will need to be able to print your favorite design on white paper, you may have a favorite pintable's website you like to use. Otherwise, you can click
https://bren...e-printables/
, however, you do have to enter your email address.
2. Once you have picked out your favorite design and decided what your want on the front of your bucket, print it out on white paper and cut around the lettering. Grab your masking tape and tape your letters to the inside of your sand pail.
3. Next, trace the design with your sharpie paint pen, allow 5 minutes for drying.
4. Sign the shovel with your child's name.
5. Place a plant in the bucket, I get guidance from my child on their teacher's color choice.
The bucket is a great gift. If you would like to take it a step further, you can always add a gift card!
For other great gift Ideas be sure to check out all of our DIY ideas from your favorite paint and sip at
https://www.....com/pasadena