We bought a Franchise!
We Bought A Pinot's Palette Franchise!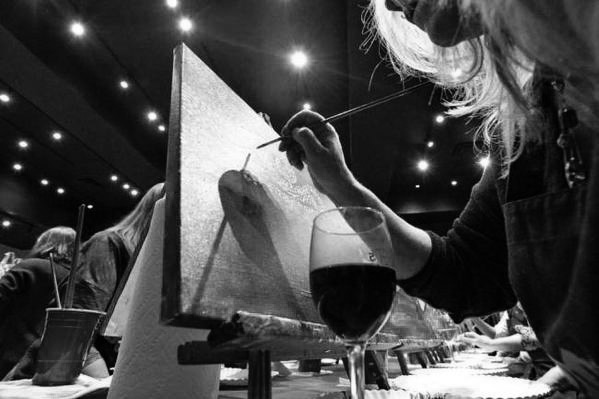 So, this has been exciting. We bought a franchise! What?? Are we crazy? Nope, just tired of working for someone else in a fast paced, no life sort of life. You all know what I mean. Scott and I were talking the other day and both said "there must be more to life than this?" We work long, long hours. Me commuting back and forth into Manhattan with the millions of other people that do it with me every day. Squashed into a seat on the express bus from Staten Island, standing in snowstorms waiting for the bus and then working from sunup to sundown (literally) NO BUENO! Scott on the other hand riding in the patrol car waiting for central to call for one assorted reason or another. Been doing the same thing for over 20 years, day in and day out. Arrests, tickets, patrol, court. Yup, time for a change and a change of pace. SO WE BOUGHT A FRANCHSIE! Well, it did not happen so fast. lot's of going back and forth, lots of decisions. Maybe we just move the Bahamas like we spoke about for years and float around for the rest of our lives. Well, maybe we are too young and would be bored after a while (maybe Scott would, but I love the beach and can float all day :) Do we want to work for someone else? Nope, not really. What we both decided is that we would like something that would make other people happy and have fun doing it. So, what's something we can run as a family? AND THEN WE FOUND IT! Pinot's Palette. The team at head quarters immediately made us feel part of the family, Craig and Charles who started the company were informative, professional but down to earth and it all just clicked. A fun place to go out with friends, family, date night, have a glass of wine, listen to music and have fun. Perfect for all of us. Scott is a people person who will bring the customers, I have the business background, Nicole has a degree in Art and Chris is good with organization to take care of inventory. Long story short, we found a great 1800 sq ft location in the heart of Park Slope, Brooklyn on a wonderful tree lined street. Lease negotiations, build-out, months of planning and the rest is history. We hope we can bring the joy we have found at Pinot's painting, drinking and having fun to all of the residents in Park Slope and beyond. Try it once and your hooked - trust me, I am definitely not an artist but feel like Picasso himself every time I finish a painting. (Scott, Nicole & Chris may have to run this themselves, I have painting to do)
Enter your contact info and request details below, and we will contact you with details about your private party!