Sock Bunnies
It's officially SPRING!
We understand that while the flowers may be blooming and the ads for clothing and home decor may be filled with sunny colors, it just doesn't feel like the seasonal change we're used to.
We're all sticking together to work through this difficult time, and it's important to look for the silver linings, anywhere we can.
We've found some fun and cute Spring crafts that you can make today!
Make the most of your time indoors and get that imagination flowing!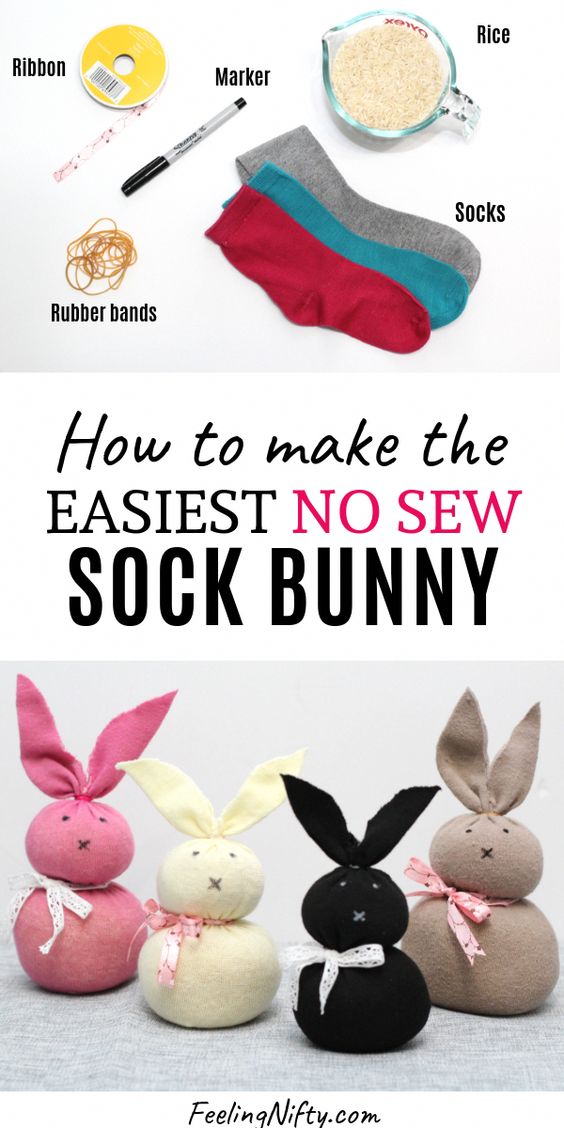 Throw open the windows and let that fresh air in, get some supplies from your local craft store (Michael's has a special 'pick up' program they're offering right not), and get to work making these fun crafty projects. Y
ou can either make them and enjoy some relaxing alone time or share with the kiddos as you get creative together!
Check out these 3 DIY crafts, perfect for getting you in the springtime mood:
(1) DIY Spring Tulip Wreath
Make this easy, DIY Spring Tulip Wreath for your front door. Tulips can be found at any craft store in a wide selection of colors to match your own decor.
With just a grapevine wreath, some artificial flowers, you've got yourself a lovely floral spring wreath that will lively up any door.
Welcome your guests with this specific wreath (tutorial, below) OR change up the types of flowers you use to best fit your taste and home's color scheme!
(Tip): If you're getting your wreath from a craft store like Michael's, be sure to look out for coupons to save a lot of money!
(Tip): While the quality of craft store floral selections are more realistic-looking, you can even shop at your local dollar store to make this wreath on a low budget!
**Enjoy this tutorial:
https://www....tulip-wreath/
(2) No Sew Sock Bunnies
Do you have a bunch of unmatched socks and don't know what to do with them? You can use them to make this cute Easter bunny craft in 5 minutes! Absolutely NO sewing involved! It's an easy Easter craft for kids and teens. They also make fun easter crafts for adults and the elderly too.
**Get the tutorial here:
https://feel...-bunny-craft/
(3) DIY Candlestick Birdhouses
These little cuties are easy to make and customize however you want! Make them to sit around your home, give to friends and family, or set on the table as a centerpiece for Easter dinner.
Talk about the tray class coming up in April.
***Bonus: Kids' Craft Ideas
(1) Popsicle Chicks
These little chicks are really cute and look easy enough to assemble too. This would make a great craft for older kids, but I think with a little help, younger kids could construct these easily as well.
So if you are looking for crafts that won't frazzle your nerves trying to complete and won't sucker punch your wallet, then you might want to consider doing this craft.
*Make Them:
https://www....aft-for-kids/
(2) Potato Egg Stamps
Got any potatoes going bad? We did so we thought we'd try to make Easter egg potato stamps! It actually turned out great and could be used to make homemade Easter cards and more!
*Learn How:
https://www....g-craft-kids/
!!!!!!!!!!!!!!!!!!!!!!!!!!!!!!!!!!!!!!!!!!!!!!!!!!!!!!!!!!!!!!!!!!!!!
If you're looking for more ways to bring a little more happiness into your hearts and home, check out our NEW 'Cabin Fever Take-Home Kits'!
While our physical location is closed, we are continuing our creativity with "Cabin Fever" take-home paint kits!!
https://www....ake-home-kits
ALSO: As we mentioned above, Michael's Arts & Crafts stores are closed in many locations, BUT have begun to offer curbside deliveries.
We're all doing our part to #FlattenTheCurve so shop online to pick out what you need and they'll load your order into your car when you pull up at your local Michael's store!
(*Reach out to a location near you to learn more)