Painting and Red Wine Health Benefits!
As if going out with friends and loved ones to wind down from the stresses of your everyday life isn't enough reason to go to Pinot's Palette for some fun! After doing some digging, I've found several great health benefits of painting and drinking red wine. Here are just a few of these health benefits! For more in depth information, I've included a few links.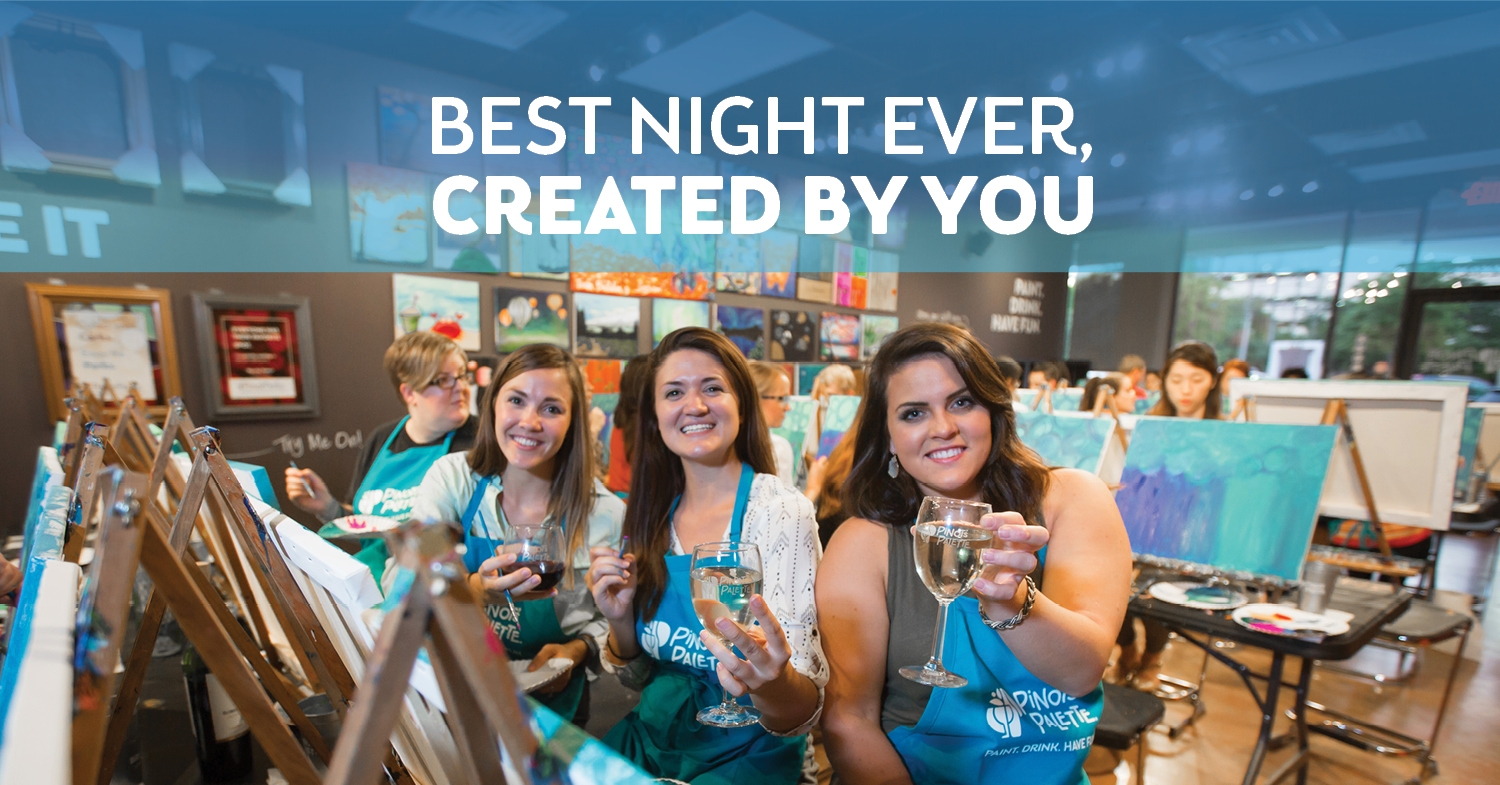 Health Benefits of Painting:
• Stress Relief: Pressures of life can be exhausting. Painting creates an escape from the world of exhaustion, fears, and stress to a world of fun, excitement, and stress-free in the form of color.
• More Positive Emotions: Painting and drawing helps boost self-esteem. Through these health benefits, an individual may also become more optimistic and feel happier. Once feeling more relaxed, you will feel like a new, refreshed you.
• Increase of Emotional Intelligence: By allowing your emotions flow through art, you'll be able to experience positive emotions such as joy, and love, or allow your negative energy to flow through you onto a canvas and out of your system through painting. Through the improvements in personality and emotional stability, painting and drawing not only is beneficial to the individual performing these tasks, but to those who surround the individual.
• Other health benefits include: Release of hidden emotions, you become more observant of details, improved creativity, improved memory, improved communication skills, and improved problem solving skills.
For more in depth information on this topic please visit:
http://goodr...-and-drawing/
Health Benefits in Red Wine:
• Lowers cholesterol: According to a study done in the Universidad Complutense de Madrid, certain wines that are made with a particular high fiber grape can have significant effects on cholesterol levels.
• Protect your heart: There are antioxidants in red wine called polyphenols. Polyphenols can help keep blood vessels flexible, which can reduce the risk of clotting.
• Stop cancer: According to researchers at the University of Virginia, the resveratrol you get from drinking one glass of red wine three or four times a week may be enough to starve any nascent cancer cells.
• Other benefits include: Control blood sugar, fight colds, boost your brain, get slim, and jazz up your dinner.
For more in depth information on this topic please visit:
http://www.p...-wine/slide/7
Enter your contact info and request details below, and we will contact you with details about your private party!