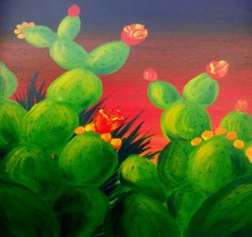 Prickly Pear Cactus
Prickly pear cactus are found in all of the deserts of the American Southwest, with different species having adapted to different locale and elevation ranges. Most prickly pear cactus have yellow, red or purple flowers, even among the same species, an this painting brings all of those colors to life!
Find events near me
Prickly Pear Cactus Events Near You
There are currently no classes offered in your location.
All Prickly Pear Cactus Locations
There are currently no classes scheduled for this painting.