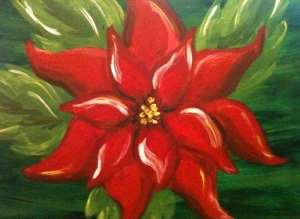 Poinsettia
Join us in paiting this classic Christmas symbol! A native of southern Mexico, the poinsettia blooms in December and has been used in that country to decorate churches for centuries. In the fourteenth to sixteenth centuries, the Aztecs used the poinsettia leaves to dye fabric for clothing and the sap for medicinal purposes, including to help control fevers. They also considered the red color a symbol of purity, and so poinsettias were traditionally part of religious ceremonies. In Mexico and Guatemala, the poinsettia is called (translated) the "Flower of the Holy Night" referring to Christmas Eve.
Find events near me
Poinsettia Events Near You
There are currently no classes offered in your location.
All Poinsettia Locations
There are currently no classes scheduled for this painting.