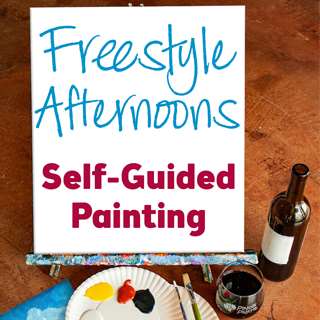 Freestyle Paint Afternoon
Freestyle Paint Afternoons allow you the unstructured time to get creative with friends and family or individually. Arrive between 1-2p and work at your own pace. Choose from a variety of paintings! An instructor may be available to assist as needed. Reservations are not required but are highly recommended to ensure we are prepared for you. Prices start at $25 for a 16x20" canvas or two 10x10" canvases. Other surfaces may be available to choose from. Plan on two hours to complete your painting. Children ages 5 and older are welcome with an adult.
Find events near me
Freestyle Paint Afternoon Events Near You
There are currently no classes offered in your location.
All Freestyle Paint Afternoon Locations
There are currently no classes scheduled for this painting.