Holiday Parties
Let us host your holiday corporate party! It's December, and we figured you might be planning a great evening for your team to mingle and bond. Our team is equipped to give you that evening – stress free!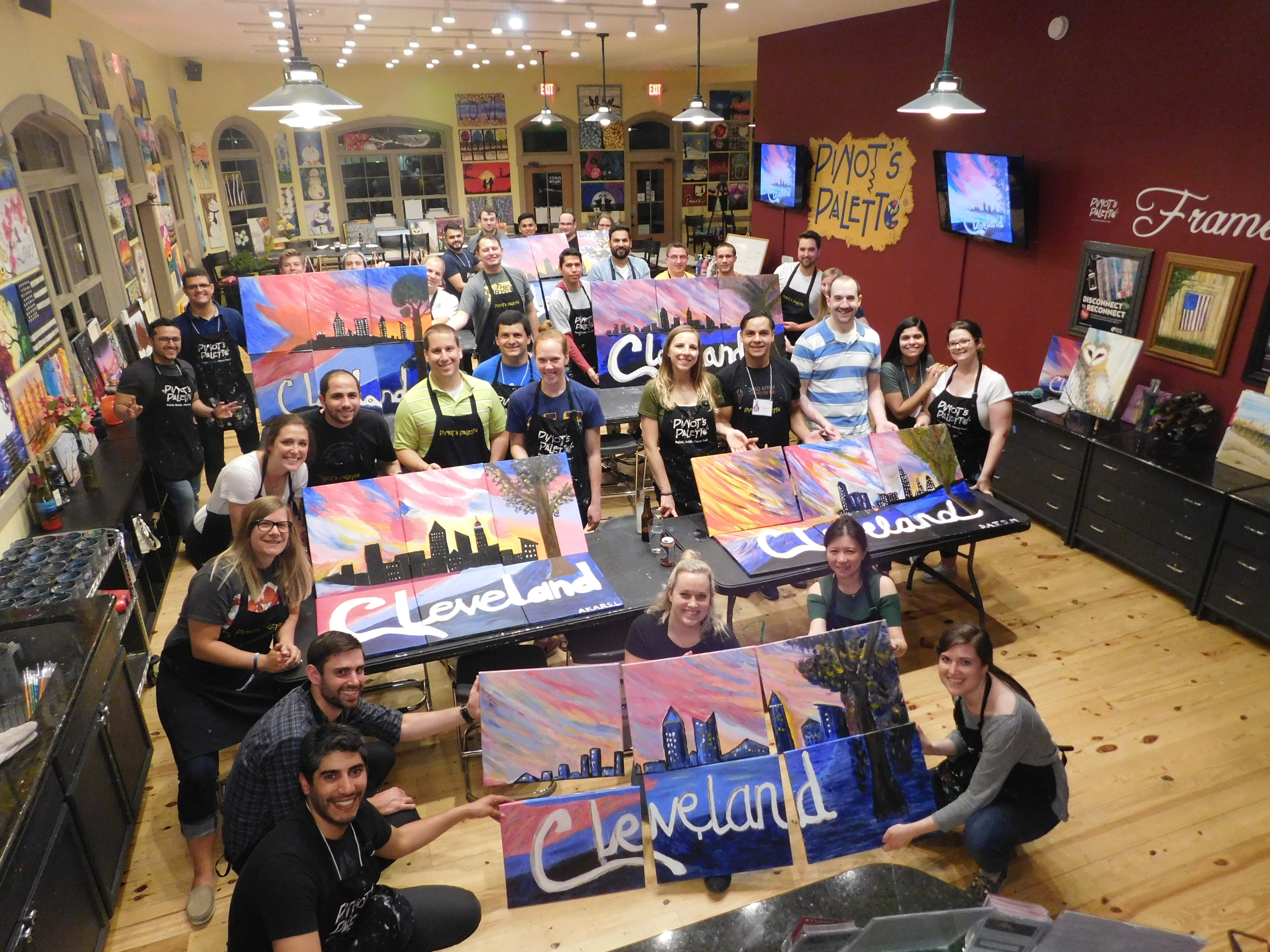 If you book a corporate party, don't worry about set-up! We'll do most of the setting up and cleaning up. All you have to do is bring the party! We will provide you with a private party room; all the supplies that you need to make beautiful paintings; drinks from the bars; any plates, glassware, and plasticware that you might need if you bring some food! We'll be playing music to lift everyone's spirits, but if you want to request a certain type of playlist, please let us know! As for the painting part, we will provide you with instruction from a professional artist. Let us walk you through the types of paintings our instructors can guide you on…
We offer six types of exciting types of corporate party activities!
1. JIGSAW PUZZLE: Small groups are guided on painting separate paintings together. At the end, the entire team gets together to piece their paintings together and create a larger image. Bring that larger scale painting back to the office to hang up for everyone to see and remember the time you all painted as a team! *Most popular*
2. MYSTERY PAINTING: You get to choose a painting, but none of your co-workers will know what it is until the very end of their painting! Everyone will get their own canvas and paints, and our instructor will guide them through the steps without showing them what the end result is.
3. COLLABORATION PAINTING: We'll bring out a big canvas for the office to take turns painting on! Just enjoy the night and sip on some drinks and chat while our instructor instructs the next person on how they can add the next step. It's a super relaxing party, and we want you to enjoy every minute of it, and bring back a beautiful large scale painting to the office.
4. MUSICAL CHAIRS: We love to bring back an old birthday party favorite with musical chairs! We're going to start the party by seating everyone at a canvas with paints, while our instructor gives the first painting step. Then we'll kick it up a notch by having everyone walk around the tables and sit down at the canvas you're at when the music stops! It's
5. SELF-GUIDED: Test you and your co-workers' reading and visual skills as we provide you with the mini canvases, paints, and self-guided instructions! If you think you can handle some painting instructions from a guide, we'd love to see you bring out your inner artist in our studio. We do have many self-guided instructions, so people can choose which painting they'd like to do and bring home!
6. CLASS PAINT AND SIP: This is our most popular option. Just like our standard public and private parties – but double the fun with all the mingling and giggling you'll be doing with your workmates as you each paint your own individual version of a painting that our instructor will be guiding you through. Everyone gets to bring a painting back home or to their own office space!
Are you excited to book a holiday corporate party with us? Excellent, we will pick a date and time, painting, and we'll do the rest! We have a bar onsite for your beverage needs. We do have light snacks available but you're welcome to bring any food you would like. We supply napkins, plates, and silverware.
Don't want to make the trip out to us? We can bring our wonderful staff and handy equipment to YOU!
To learn more about our mobile parties visit pinotspalette.com/olmstedfalls/mobile-painting-party or please contact us at OlmstedFalls@PinotsPalette.com or 440-793-5133
To book the party, you would place a refundable deposit that you get back when you come in the day of your event. If for any reason you need to cancel the party, you can cancel and get your deposit back at least ten business days before the party date. We can work something out too if you need to reschedule the party. We are here to make party planning as stress-free as possible. It is the holidays, after all! Let us give you the gift of fun, creativity, and relaxation.
To learn more about Corporate Team Building Events please visit:
pinotspalette.com/olmstedfalls/corporate-events
Regular Private Parties:
pinotspalette.com/olmstedfalls/private-events
Just want to check out our fantastic paintings? Look at the Pinot's Painting Library!
pinotspalette.com/olmstedfalls/painting-library
Every day we strive to plan the best events that are stress-free and effortless for you!
Call or e-mail us at 440-793-5133 or OlmstedFalls@PinotsPalette.com