Kids Summer Art Camps
Do you have a child who loves to create and be social?! We will have 5 weeks of artistic journeys from sea to land and around the world. Camp is for ages 6-13 years!
Take a look at some of the fun projects we have done in the past. Everything from totes, painting with BLACK LIGHTS where our paintings and clothes glow in the dark, creating cool masks, canvas paintings large and small, paper projects and more!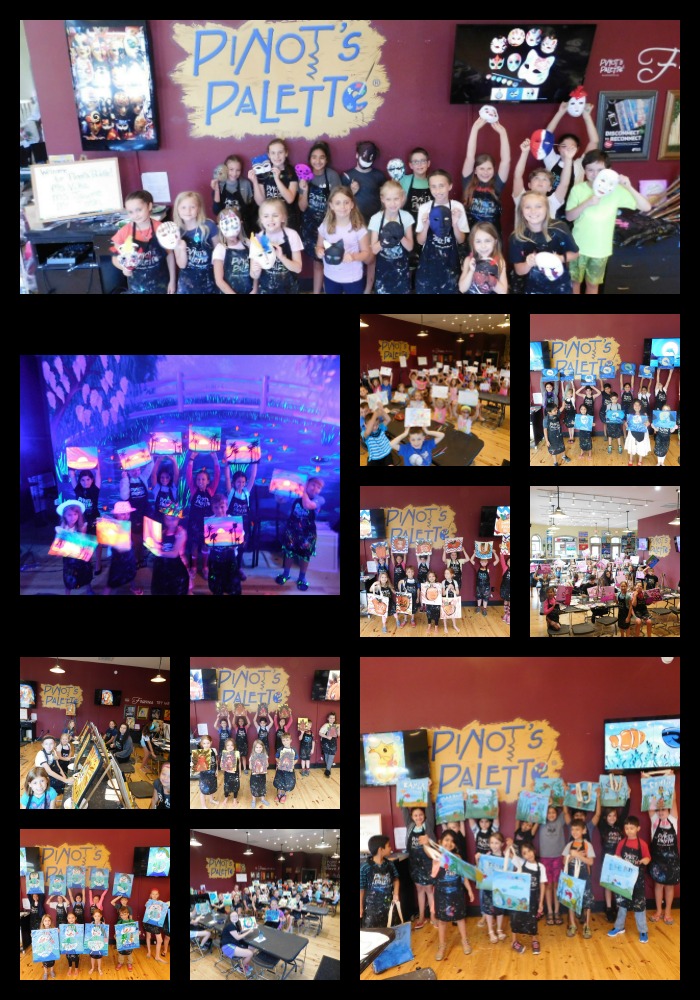 Please send a nut free snack and lunch to all classes.
We will have paint, lots of paint, so please be sure to dress your young artists in paint-friendly clothing!
Purchase two or more weeks at the same time and receive 15% off your 2nd class using promo code: "ArtCamp2019" when checking out!
Parents/Guardians will drop campers off. We will email you an emergency contact/waiver the week before class. While we do require an adult with underage painters for our public classes, this is a closed kids camp with only participants and instructors.
A minimum of 4 campers will be required to hold this week's camp. Should we not reach 4 you will have the option of a refund or to move to a different week of camp for camps 1-4. Sadly, after the 5th week of camp we won't host another art camp likely until winter break! You will be notified by the Friday before class is set to begin.
June 17th-21st 9am-1pm (Monday-Friday)
THEME: Fairy Tales - $175
https://www..../event/323549
July 1st–5th 9am-1pm (Monday-Friday)
THEME: Favorite Holidays - $175
https://www..../event/324115
July 15th-19th 9am-1pm (Monday-Friday)
THEME: MAGICAL ADVENTURES - $175
https://www..../event/323551
July 29th-August 2nd 9am-1pm (Monday-Friday)
THEME: Animal Kingdom - $175
https://www..../event/323552
August 12th–16th 9am-1pm (Monday-Friday)
THEME: Around the World -$175
https://www..../event/323554
DID YOU KNOW?
We offer "All Ages Welcome" classes all year round. Our evening classes are 14+ and our afternoon classes are "All Ages Welcome" which will typically be on Saturday or Sunday afternoons. You will typically find age guidelines when you click on individual classes on the calendar if you want to confirm the ages for any class.
We also offer private painting events for children's birthdays, graduations, sports, clubs, or just because! Questions? Email OlmstedFalls@PinotsPalette.com or call 440-793-5133
For more information on private events click here!
https://www....rivate-events