Fresh, Simple Cocktails for Spring
We have just a month until spring has officially sprung, and depending on where you are in the country, the weather has really been feeling like spring has arrived a little early this year. In Charleston, we've definitely been enjoying the 70 degree breezy afternoons lately. When it's springtime, the air is cool and the sun is out, which means it's time to sit out on a porch or balcony with a glass of something cold in hand. There's nothing better than enjoying the fresh spring air with a fruity cocktail. Here are two simple, and refreshing cocktails you can try leading up to the spring season.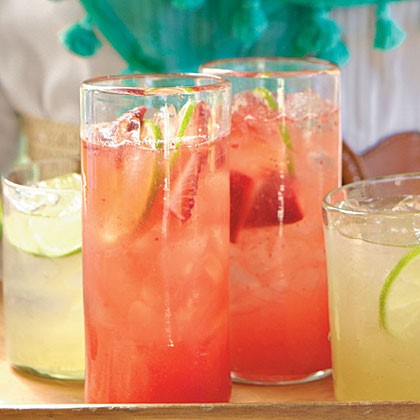 Strawberry Basil Margaritas
Makes 1 Pitcher
Ingredients:
- 1 can (12 ounces) frozen limeade concentrate
- 10 strawberries (or 12 if you're using smaller ones from the farmer's market or your backyard.
- 8 basil leaves
- 2 to 2 1/2 cups tequila (gold or silver)
Empty the limeade concentrate into a pitcher. Add 2 1/2 cans of water and 1 1/2 cans of tequila (or a bit less, if you don't want your drinks to be quite as strong). Hull the strawberries, slice lengthwise, and add to the pitcher. Crumple the basil a little in your hands and add it to the pitcher. Place the pitcher, covered, in the fridge for at least four hours. When you remove the pitcher from the fridge, your margaritas will be a pink color.
The Blueberry Rum Smash
Makes 1 cocktail
Ingredients:
- Fresh (or frozen) blueberries
- 1 tablespoon brown sugar
- 3/4 ounce fresh-squeezed lemon juice
- 2 ounces rum
- Ginger ale
Cover the bottom of an old-fashioned glass or mason jar with blueberries. Add the brown sugar and lemon juice and muddle until the sugar is melted. Break the skins of the blueberries, but not to mash them into a pulp. Fill the glass with crushed ice and then add the rum. Top with ginger ale and stir.
Both of these drinks are quick and easy to prepare. Did you notice they both incorporate berries? Collect berries for your cocktails by visiting a local berry pickin' patch! Picking berries with friends, then using them to make fun spring inspired drinks is a great way to disconnect from technology to make memories with the people that matter in your life. Try these fun recipes, and let us know what you think.
Enter your contact info and request details below, and we will contact you with details about your private party!