Pumpkin Carving Ideas
As much as we love eating pumpkin everything during the fall, we also love using pumpkins as halloween decor! That classic, glowing orange toothy grin is fun, but why not try mixing things up this season with a unique twist on the classic jack-o'-lantern. Your trick-or-treaters are going to love seeing these pumpkin works of art. Carve creatively this Halloween with these unique ideas.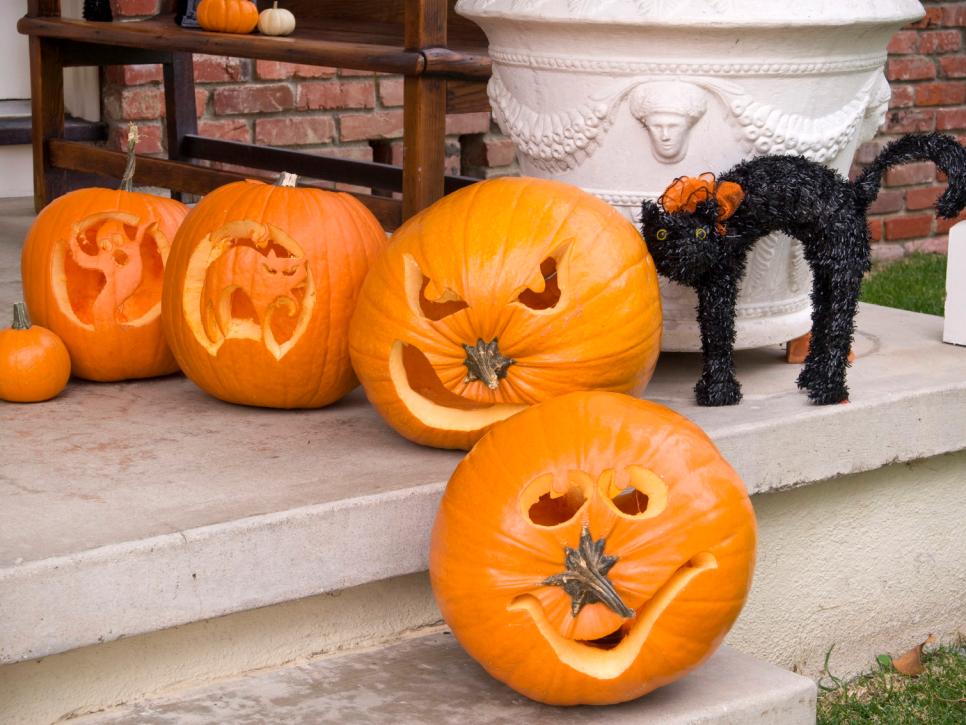 1. If you're not into spooky jack-o'-lantern faces, carve a word into your pumpkin!
Let trick-or-treaters know who they're visiting by carving your last name into the pumpkin, or use a halloween inspired word like "BOO." Type up your word on the computer, print it out, tape the paper to the pumpkin, and carve out the letters.
2. Add an extra scary element to your jack-o'-lantern's smile.
Stick an array of scattered toothpicks in your pumpkin's mouth to create the illusion of sharp, scraggly teeth.
3. Make creative pumpkin pots!
All pumpkin decor doesn't have to be halloween inspired! Carve the top off a mini pumpkin, then cut the bottom off a water bottle and drop it in to act as a vase. Fill your pumpkin pot with beautiful fall flowers. You can even paint your pumpkin pot to give it an added fun flair.
4. Don't have tools for carving? Try painting a pumpkin with a unique design!
Using painting tape, create an arrangement of chevron stripes on your pumpkin. Paint between the lines, then when the paint is all dry tear off the tape to reveal your bold design. The tape will keep your lines clean and sharp. If you're not into chevron try a different arrangement of stripes.
Embrace all things fall this season, from eating pumpkin things faster than leaves are falling from trees, to decorating your home with fall inspired pumpkin decor. Share your halloween decorations with us on Facebook. Cheers!
Enter your contact info and request details below, and we will contact you with details about your private party!