Cool Cocktails to Beat the Summer Heat
Cool Cocktails to Beat the Summer Heat
Whether you're at a cookout, or on the beach, there's nothing better than a cool, refreshing cocktail during the blazing hot summer months. Entertain effortlessly this summer with these cocktail recipes are delicious and easy to make. Let's face it, you will want to whip up a batch of one of these cocktails every weekend (and every week day, let's be honest here).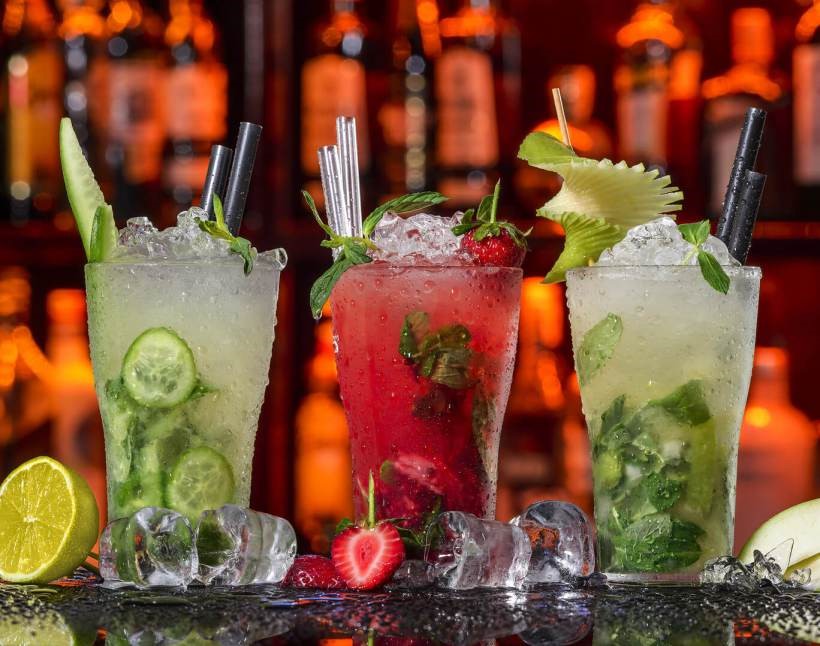 Summer Mojitos
INGREDIENTS
1/2 c. lime juice
3 tsp. sugar, divided
1 bunch fresh mint
1/4 c. pineapple
1/4 c. strawberries
1/4 c. blueberries
6 oz. white rum, divided
1 can selter
More fruit, for garnish
lime slices, for garnish
DIRECTIONS
1. Among three glasses, divide the lime juice evenly. Next, add a teaspoon of sugar to the bottom of each glass, then two mint leaves and 1/4 cup fruit (one with pineapple, one with strawberries, and one with blueberries). Using the back of a wooden spoon, muddle the fruit and mint.
2. Fill the glass two-thirds full with ice cubes. Add 2 ounces rum to each glass and top with seltzer. Garnish with fruit and lime.
Pink Senoritas
INGREDIENTS
Lemon wedge, for rimming glasses
Coarse salt, for rimming glasses
2 c. ice
2 c. Pink lemonade
1/4 c. fresh lemon juice
1/4 c. triple sec
1 c. tequila
4 Lemon Slices, for garnish
DIRECTIONS
1. Rub a lemon wedge around the rim of four glasses, then dip rims into salt.
2. To each glass, add ice, pink lemonade, lemon juice, triple sec, and tequila. Stir to combine. (if you prefer a lot of ice, stir together mixture first, then pour over ice.)
3. Garnish each glass with a lemon slice and serve immediately.
Give one of these recipes a try and let us know what you think! Until next time, enjoy the bright summer days, making memories with the people that matter. Cheers!
Enter your contact info and request details below, and we will contact you with details about your private party!