Top 10 Reasons Pinot's Palette North Shore should be #1 on your To Do List
1. We differ from the norm
Instead of hosting another birthday dinner or bridal shower at a catering hall, and instead of the same old afternoon looking for somewhere new to go (probably off the island), we offer an innovative and creative experience. We mix art, nightlife, and opportunity to create a memorable experience and masterpiece you'll keep forever. You get to sit back and relax with a drink in hand, catch up with your favorite people, and learn to paint your own unique masterpiece from start to finish ☺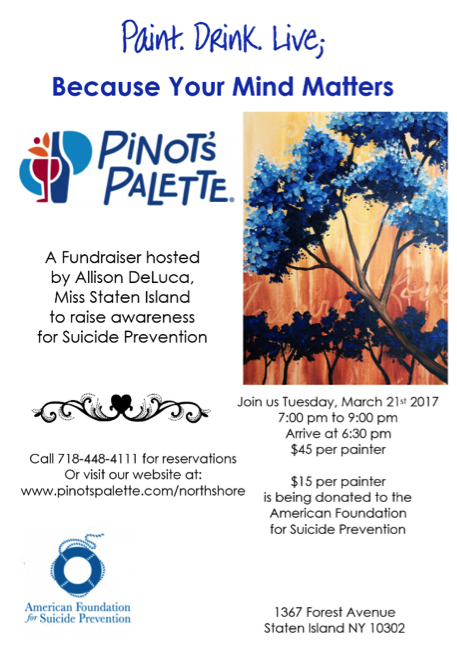 2. Local Artists
Our Artists come from all over Staten Island to share their talent and their passion, providing you with an unforgettable class where you develop your own painting skills. You get to interact with them on a personal level and for some, it provides the foundation to build a relationship – whether as an aspiring artist, as a mother who is looking for a hobby, as a child who is looking for an outlet. The Artists we have here provide the studio with a sense of home, here on Staten Island.
3. You don't need to be an artist to attend
Never painted before? Stick figures are your forte? No problem. This is an awesome environment for everyone. Whether you're just looking for something new to do for date night, something to share with your child, or somewhere to learn new painting techniques because deep down, you're an artist at heart.
4. Wine Tasting
Taste a new wine while you paint. What better way to spend your day than relaxing with a beer, hard cider or glass of wine and a paintbrush in hand? We also offer soda, juice, bottled water, and coffee.
5. Date Night Paintings
These paintings are perfect to share with that special someone in your life – whether romantic, family, or your best friend. While you're working on your own canvas, your "date" is working on theirs, and at the end of the night, you push the two together to make the painting whole.
6. Painting is the new yoga
We are always looking for ways to unplug, let loose, relax, and express ourselves. We want to escape the busyness of our lives and the chaos of our schedules. Our painting classes provides the opportunity to do so. Whether with a group or by yourself, painting is its own form of therapy and maybe, just maybe, it will become your newest and most favorite hobby.
7. Something for all ages
Pinot's Palette North Shore is a place of diversity; a place where all ages can come together and be a part of something beautiful. We host both adult parties and children's parties, boy/girl scout events, and school trips. We offer paintings that are easier for younger kids and ones that are perfect for all ages. Our paintings are for both women and men, as well.
8. Girl's Night Out
Food, drinks, activity, and good music – you can't go wrong. Whether you're looking for old school or 80's music, or some new R&B and hip-hop, our events are never without pumping tunes to fuel good vibes. So grab your squad and paint the night away with your favorite glass of wine.
9. Painting it Forward
Who doesn't like to give back? Who doesn't want to do more? Pinot's Palette North Shore hosts various fundraisers, donating money per painter towards a specific charity. Upcoming we have a few fundraisers at our studio.
On March 21st, Miss Staten Island is hosting "Paint. Drink. Live; Because Your Mind Matters," a fundraiser where all proceeds will be donated to The American Foundation for Suicide Prevention. The event begins at 6:30pm & is $45 per painter, with $15 per person donated to suicide prevention.
On April 8th, beginning at 6:00pm, Pinot's Palette partnered with the after-school theatre program – "The Standing Ovation Players," to raise money. The class isa $35 per painter with $5 per painter donated towards furthering children's education through art.
These events provide the perfect opportunity to take the extra step and help make a positive difference. So come and Paint it Forward! Book your next fundraiser with us now! Or reserve your seat for one of the many, where donations go to a life changing cause.
10. We're local
Instead of looking for something to add to your bucket list that's out of state, our North Shore studio gives Staten Islanders something new and local to take part in. It's a fun afternoon or night to get together and enjoy yourself, with so many people from our own hometown. It provides the opportunity for different neighborhoods to come together and make new friendships and create new memories, right here in your own backyard.