Our Top 10 DIY Cork Projects
Here, at Pinot's, one thing we absolutely love is wine! And if you drink as much wine as we do, you end up with a lot of corks. We save all of ours because they are PERFECT for DIY projects.
Here are our top ten DIY picks: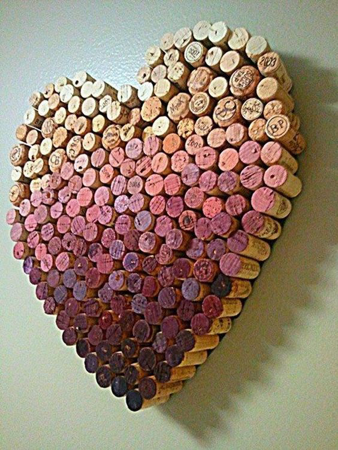 1. The perfect counter top to your new bar area and soft enough so if the bottle falls over, you're saving the bottle and leaving the top scratch free!
2. Not only do we love it as a countertop but we love it as a rustic backdrop for your kitchen. Anyone who's ever looked to change the tiling back here knows how pricey it can be. But using saved up corks makes it inexpensive and look great! Check it out:
http://www.c...k-backsplash/
3. You can use them for something tiny such as cute and practical coasters which look good with a border or without one! See some we like here:
http://www.p...ter-tutorial/
4. Or, for something a bit larger like a bathroom rug. You can take a bath mat, some glue, and set those corks in place, making this rug both decorative and useful. Take a look!
http://www.c...ork-bath-mat/
5. Some of us like to play with our corks and get a little more inventive. This cork backdrop is the perfect accessory for this dart board. Not to mention it saves your wall from any damage after those tipsy game nights. See some cute ones.
https://macg...orks-0138908/
6. Talking about saving your wall from damage, I know I have holes all over mine from notes and calendars. But corks can make a cute way to display your daily to do list. Check this one out.
http://www.n...mo-board.html
7. Home décor. My most favorite hobby! Especially when you can reuse items you were going to just toss out. They're not too small so they're both manageable and versatile.
Grab your favorite flat wooden image from your nearest Michael's, Walmart, or AC Moore and glue the corks to make a unique piece you'll get praised on for sure! Click the link below to get some ideas.
http://bnvde...wine-cork-map
Take it one step further and add a splash of color to complement your home.
8. Another perfect way to create your own work of art is by making cork wreaths. See the links below for awesome wreaths.
http://howto...orials-video/
http://mosca...-cork-wreath/
You can take a straw or styrofoam wreath and use toothpicks to hold the corks to the wreath. But make sure you use glue or a hot glue gun on either side of the stick to ensure they stay together! Then you can get creative by adding garland for Christmas, orange and brown ribbons for Thanksgiving, or spiderwebs for Halloween!
9. A simple use for corks is making a keychain out of them. Why would you want to do this? Cork keychains are perfect to bring in the water because they float, making the chance of your keys getting lost at the bottom of the ocean extremely unlikely. See how easy this can be:
http://lilia...rnaments.html
10. Corks are not only great to create things out of but they're great to fill items you already have and give it an extra pop. See some great candleholder ideas.
http://www.t...andle-holder/
If you're using the corks as a filler with candles, make sure it's a double lined candle holder, as the corks will burn if they're placed in direct position with the flame.
So next time you uncork that bottle of wine, think twice before throwing away those corks!
** Pro Tip:
In order to make the corks easier to cut apart:
• Fill a saucepan with a couple inches of water.
• Add strainer/sifter to pan. Make sure the water does not touch the apparatus.
• Add corks to apparatus. Cover. Boil water for 3 minutes.
• Cut corks like butter.