Gender Reveal Parties
Waiting to find out the gender of your newborn might have been the tradition, but the newest trend is hosting a gender reveal. From blue or pink balloons floating off into the sky to a piñata spilling out confetti, to hitting a baseball and upon impact finding out the gender of your little one – anything goes! Now Pinot's Palette offers a new and exciting way for you and your guests to find out!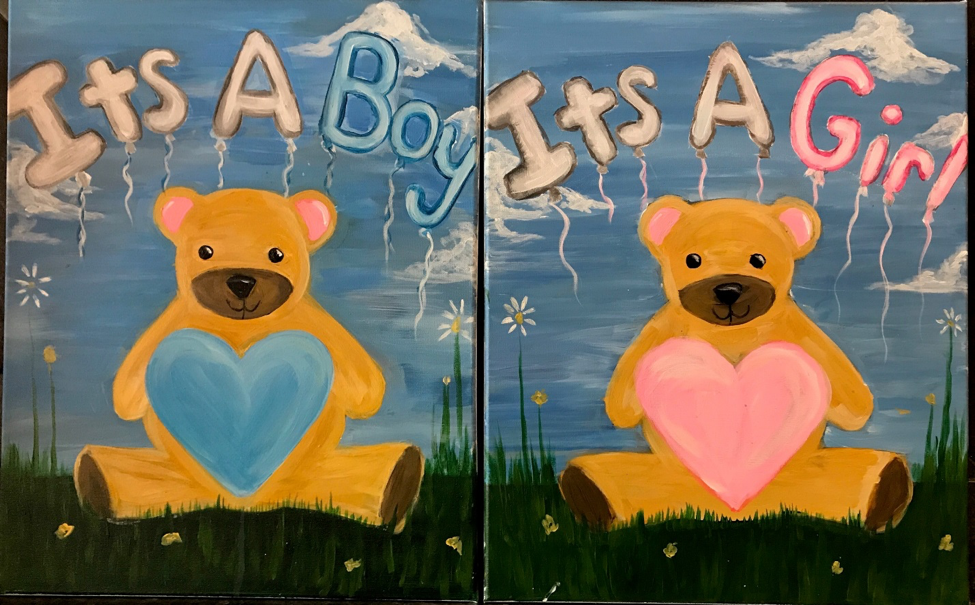 Plan a gender reveal party where you and your guests come in and paint this adorable teddy bear with one of our talented artists. Your paint palette will contain both blue and pink paint so you and your guests can make guesses but the only one who will know is your instructor.
For even more fun, add an extra twist and have people guess what the gender is and have prizes for the correct guess!
When the instructor gets to the point of painting the heart, this will reveal the gender of the baby. You can even do this painting as a date night if you're expecting twins!
The painting can also be used for a baby shower or a birthday party! Personalize the colors of the heart and even add some numbers for the birthday! The options are endless and offer Moms and Dads-to-be an artistic and different way to host their gender reveal party! And you'll have this beautiful DIY painting for the nursery.
For more information, give us a call today 718-448-4111 or click on the link below.