10 inspiring females I met at Girls World Expo on Staten Island
This article is from the Staten Island Advance. Our own artist, Heather Harkins is quoted and we are so proud!
STATEN ISLAND, N.Y.-- The national Girls World Expo series brought over 600 girls and women of all ages to St. John's University in Grymes Hill Sunday to celebrate female empowerment -- and the diversity that comes with it.
There was never a dull moment: A runway fashion show with art, live music and dance -- all featuring local gals -- took over the campus.
But it was about so much more than that: Seminars on bullying, anxiety, body image, self-defense and self-esteem also went on throughout the day.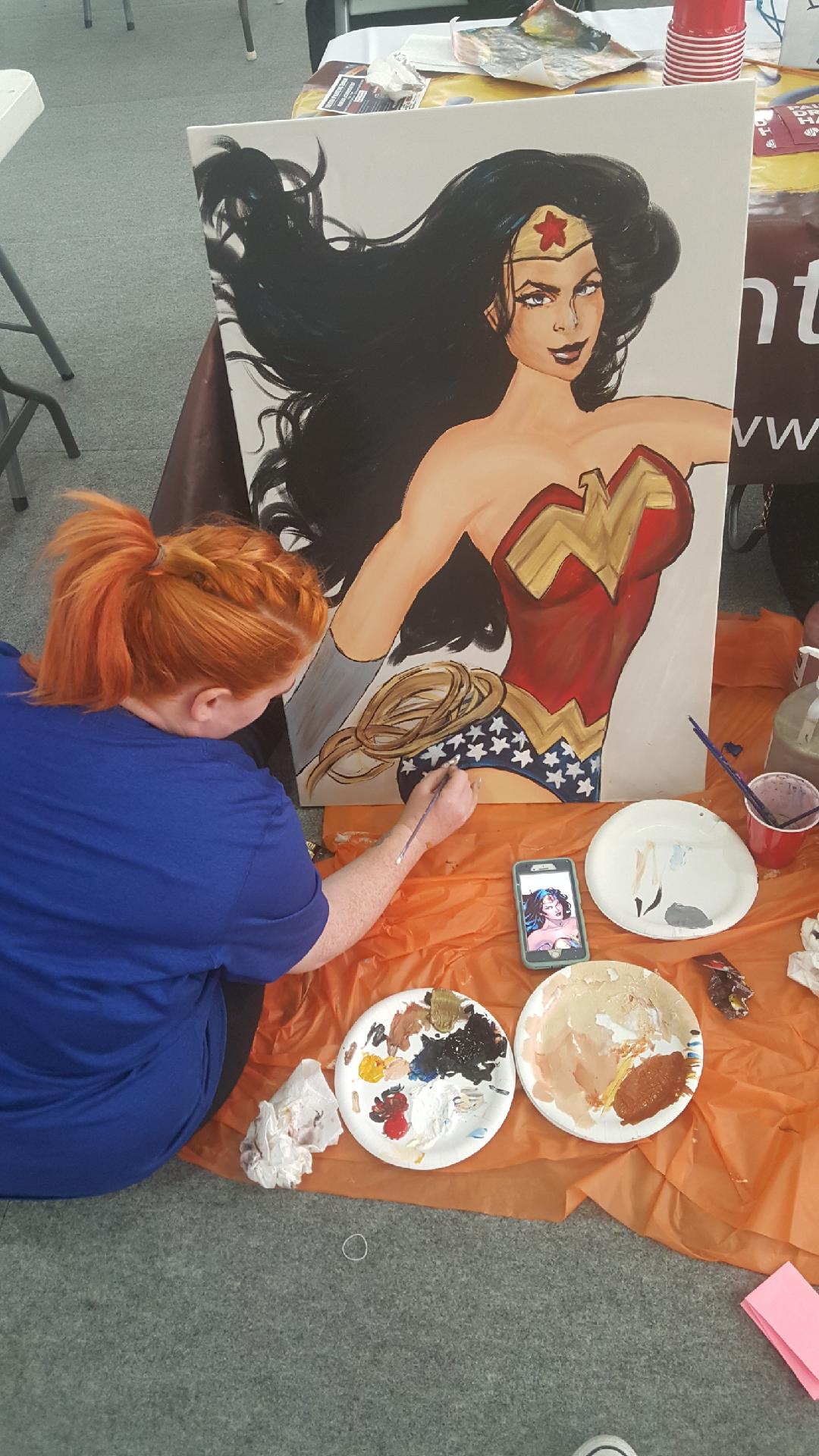 A panel of "Fearless Females," featuring Linda Baran, CEO of the Staten Island Chamber of Commerce; Amanda Rae Davis, Assistant District Attorney; and Amy Freeze, ABC7 Meteorologist; spoke about advancing in your career of choice, steering away from drugs and any questions ladies in the audience had.
Throughout the craziness of the all-day event we found 10 especially inspiring girls -- and women! -- we just had to shout out.
Gabrielle Garcia, the 17-year-old senior at Staten Island Tech who emceed the event, says getting the younger girls on the stage dancing, laughing and talking about what they love about themselves was the best part of her job.
"My best advice to anyone who wants to get on stage is to be yourself," Garcia said. "Just have a good time. If people in the audience see you being yourself, they can understand where you're coming from. Don't worry about what they may -- or may not -- be thinking. Be you."
Amanda Rae Davis, an Assistant Attorney for the District Attorney Office, shares a nugget of advice to ladies struggling with confidence issues.
"Just be yourself. Learn who you are and what you love," Davis says. "Because at the end of the day, people can love 'A' but you can be 'B' and if you're all about it, then that's whats important."
Hailey Cintron, 11, of Great Kills says coming to Girls World Expo is exciting because she can be around support and love.
"It's important that we celebrate and be proud of who we are," Cintron says. "We should be proud of each other and love each other because we're all in this together."
Heather Harkins from Pinot's Palette, who painted Wonder Woman live for the Girls World crowd, says any girl looking to pursue a career in art should "just go for it."
"It's as simple as that, just do what makes you happy," Harkins said between paint strokes.
Caroline Harrison, publisher of the Staten Island Advance/SILive tells me that through this event, she hopes to promote an overall message of positivity.
"My advice to teens would be to not be influenced by what's going on around them," Harrison said. "Go with what means the most to you and by doing that, your dreams will come true."
She continued: "I'm so pleased to see a such a great crowd for this event."
Kara Arcuria, an Advertising Agent at Staten Island Media Group, has been pushing for this event to happen for the past two years. She says the diversity of event activities is exactly what young girls need.
"Having workshops on subjects like self-defense and changing a tire is important because these are things we need to know as people -- let alone women," said Arcuria. "Bringing these king of activities to one place at one time for so many to see is so important to us as a team."
Varinda Missett, President and Founder of Girl's World Expo said, "It's important for us to have this event in communities that support local women and that's what we've found here on Staten Island. The most common issue we see teen girls facing is self-confidence, which is why we try our best to give teens an open outlet to ask questions and get helpful advice from other women."
Linda Baran, CEO of the Chamber of Commerce, spoke to a group of young women about the possibility of going into business.
"It's really important for young women to think about how they present themselves," Baran said. "It's very easy to be insecure but it's really all about preparation and knowing your topic."
She said to take advantage of the high school and college programs for professionalism and career service centers your school provides.
"When you're prepared and you know what you're talking about; that gives you so much confidence," Baran continued. "When you're confident, people see that."
ABC7 meteorologist Amy Freeze, a native Staten Islander, draws her confidence from a letter her grandma sent her when she was a teen. Her grandmother said physical appearance is great but having a strong character is better.
"In order to have confidence, I think if you work on your character and work on your inside, then that will emulate out," Freeze said. "You'll feel more confident because you'll know who you are and the decisions you want to make."
Alecia Giovinazzo, M.D., a gynecologist who treats patients as young as 12 years old, said there is no shame in teens starting an honest conversation with their moms about their privates.
And now for a comment from the opposite sex.
St. John's University Staten Island provost Robert Fanuzzi left the event with these words: "You've heard of the 'old boys club' -- but there's gotta be a 'young women's network.'"
Share Read the article on SILive.com | Plan a Girls Night at Pinot's Palette!