Bar Menu
Enjoy a glass of wine or beer while you paint. You're sure to find something to tickle your palate from our extensive menu featuring wine from around the world and beers from Colorado!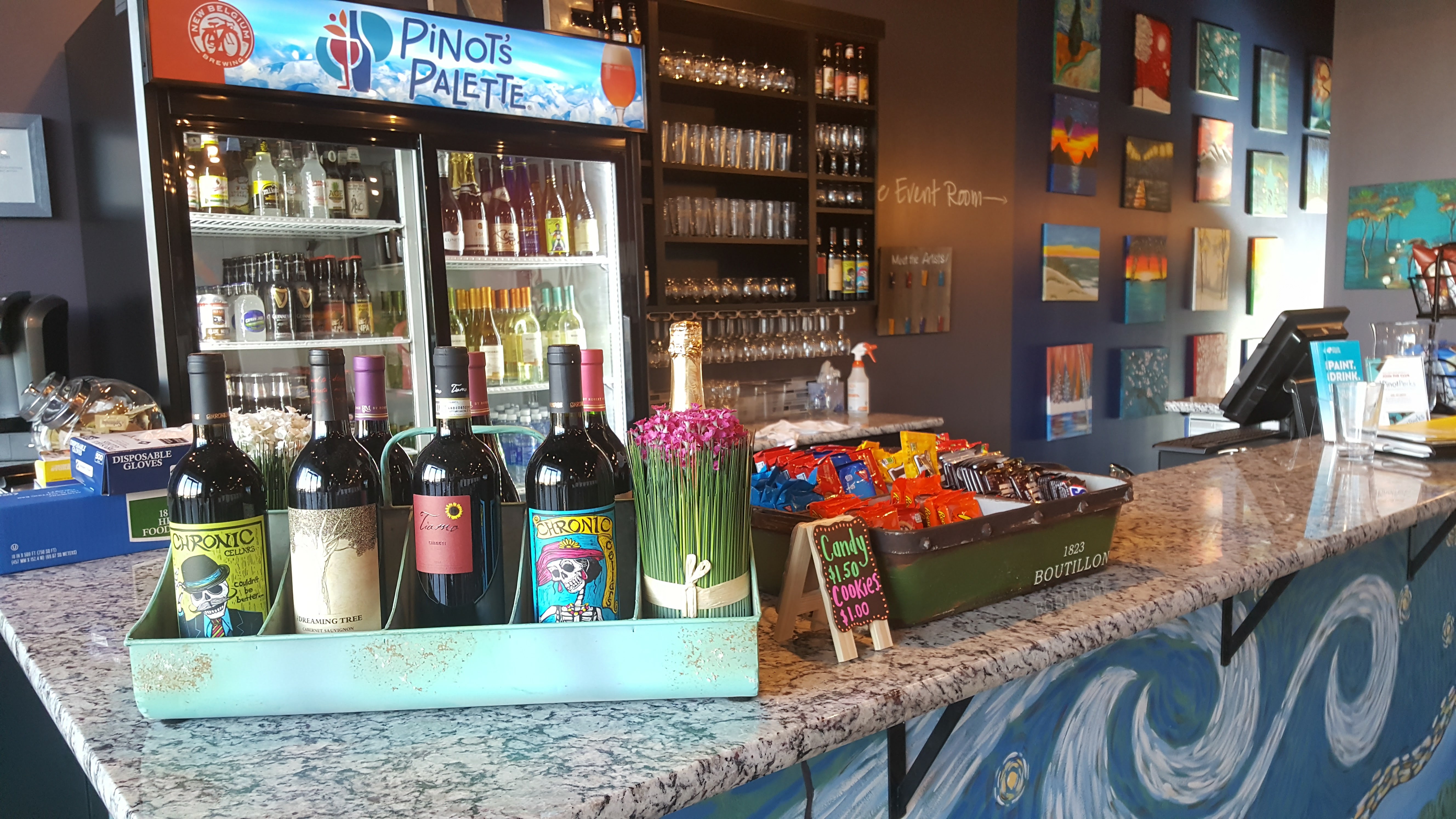 Brut
Chronic Cellars Spritz and Giggles 30 (bottle only)
JRoget 20 (bottle only)
Prosecco: Lunetta Cavit, Italy 33 (bottle only)
Orange Juice available
White Wines
WoodBridge: House wine
Chardonnay 6/20
Moscato 6/20
Sauvignon Blanc 6/20
Pinot Grigio 6/20
White Zinfandel 6/20
Bluefel Riesling 7/21
Chronic Cellars Eunice X Central Coast White 36
The Dreaming Tree Chardonnay 36
Red Wines
Woodbridge: House Wine
Cabernet 6/20
Malbec 6/20
Pinot Noir 6/20
Merlot 6/20
Red Blend 6/20
Chronic Cellars Dead Nuts 36
Chronic Cellars Sofa King Bueno Red 34
Tiamo, Organic Chianti 30
Beers
5, unless noted
Coors Light 4
Miller Lite 4
New Belgium Fat Tire
New Belgium Voodoo Ranger IPA
New Belgium Voodoo 8 Hop Pale Ale
New Belgium 1554
New Belgium Seasonal
Blue Moon
Mama's Little Yellow Pils
Red Leg Doolittle IPA
Red Leg Blue Nose Brown
Not Your Father's Rootbeer 6
Guinness 6
Leinenkugel Summer Shandy
Leinenkugel Grapefruit Shandy
Cayman Jack Margarita
Angry Orchard Hard Cider
Mikes Hard Lemonade
Smirnoff Ice
Smirnoff Mango
Ace Pineapple Cider
Nosh
Cookies 1
Candy 1.50
Chips 1
Non-Alcoholic
Soda, Coke Products 1.5
Coffee 1.5
Bottle Water 1
Perrier Water 2
Enter your contact info and request details below, and we will contact you with details about your private party!