What Are The Best Wines To Try If You're A Beer Drinker?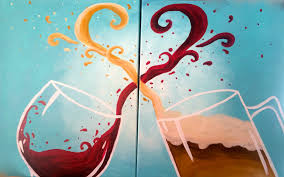 Pinot's Palette is a painting and wine studio… A place where you can come in and let all of your worries, slip away.
Our customers come in to create a handmade work of art that means so much to them because it's something personal that THEY made; With the majority of our customers, not always considering themselves, "Artists", it's even more meaningful to see them leave with their masterpiece, ready to take it home and show it off to the world!
Whether or not you think of yourself as an artistic person, or you haven't attempted to paint anything since your 3rd grade art class, we're here to assure you that ANYONE can paint!
That being said, if you're still nervous, we offer a large variety of wine in our studio, serving as a sort of 'Liquid Creativity' for you to enjoy as you paint! Painting is a relaxing activity where you can work, mindlessly, to express yourself on the canvas, lowering stress levels and blood pressure, while you're at it! Pair that with a nice glass of wine, and you've really got a great way to relax after a long day.
We know that not everyone is a wine-drinker, and while we DO offer some great beer selections at the studio, we also wanted to provide a guide for all of the beer-drinkers out there, on some delicious wines to try! With each type of beer, a specific kind of wine as been matched, making it an easy transition from the flavors of the beer you usually drink, to a nice glass of wine to enjoy when you're out with friends, at a wine tasting, or anytime!
*** *** What Are The Best Wines To Try If You're A Beer Drinker? *** ***
If You Like CIDER
Then Try CHAMPAGNE
*If you like your tart and fizzy ciders, then sparkling wine is right up your alley.
If You Like PALE ALE
Then Try PINOT NOIR
*Pinot Noirs are Earthy, yet light (and like Pale Ales), are popular for being balanced and mellow
If You Like WHEAT BEER
Then Try CHARDONNAY
*Chardonnays, like wheat beer, are complex while still being smooth, light, and refreshing.
If You Like PILSNER
Then Try PINOT GRIGIO
*A Pinot Grigio's simultaneously sweet and spicy notes are reminiscent of a Pilsner's strong hops and spiced profile.
If You Like LAGER
Then Try CHIANTI
*Chiantis are medium-bodied, and often bitter and acidic, much like a dry and crisp lager.
If You Like IPA
Then Try SAUVIGNON BLANC
*Hoppy IPAs and grassy Sauvignon Blancs are both versatile, bright, bold, herbal, often featuring notes of citrus.
If You Like AMBER ALE
Then Try ZINFANDEL
*Zinfandels are characteristically full and sweet, so lovers of the malt-centric Amber/Red Ale will feel right at home.
If You Like DOPPELBOCK
Then Try MERLOT
*Merlots typically have a delightfully smooth finish with subtle chocolate flavor, making it an easy transition from the palatable and malty Dopplebock.
If You Like PORTER
Then Try SYRAH
*Both Porters and Syrahs are known for being powerful, dark, and full-bodied.
If You Like STOUT
Then Try CABERNET SAUVIGNON
*Cabernet Sauvignon is a dark and full-bodied wine with strong and layered fruit flavors. It is the red wine version of a bold and roasted malty stout.
If You Like BARREL AGED
Then Try PORT
*Ports are strong and jammy dessert wines with flavors as "in your face" and textured as your favorite barrel-aged beers.
Check out our wine and beer menu, but keep in mind that we're often adding new varieties to the menu to keep it fresh!
https://www....tandsipstudio
See you soon for a painting and wine (or beer) class! Cheers!