Keep The Kids Busy All Summer Long, With These Super Fun Crafts!
With Summer in full force and the kids still out of school, who not make the most of those long Summer days?! Go ahead and have some fun and get crafty with some of these DIY craft projects!!!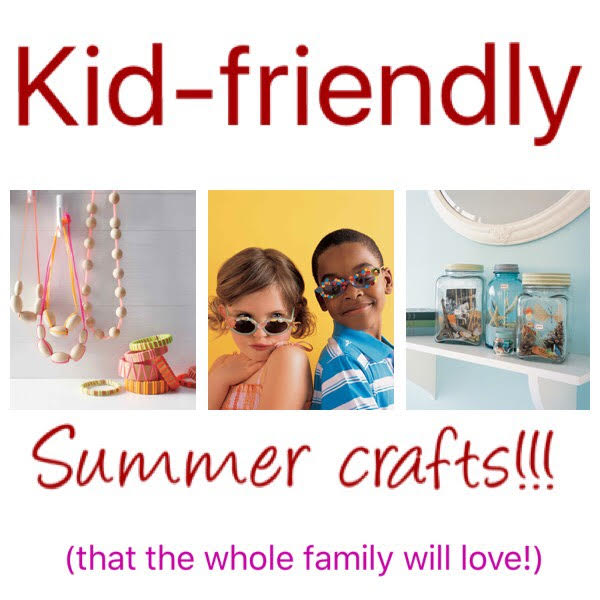 The kiddos have been out of school for a few weeks, now. While they are, undoubtedly, loving every minute of their free time, they may get tired of the same things every day. How about challenging them to tap into their creative side and get them working with their hands on one (or all!) of these super cool Summer crafts!
From some amazing DIY jewelry to re-purposing those treasures from a recent vacation, this list has a lot of fun and very do-able ideas for them and the whole family to enjoy!
Hands down, our favorite, is the 3 different tutorials for the homemade jewelry. We would totally wear those fun and funky wood and neon pieces.... heck, we'd even make it without the kids' help! The homemade beads are a interesting way to use materials lying around for a unique project where the colors and shapes are endless! The nature walk bracelets are super fun and a great way to show off some fabulous finds on a family walk on a nature trail, or from your kids just going around the neighborhood with friends to find items in nature!
While our favorite might tailor itself towards the female kids, we also ABSOLUTELY love the vacation memory jars! This idea is perfect for after a family vacation, where souvenirs were collected and held onto! From and sand and shells to any other small memorabilia from a recent trip, these are a perfect way to display memories to always be admired.
Check out the list and see what you and your kids may want to create!
For your little artists (ages 6-12yrs) who want to do more than just a single craft, we have 2 summer camps at our studio this summer!
*July 10-14
*August 7-11
At the camps, each day will feature one of our paintings in the morning, break for lunch, and then continue into the afternoon with a unique craft. We'll have different activities each day, so you can sign up for one day, or come all week! Limited to 35 seats/day.
(**This is a drop-off class for kids)--- then you'll have some spare time of your own to fill while they're busy painting and crafting!
You can always stop in with YOUR friends and family (21+) for a wine and painting class at our studio when the kids and summer time get to be too much to handle and you need a little time away for yourself and finding your inner craft self. A glass of wine, friends, music, and painting with a professional instructor walking you through the painting, step by step is just what you need sometimes!
For more information, call us at 331-457-5440.
And don't forget to follow us for the latest updates and pictures!
Facebook: Pinot's Palette Naperville
Instagram: PinotsPaletteNaperville
Twitter: NapervillePinot
Snapchat: NapervillePinot
Share Creative summer crafts from Martha Stewart! | Sign up for a painting class at our studio!!!