DIY Wire Wine Cork Barrel
Love the idea of a wine cork filled barrel that's an end table? We do too! You can purchase one online with a click of a button, or you could use it as inspiration to craft your own one-of-a-kind home accent.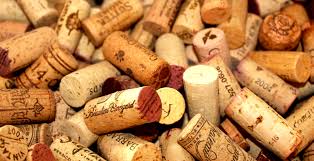 Sure anyone can type "Cork Catcher Accent Table" into Google and purchase this 'unique' piece of home decor for $99.95, but why buy one when you can get crafty? A few simple supplies are all you'll need to create a custom home accent that will have all your guests inspired and impressed!
Step 1: Obtain a round, wire basket to mimic the shape of a barrel. (Hint: H&M has a black wire basket for $18)
Step 2: You'll need a sturdy flat surface to place on top of your open basket to act as a table-top. A piece of plywood would be a perfect! If you aren't particularly great with power tools ask someone who is to cut it into your desired dimensions. (Hint: This step is potentially FREE if you have some extra wood from previous home improvements laying around)
Step 3: Optional: Your wood table-top may look great as is, but if you want it to match your black wire basket you can purchase a can of black spray paint from a craft store. (Hint: Michael's carries Krylon ColorMaster for $7)
Step 4: Obtain a small chalkboard plaque and chalk (Hint: Dollar Tree has both for $1/each)
Step 5: DRINK WINE...and collect your leftover corks.
Step 6: Time to craft and assemble! You may choose to secure the table-top in some manner to the wire basket. Multi-purpose superglue is a good idea, however make sure the space between the wires is large enough to squeeze your corks through if you plan on using your custom piece of home decor as a collection bin for them. If your chalkboard plaque comes with a string you can simply tie it to your basket, if not that superglue will come in handy.
When all is said and done you can potentially custom craft a wine cork collect basket that doubles as an end table for around $27. A bargain and a good time! Happy crafting!
Enter your contact info and request details below, and we will contact you with details about your private party!