My First Time Painting
Calling All Beginners!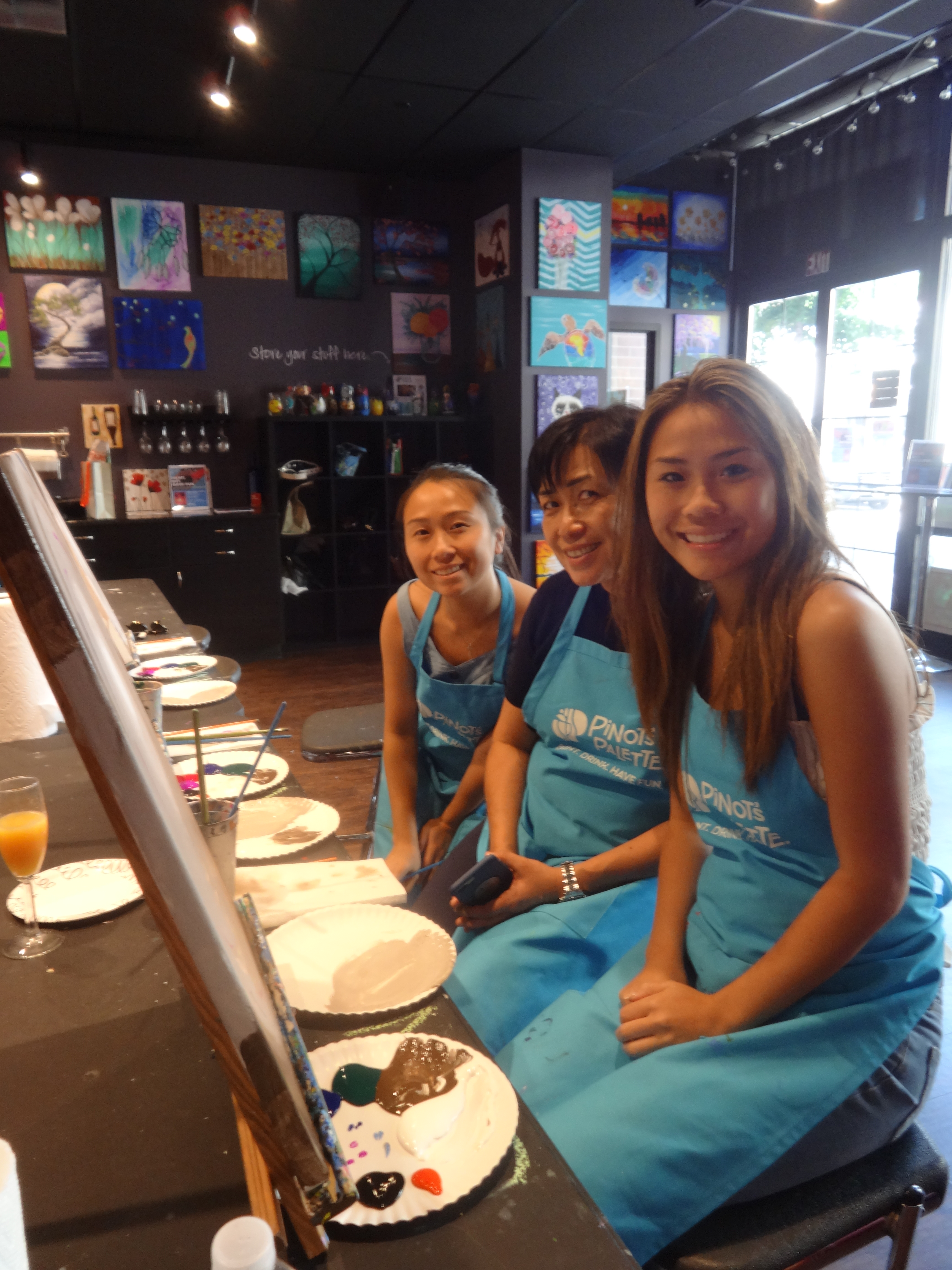 On June 25, I decided it was time to try a Pinot's Palette class. I brought my mom and sister in with me as reinforcements for I was about to step into the unknown. If you know me, you would label me as one of the most Un-Artistic people ever. In high school, I stopped taking art my sophomore year after a failed clay working class. As I looked at the event calendar online, every painting that Pinot's Palette presented was beautiful and looked like it belonged in a museum. I had a feeling mine would be an epic failure. Nonetheless I chose a Sunday brunch class with the painting called "Toot Sweet".
As I walked into the studio that Sunday morning, I was greeted with smiling faces as I was led to my station. My family and I spent the remainder of the time before class started getting settled in, putting our food down, and my mother and sister began making mimosa's for themselves. I, on the other hand, am still under 21, but that didn't stop me from getting a cup of orange juice and clinking glasses with my family!
Now that I was hydrated and full, I was ready to paint! The soft music playing in the background served as the perfect environment to get artistic. Lora, the instructor, started off by giving us very clear instructions on how to mix paint to create the perfect color! She also demonstrated how to make the most effective strokes of the brush! I can honestly say that with her instruction, creating this painting seemed easy and fun, almost as if painting had suddenly become my second nature. She never went ahead of the group, and at times it felt like we were all painting together rather than taking a class. Every person's needs were accommodated whether it was seating arrangements or painting a tote bag rather than on a canvas.The mood in the room was very light for laughter and smiles filled every corner. In my opinion, the best part of this experience was the freedom I was given. This painting involved many colorful leafs, and once Lora showed us how to execute the stroke to create the perfect leaf, she left us to make the painting our own. I loved the opportunity to decide which colors I liked best, and to decide what kind of shape I wanted my leaf to have. Once I finished my painting, I was taken back by how great it looked! I received so many compliments and I truly felt like an artist! Although having a drink or two is usually part of the experience, I felt just as fulfilled with my glass of orange juice!
After this class, I 100% believe that Pinot's Palette is for everyone. It is the perfect environment for beginners and unexperienced artists. For my mom, she benefitted most from looking at the original painting and trying to replicate it as closely as possible. This method best suited her painting-style. For me, I enjoyed going step by step as Lora instructed. My sister was constantly working on all aspects of her painting, whether it was making sure the background was blended, or adding color to her tree. In the end, all three of us were impressed and ecstatic with our paintings! I can promise you that even the most unartistic people will leave a class feeling like Picasso! I cannot wait for the next Pinot's Palette class I attend!