Meet the Owners
Local artist Emma Harvey opened Pinot's Palette - Morristown with her husband Chris in 2016 and are happy to celebrate their 1 year anniversary in business at 40 Market Street!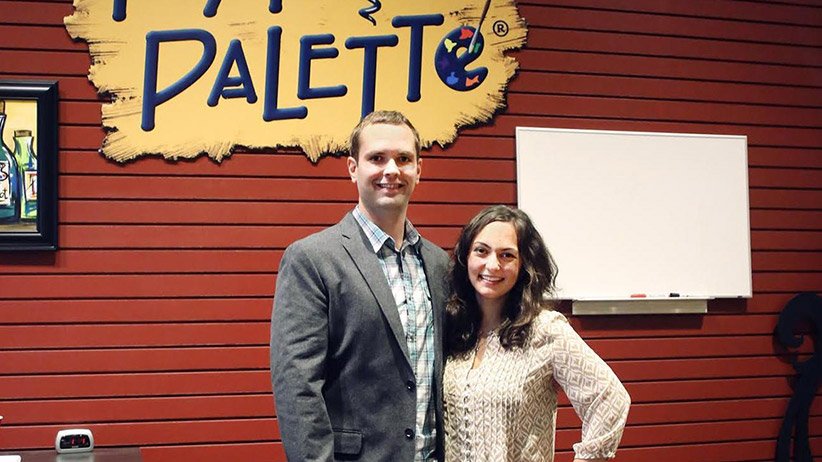 Do you ever wonder what's going on behind the scenes at Pinot's Palette? Emma and Chris Harvey are the mastermind's that keep Pinot's Palette running daily. It's finally time for you all to Meet the Owners:
So Emma, what did you do before Pinot's Palette-Morristown?
"I taught as a middle school art teacher in Florham Park for the last 8 years.
Why Pinot's Palette?
- "I worked part time at Pinot's Palette in Montclair as an artist and instantly fell in love with making people happy and painting. So after Chris and I got married instead of buying a house, we bought a business. I chose Pinot's Palette because it allows me to continue teaching in a more relaxed, fun and entertaining atmosphere. I really enjoy painting with customers but I also really enjoy leading the artists, so as an owner I get the best of both worlds."
What is your best memory in the last year that occurred at Pinot's Palette?
-"One thing I'll never forget is being 9 months pregnant at our grand opening. My best memory since the studio's been open would be hosting a fantastic fundraiser for Mount Pleasant Animal Shelter. It was a private party just for them that was so packed. I love hosting events where we can truly help and have fun at the same time. The painting was a dogwood tree that was chosen because it had the word dog in it, but it ended up being a really pretty painting with pink flowers."
What's your favorite painting at Pinot's Palette and what is the best wine to go with it?
-"My favorite painting is Vintage Ride. I love this painting because it reminds me of my trip to Italy, and there were bikes everywhere. At the end of a busy day of touring, we sat down for dinner and had a delightful red montepulciano wine. The rustic nature of the painting pairs well with the earthiness of the montepulciano wine.
What's your favorite painting technique?
-"My favorite painting is stippling. This technique is used mostly to create tree leaves. Here's a stipple tip: when stippling trees remember to not overdo it, let some of the sky of background shine through."
With the upcoming one year anniversary of Pinot's Palette what are some goals for the future?
-"Some goals we have would be continuing our successful public and private classes while working on building our kid's camp and open studio. In doing so, we hope to extend our painting library onto various sized canvases. "
What's a piece of advice to give to someone who is scared to try a Pinot's Palette class?
-"My best advice is to just forget about your stresses and your worries, grab some friends and let us lead you through. Our paintings are fun and easy so my advice is to come for the experience. Everybody is different and everybody's painting comes out differently. Allow yourself to be creative and bring the wine!"
Chris:
What did you do before Pinot's Palette?
-"I worked for Johnson and Johnson in Morris Plains and then they transferred me to a town near Princeton, but the commute was too much. While Emma and I were living in Montclair, the first Pinot's Palette was opened and Emma was working there. We were gonna buy a house but we loved this so much that we decided to open a Pinot's Palette in Morristown. This opportunity at Pinot's was taking over my time so I eventually left my job at Johnson and Johnson to work full time at Pinot's Palette.
What is your best memory in the last year that occurred at Pinot's Palette?
-"Hosting a fundraiser to benefit the LLS (Leukemia and Lymphoma Society). We had the largest crowd here that we've ever had, and we raised money for a great cause. It was wine glass paintings"
Did you ever imagine yourself being the owner of a Pinot's Palette?
-"No, until Emma took me to a Pinot's Palette and I actually painted I had no interest. I fell in love with the concept especially for someone who's not artistic. Since making that decision we never looked back and it's the best decision we've made."
What's your creative outlet since Emma is the artist of the duo.
"I play the guitar but I haven't played in two years. I was inspired by Marty McFly from Back to the Future. In the movie, he plays Johnny B Goode in the movie and absolutely kills it. I saw that when I was 8 years old and at the time that was all I wanted to do."
What's your approach when it comes to managing artists?
-"I'm very hands off. I let them be themselves. As long as everybody is having a great time and their paintings look great, I'm happy. That allows the artist's to inject their own personality into a class which is what makes it fun. You can't go up there and be something you're not. I encourage them to be themselves and stay true to that.
What's your favorite painting and what is the best wine to go with it?
-"Beautiful Waterfall, it's on oversized canvas and that's my favorite painting because it requires an oversize beer to go with it. The crisp and refreshing waterfall pairs well with Kane Head High IPA. It's a very hoppy beer filled citrus flavors."
What's the most rewarding part of owning your own business?
-"One of the things I want to mention is that I love owning this business because we empower local artists to create artwork for our studio. They receive royalties every time that painting is taught. This allows us to further the growth and drive of local artists. It's also nice having a flexible schedule so I can spend time with my family and my 11 month old son."
Special Spotlight: Vincent Harvey
-Vincent, a bright 11 month old boy, was originally due on Pinot's Palette- Morristown Grand Opening! In the last year, Vincent has shown his interest in the Pinot's Palette studio by redecorating. He can be found picking up paintings around the studio and moving them around. He is also mesmerized by the bright lights in the studio highlighting our collection of paintings. Vincent is always finding something new in the studio, his current obsession with finding paper towel rolls and playing with them.