Super Easy Pumpkin Spice Party Appetizers!
The wait is finally over! It is officially Pumpkin Spice Season!! Celebrate this wonderful time of year indulging in some fun with friends and of course Pumpkin Spice! In all of our classes we encourage guests to bring whatever they'd like to snack on while painting, drinking & having fun! Might we suggest one of these delightful fall treats. Your friends and taste buds will definitely thank you for it!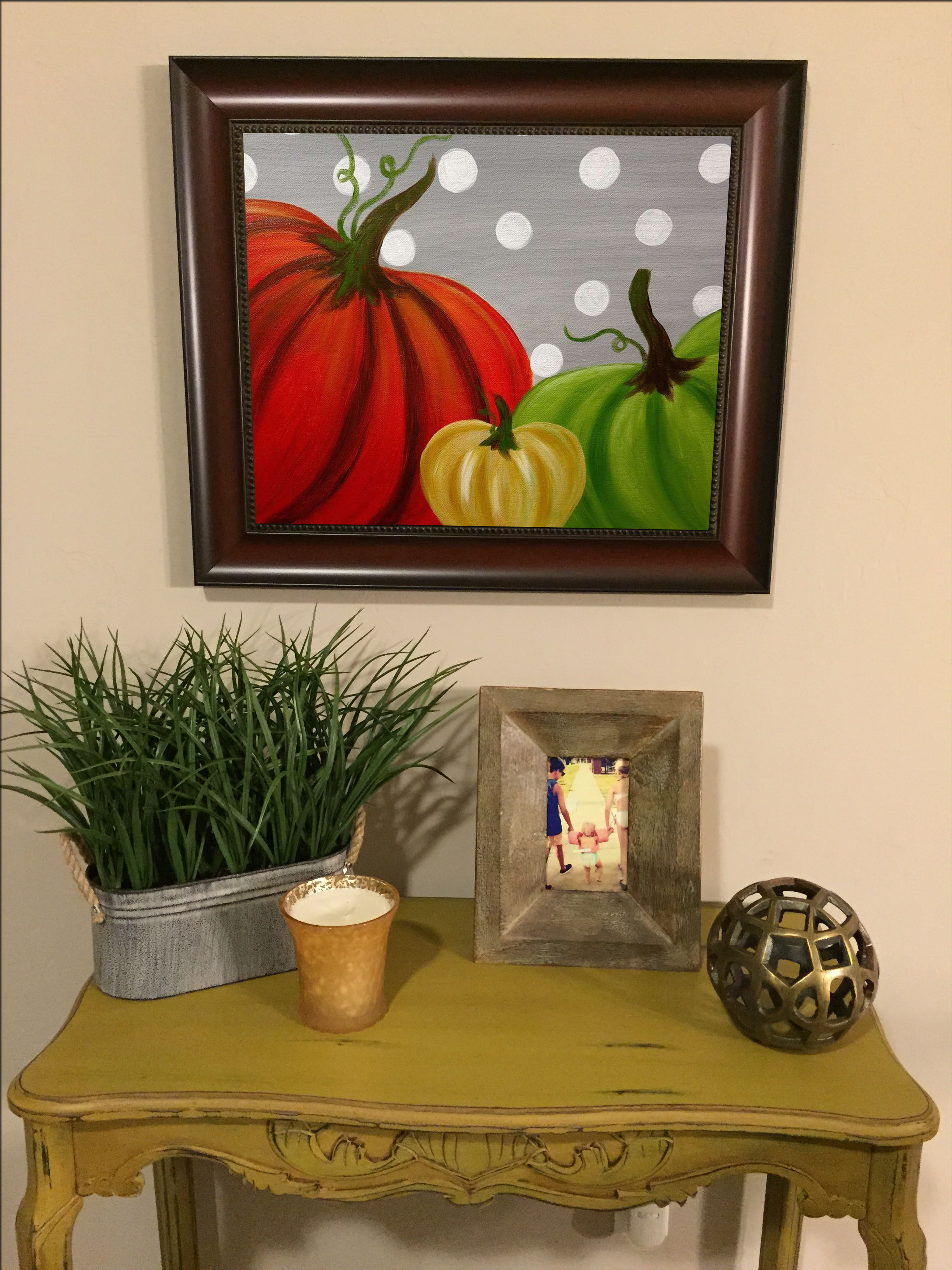 *Pumpkin Spice Seasoning:
INGREDIENTS:
4 tsp ground cinnamon, 2 tsp of ground ginger and ½ tsp of ground nutmeg.
DIRECTIONS:
Place all of the ingredients in an airtight container and sprinkle till your heart's content!
Below are some yummy fall recipes you can add this delightful fall flavor to:
Pumpkin Spiced Popcorn
INGREDIENTS:
1(9 oz.) bag microwave popcorn, 2 tbsp of sugar and 1 tsp of your *pumpkin spice seasoning.
DIRECTIONS:
Mix the sugar and pumpkin pie spice together in a bowl. Microwave your popcorn according to package directions. Open popcorn being careful of steam and pour your mixture into the bag. Close bag and shake until popcorn is coated. Serve in a bowl.
Pumpkin Pie Crescent Rolls
INGREDIENTS:
3 tbsp of powdered sugar, 2 oz. of cream cheese, softened, 1 can (8oz.) refrigerated crescent rolls, 4 tsp of pumpkin butter and pumpkin seeds and caramel sauce for serving.
DIRECTIONS:
Lightly coat a baking sheet with cooking spray and preheat oven to 350 degrees. In a bowl whisk together sugar and pumpkin butter. Separate crescent rolls into 8 triangles. Place 1 tsp of cream cheese and ½ tsp of pumpkin butter on the short straight edge of the crescent roll. Softly roll up starting with the short side of the triangle. Place crescent rolls point side down onto the baking sheet. Bake for 12-15 minutes or until golden brown. Drizzle caramel sauce and sprinkle with pumpkin seeds.
Pumpkin Pie Dip
INGREDIENTS:
1 package (8 oz) cream cheese, softened, 2 cups of powdered sugar, 1 cup of canned pumpkin, ½ cup of sour cream, 1 tbsp of *pumpkin spice seasoning and whipped cream.
DIRECTIONS:
Whisk cream cheese and powder sugar together in a bowl. Combine pumpkin, sour cream, and pumpkin spice. Once everything is thoroughly combined carefully fold in whipped cream.
Serve with apples, graham cracker sticks, and gingersnaps.
Pumpkin Spice Nuts
INGREDIENTS:
Mixed Nuts, ½ cup of sugar, ½ cup of water and a 1 tsp of *pumpkin spice seasoning (depending on how many nuts you have.
DIRECTIONS:
Combine water, pumpkin spice and sugar into a skillet and heat until sugar is dissolved. Add nuts to your skillet and stir until the sugar crystalizes. This will take about 10 minutes. Let nuts cool and enjoy!
These fall treats are great for a party, to give as a gift or to bring with you to nibble on next time you are painting with us! Gather your friends or date and join us for an unforgettable evening of Painting, Drinking & Having FUN!!
Enjoy $6 off per seat with code PUMPKINS18. We can't wait to paint with everyone!! Code not redeemable at Painting It Forward fundraising events, Specialty Events, or Private Parties.
Seats are limited, sign up TODAY!