Houston Staycation & Cocktails!
We all long to go on these amazing vacations to exotic destinations. We daydream of sipping the perfect cabernet under the Eiffel Tower or the discovery of a new paradise. What's the next thing we say?.... one day I'll go. We certainly hope you do go one day, but until then, let's create our own relaxing staycation. Staycations don't get the credit they deserve. Relaxing in your city without the worry of being away from your home is a great stress reducer.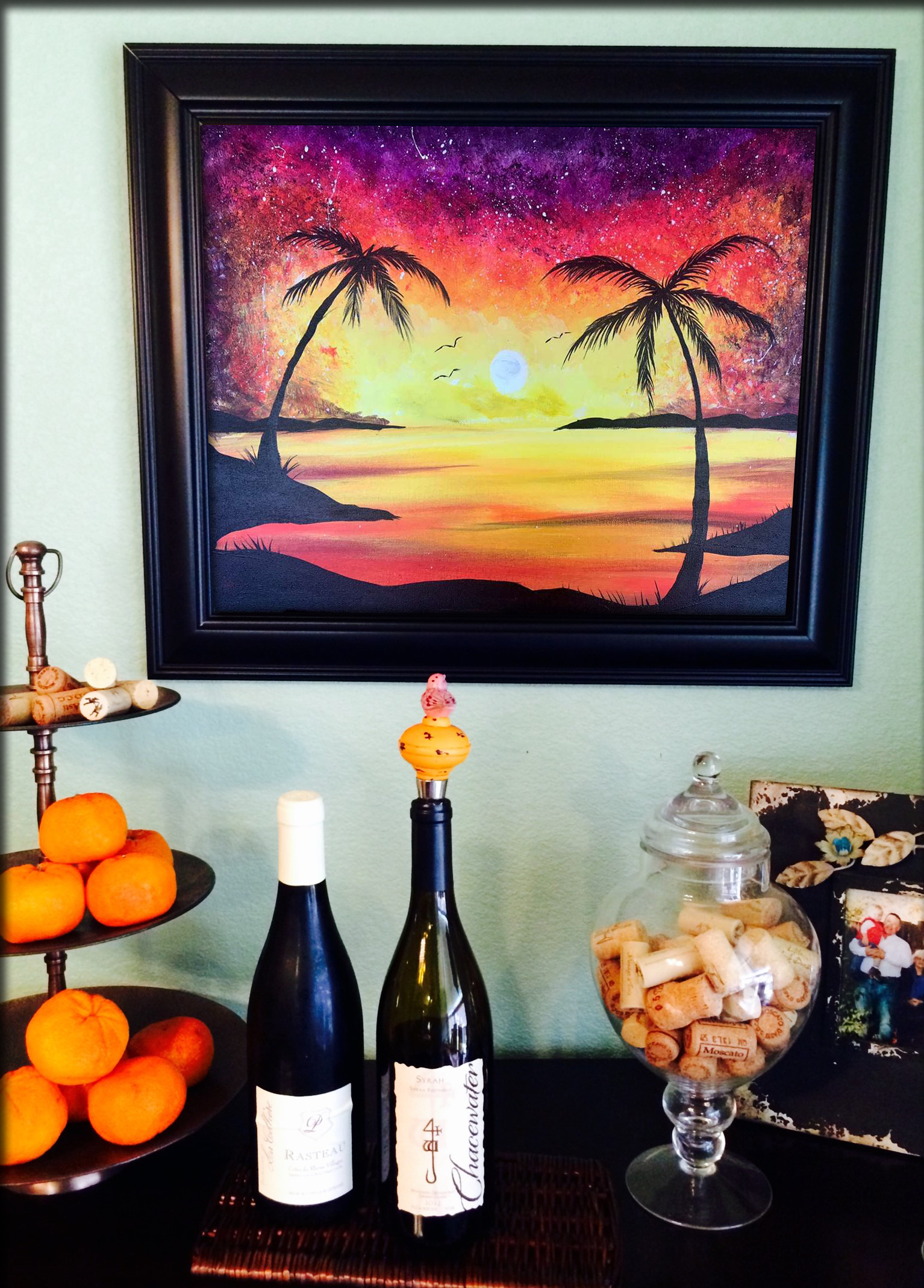 Let us at Pinot's Palette help you escape to your dreamland! We are pairing a painting of your ideal vacation spot with a perfect cocktail to match. Join us as we create paintings of stunning destinations while sipping on a complementing cocktail that will mentally transport you to your ideal getaway! Choose where you would love to slip off to from our classes below:
August 9th "Summer Under the Stars" from 7-9 pm.
Envision you and your sweetheart on a romantic sabbatical to a Caribbean beach. Enjoying the soothing sounds of the ocean and gazing at the most beautiful sunset you've ever seen. Creating "Summer Under the Stars" while drinking a Tropical Rosé, Made with: Chilled sparkling Rosé, Triple Sec, pineapple juice, a squeeze of lime and garnish with a pineapple slice. This refreshing cocktail will transport you and your tastebuds to your island utopia!
August 16th "Paris in the Rain" from 7-9 pm.
You dream of walking the Champs-Élysées in Paris, enjoying the aroma of the freshly baked pastries, gazing at the Eiffel Tower and tasting the finest crepes at a quaint sidewalk café. Retreat to this land and enjoy a cocktail inspired by the movie "Hugo" which is set in Paris in the 1930s, The Lumiere. The Lumiere cocktail is a mix of Gin, St. Germain Elderflower Liqueur, Green Chartreuse, a dash of Orange Bitters, and a squeeze of lime. Serve chilled.
August 30th "Listen to Your Dreams" from 7-9 pm.
Wisk yourself off to the emerald rolling hills of Ireland and the Cooley Peninsula. Imagine yourself at the Cliffs of Moher that hang over the Atlantic Ocean in Western Ireland. Visiting charming little shops and sightseeing in the medieval villages. While painting and projecting yourself to Ireland enjoy a fruity Bulmers Original Irish Cider.
WIN A STAYCATION!
Do you or someone you know deserve a mini getaway and some fun? Pinot's Palette - Memorial City, is giving away 2 free seats to a 2-hour public class, along with a 1-night stay and breakfast for 2 at the Houston Omni Hotel! Enjoy the luxurious amenities & sparkling pool at the Omni Hotel and a night of Painting, Drinking and Having Fun at Pinot's Palette – Memorial City! Go to Pinot's Palette - Memorial City's Facebook page and comment on the "Win a Staycation!" post whom you'd like to nominate and why they are deserving of this Staycation! Winner will be announced August 2nd.
We are a BYOB studio, so you are always welcome to bring to class anything you want to eat or drink! We recommend you create one of the above tasty cocktails to bring to your next event at Pinot's Palette and indulge in your paradise getaway with us!
Enjoy $6 off per seat with code BESTAUG18. We can't wait to paint with everyone!! Code not redeemable at Painting It Forward fundraising events, Specialty Events, or Private Parties.
Seats are limited, sign up TODAY!
Share Join Us For A Staycation! Check our upcoming events! | Throw A Party!