5 Delicious Desserts Made with Wine!
What's better than desserts you say…. desserts with wine! Desserts are definitely our favorite part of any meal, and we know everything is better with wine so let's introduce these two and have a party! Enjoy these 5 wine kissed desserts that are not only simple to make but also perfect for any party. The recipes below are portable and ideal for impressing your friends at your next paint and sip!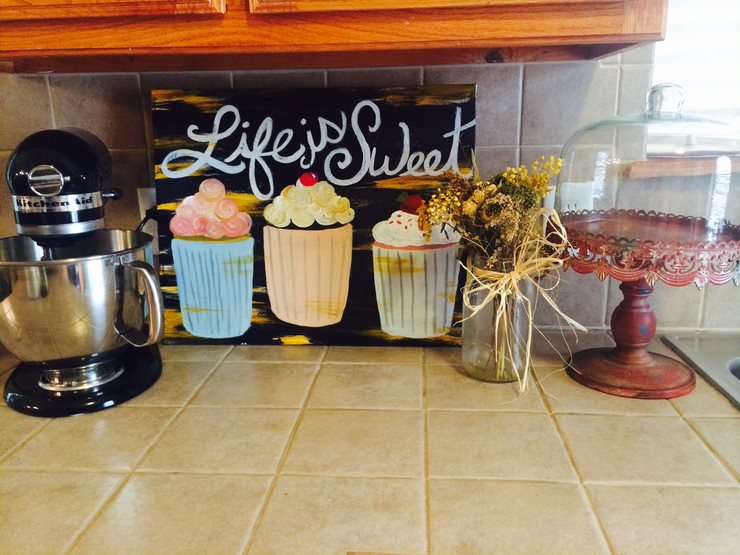 REISLING-POACHED SUMMER PEACHES
Riesling wines are a very aromatic, flowery wine. The bold acidity of Riesling wine pairs beautifully with the sweetness of stone fruits.
Directions:
In a saucepan, combine 2 ½ cups of Reisling wine, ¼ cup of sugar, ½ of vanilla bean with seeds and 1 tarragon sprig. Bring ingredients just to a boil. Add the peach halves and simmer until cool. Refrigerate for 1 hour.
Next, whisk the sour cream with a big pinch of salt. Place the cream in the bottom of each serving bowl. Spoon peach halves along with some of the poaching liquid on top of the cream. Garnish with a spring of tarragon.
DRUNKEN PLUMS & RASPBERRIES
This stunning recipe includes Japanese plum wine! Japanese plum wine is also known as Umeshu. Umeshu is made by steeping the ume fruit while it's still young and green in alcohol and sugar resulting in a sweet and sour taste.
Directions:
In a shallow bowl, whisk 1 cup of the Umeshu Japanese plum wine with ¼ tsp. of ground ginger. Toss in 2 lbs. of plum wedges to the bowl. Bring the plums to room temperature then add 2 pints of raspberries to the mixture. Spoon mixture into small bowls and serve.
MERLOT HOT FUDGE SAUCE
Merlot wine is lighter than other wines such as cabernets and other heavy tannin wines. The light, fruity taste of merlot is a perfect match to the bitterness of the bittersweet chocolate. Try this merlot hot fudge sauce on ice cream or as a fruit dip!
Directions:
Pour 4 oz. of bittersweet chocolate, 1/3 cup of heavy cream, 1/3 cup of light corn syrup, ¼ cup of sugar, 1 tsp of cocoa and a ¼ tsp of salt in a medium saucepot. Simmer for one minute then take the pot off of the heat. Stir in merlot and let sauce stand to thicken. Bring all ingredients to a boil then simmer for one minute, stirring constantly. Remove sauce from the heat and stir in the Merlot. Serve over ice cream or as a fruit dip.
MOSCATO GELATIN WITH BLOOD ORANGES
Moscato is an Italian wine that is delicious on alone or as an aperitif. It has become very popular because of it's sweet and smooth flavor. Because Moscato has historically been described as a dessert wine, it pairs beautifully with tart acidic fruits!
Directions:
In a small saucepan bring a 1 1/2 cup of the Moscato to a simmer. Once the wine is simmering, take off heat and whisk in a ¼ packet of gelatin, stir for 1 minute. Slowly stir in another cup of Moscato wine. Pour mixture into 2 glasses and refrigerate for 4 hours. After the mixture has cooled and become firm, whip 3 tbs of heavy cream and 1 tbs of powdered sugar together. Place blood orange slices on top of gelatin mixture then add a dollop of whipped cream. Serve immediately!
RED WINE CHOCOLATE TRUFFLES
Chocolate Truffles, what do we even say? The words themselves make our mouth water! How can you improve upon perfect….add wine!
Directions:
Heat 1 cup of heavy whipping cream in a pan until it simmers. Pour cream over 16 ounces of semi-sweet chocolate. Gently whisk together 1/3 cup of pinot noir, 1 tbs of unsalted butter and 1/3 cup of unsweetened cocoa powder until all ingredients are smooth. Cover and refrigerate for 2 hours. Line a baking sheet with wax paper and sprinkle with cocoa powder. Use a melon baller or a small scoop and form the entire mixture into little balls. Rool each ball into cocoa powder until coated. Refrigerate for 30 minutes then serve!
We are a BYOB studio, so you are always welcome to bring to class anything you want to eat or drink! We recommend you create one of the above tasty cocktails to bring to your next event at Pinot's Palette and indulge in your paradise getaway with us!
Enjoy $6 off per seat with code BESTAUG18. We can't wait to paint with everyone!! Code not redeemable at Painting It Forward fundraising events, Specialty Events, or Private Parties.
Seats are limited, sign up TODAY!