Team Building with Pinot's Palette!
It's that time of the year again! Can you hear the sweet sound of wine glasses clinking and the roar of laughter from your work besties?! We sure can! Bring your work buddies in for a fun-filled holiday party to celebrate the end of the year! All the long nights and hard work has paid off because now it's time to Un-Wine!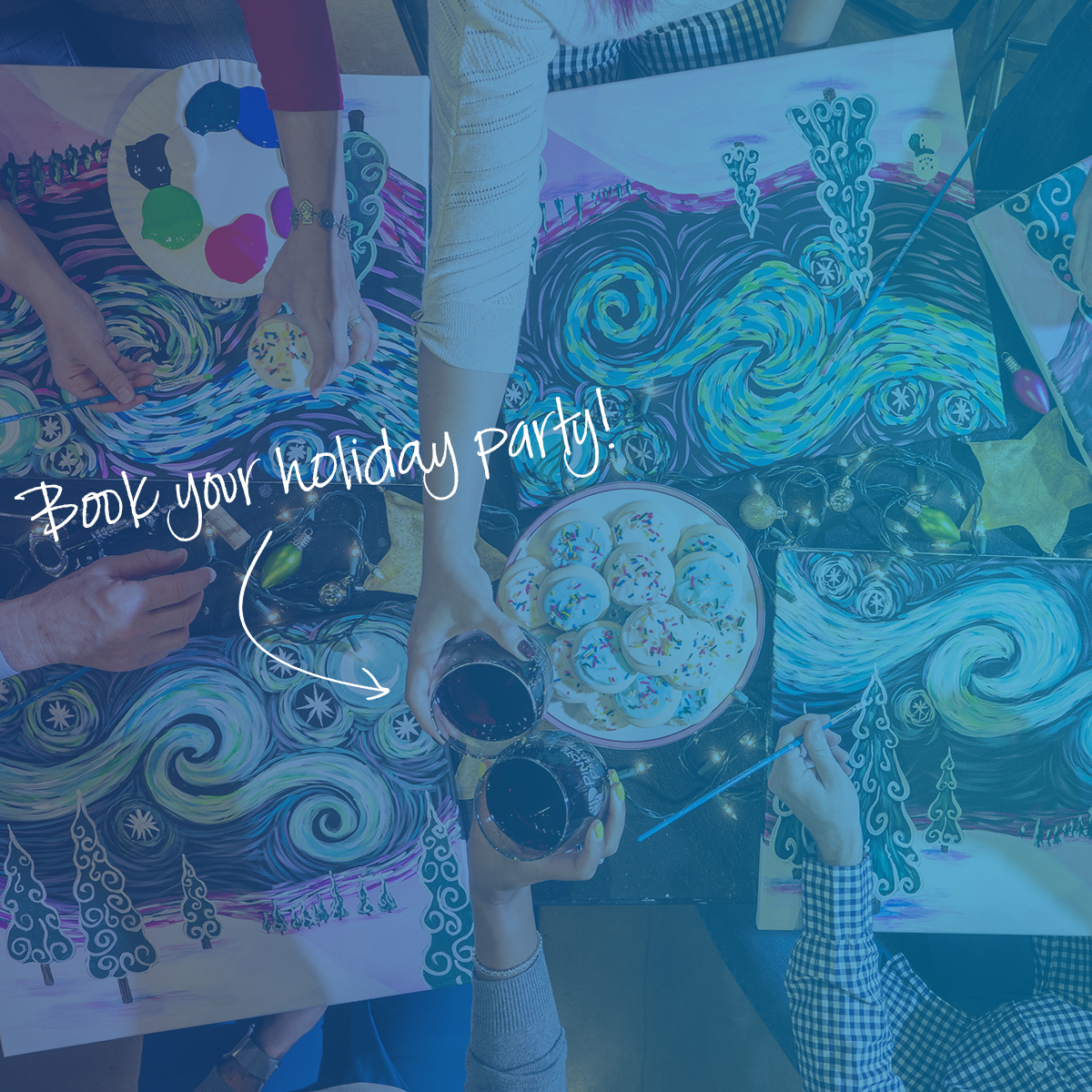 Pinot's Palette at Memorial City makes party planning as easy as pie! We'll take care of the entertainment while you take care of drinks and good food! Speaking of entertainment, we have a variety of team building activities for you and your colleagues to bond over! Your team can always go the traditional route, and have our incredible artists guide you step by step through a painting of your choice OR opt for one of the following activities!
• Musical Chairs! Yes, it's the same game you played when you were younger, except, with a Pinot's Palette twist! Every time our artist is ready to move on to the next step in your painting, they will instruct you to move one station over! This way, at the end of class, everyone will have had a hand in everyone's masterpiece!
• Mystery Painting? How does it work? We will keep the final painting image a mystery UNTIL the very end! Trust our instructors to guide you through the entire class with your team and watch your artwork blossom before your eyes!
• Jigsaw Painting is one of our most popular team building activities! You can turn any of our Pinot's Palette paintings into a jigsaw where you and all your team members paint a piece of the puzzle! It's exciting to see it come together at the very end. We say this option requires teamwork to make the dream work!
• Collaboration painting is where all your guests can paint their own individual canvases AND take part in a larger canvas! You'll have enough time to chat and mingle and also take home your very own masterpiece while you proudly hang your larger work of art at the office!
We offer many team building and party options, where everyone is bound to have a fantastic time! Nothing screams team-building like Painting, Drinking, and Having Fun at Pinot's Palette Memorial City! Keep in mind the perks of booking a Private Event with us! You may cater in delicious food, have access to the entire room for your party to mingle, and even pick the painting of your choice to be featured! Our dates are starting to fill up quickly, don't wait too long! Make this year's holiday gathering memorable!