Summer of Perks!
Escape this Houston heat and enjoy some Cool rewards at Pinot's Palette! Summer of Perks is back and it's bigger than ever! This summer Pinot Perks members will earn TRIPLE CORKS for any class attended through June and July! Perks members will also get to have a little extra fun when attending any Thursday class during June & July and have the chance to win a FREE CLASS! For Perks members, this is truly the BEST. SUMMER. EVER. Join us in June and July to make the most of Pinot Perks!
No idea what Pinot Perks is? No problem! Read on to learn about this fantastic rewards program! Don't forget, it's FREE to become a member!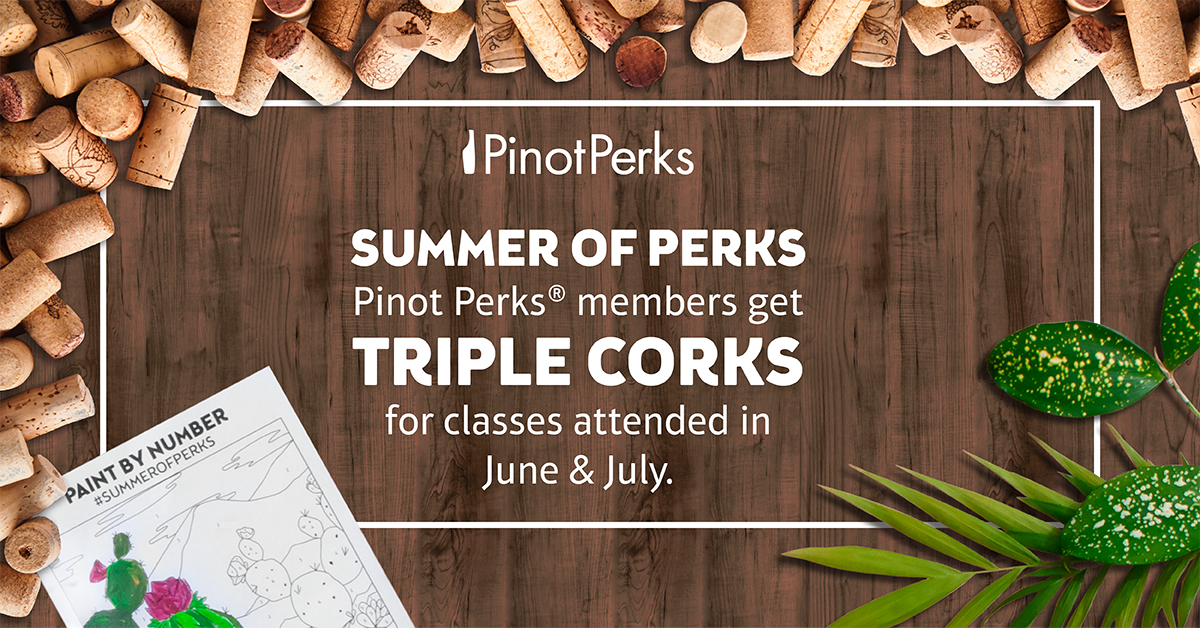 What is Pinot's Perks?
Pinot Perks® is a rewards program by Pinot's Palette. As a Club member, you'll receive exclusive access to birthday and anniversary deals, personalized Perks in your inbox, and more. You'll collect virtual Corks when you visit us, shop with us or invite your friends to join. Each Cork you collect gets you closer to better Perks like free classes and priority seating. Join today and start your collection!
CLUB LEVEL -When you register to become a Perks member you are now at Club Level and have one cork in your account. At Club Level you will receive, Birthday and Anniversary Deals, Personalized Perks in your inbox, Complimentary birthday gift!
COLLECTOR LEVEL – When you collect 12 Corks you are now at Collector Level! At this level, you will receive a
free studio event*, Priority seating, Birthday and Anniversary Deals, Personalized Perks in your inbox, Complimentary birthday gift!
CONNOISSEUR LEVEL - When you collect an additional 12 corks you are now at Connoisseur Level. Fancy, huh? At Connoisseur Level you will receive a free studio event*, priority seating, an exclusive, personalized Connoisseur Card, one additional free class* for every 12 Corks you collect!
How Do I Sign UP?
Signing up is Simple! You can sign up on our website or while you're in-studio attending a class. You can ask your Instructor to sign you up, and all they need is your email. It's that simple! Refer a friend and receive a bonus cork! You can sign up online at
https://www....m/pinot-perks
How to TRIPLE YOUR CORKS!
This Summer, you can earn 3x the corks for registering and attending any class from June 1st - July 31st!
Sign up for sume summertime fun and get $6 OFF your seats! Use code: SUMMER18
*Discount not redeemable at Painting It Forward fundraising events, Specialty Events, or Private Parties.