Paint a Silk Scarf!
Scarves are the perfect accent to any outfit. And the luxurious feel of real silk adds chic style and timeless sophistication with year-round comfort. Tie it on your purse, in your hair, around your neck, around your waist, on your favorite rodeo hat – the possibilities are endless!
Scarves have so many other uses. Hang it on the wall. Adorn a window. Wrap it around a pillow. Use it as a table runner. Perhaps best of all during this holiday season, share this oh-so-personable (handmade by you!) gift with someone you love. Scarves are versatile, portable and beautiful. They're easy to wear, carry, ship and store.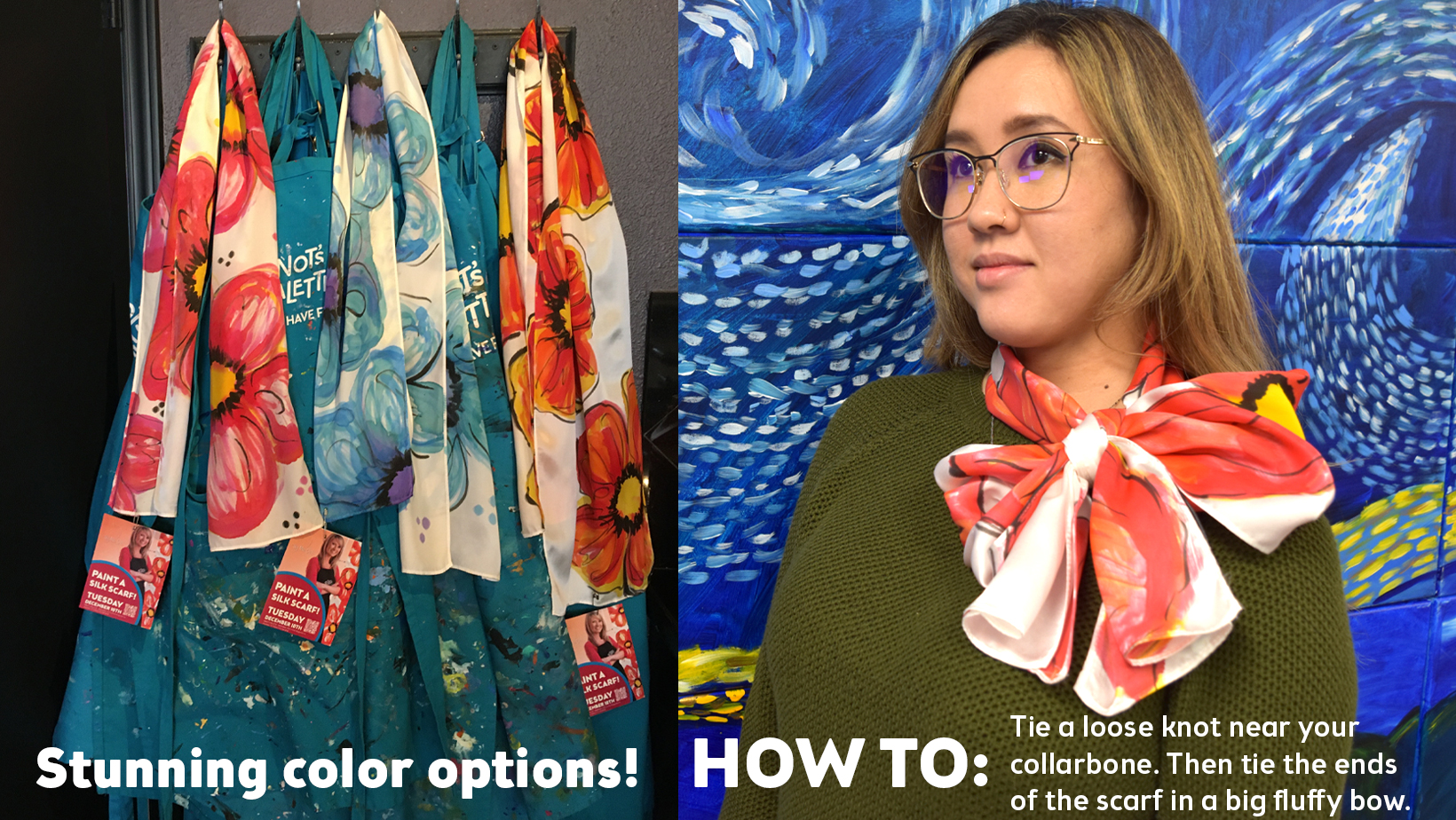 This is the one and only opportunity to paint a silk scarf in our studio. We have partnered with Paint a Scarf to offer this exclusive event. We will guide you through the super simple steps to let the paint flow into a unique and fashionable masterpiece. Paint this fun poppy design or go rouge with the support of our professional artists. Customize your colors, add hidden messages, make it your own!
Gina Murrow, Founder of Paint a Scarf and award-winning silk painting artist, says that people often ask the source of her inspiration. She sums up her motivation so brilliantly: "I've finally found the words to explain—painting lets me communicate when words fail. When I create a painting, I'm expressing feelings that have no words. I pull together colors and tones, lay them out in a pattern, and ta da! A thought, an emotion, a feeling laid out on a canvas."
We absolutely LOVE and admire Gina's colorful (and inventive) story and can't wait to share her creative process with you. She will be in studio to help host and instruct this event.
Sign up today! With the exceptional quality and affordable price of this silk scarf event, we expect to sell out!
Share Sign up today! | Sign up for our special Pinot Perks event!