DIY Faux Finished Wall!
We gave everyone some tips and tricks on Spring cleaning last week, now here's the fun creative part!
After getting the dreadful cleaning taken care of it's time to have some fun re-vamping the space you just cleared out! Pinot's Palette Memorial City knows JUST the thing to do, spruce up your room with a Faux Finish!! It's one of our favorite DIY projects for the Spring! Don't let the name "Faux Finishing" intimidate you, it's just a fancy way of saying 'Textured Wall', and Pinot's Palette Memorial City is here to show you just how simple it is! Faux Finished Walls can be done in any color your heart desires, so pick your favorite color palette and let's paint!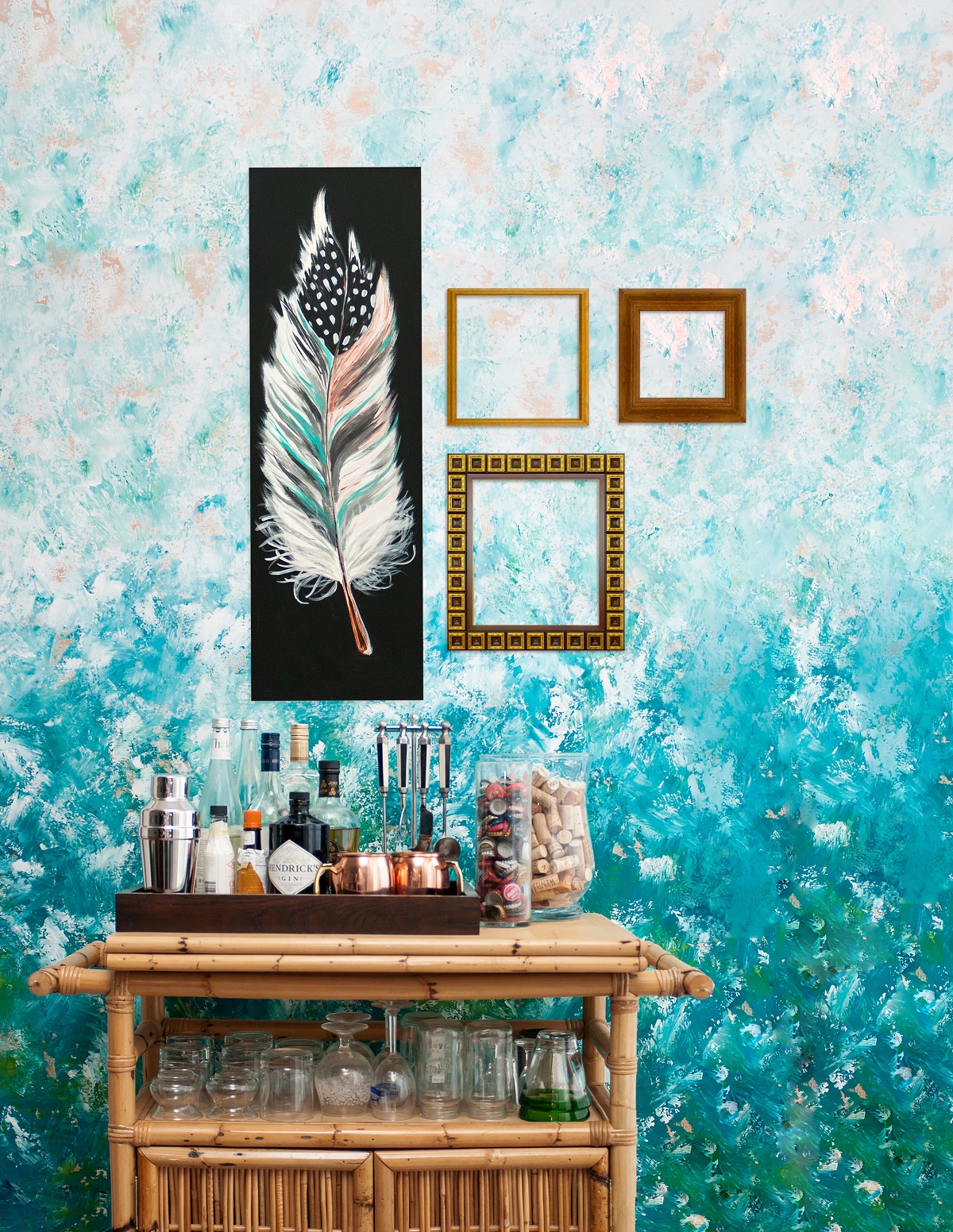 Supplies:
- A blank Wall as your "canvas"
- Drop cloths to protect your work area
- Painter's Tape
- 32oz of Metallic Acrylic Paint, any color of your choice
- 2 quarts of satin finish latex wall paints that are a similar tone
- 1 quart in satin finish latex in white
- 1 small can of thickening gel additive
- Plenty of scalloped paper plates
- 4" chip brush
- 3 medium foil or plastic pans
- Ladder
*TIP! – Choose a space with plenty of natural lighting! Let the metallic accents shine!
Prep your work area by taping off the boundaries of the wall with painter's tape and covering the floors with drop cloths.
1. Use the metallic color of your choice and start to sparsely paint the wall with your chip brush! Make sure to paint in clusters and brush strokes in all directions.
2. Pour the white paint into a pan and add 2-3 spoons of acrylic thickener and stir until thickened. Fold your paper plate into quarters and use the edge of the plate to start applying the paint! Start at the top and work your way down with the white. The coverage should be more condensed at the top and will be loose half way down!
3. Repeat step 2 with the two other colors but apply starting at the bottom and work your way up! Alternate between the two colors, one plate for each color.
4. Wall should be a nice gradient! If you need to blend for a smoother transition, use your paper plate and scrape the colors together. If the paint ends up drying, add a little more of either white or the colored paint to blend! Be careful not to over-blend! The goal is for the wall to remain textured and uneven!
See the magic happen! WATCH THIS FUN VIDEO:
https://www....oxDhfWnA&t=1s
Check out some paintings that will compliment your new wall! We have plenty of Spring paintings booked for March and we can't wait to get creative with you!! Enjoy $6 off any of our regular Public class with promo code SUNNY19 at check out!
Share Start Decorating TODAY! | Join our Fallen Feather Class!