Unique Valentine's Day in Houston!
Whether you love, loathe, can't stand, or can't get enough of Valentine's Day, the holiday is quickly approaching! And let's admit it, no matter your feelings on the day, the last thing you want to do is get stuck in a Netflix and takeout rut! Whether you are flying solo this year, in a new relationship, or been together for years, Pinot's Palette in Memorial City is ensuring your Valentine's is a unique and memorable night out that you'll cherish for years to come!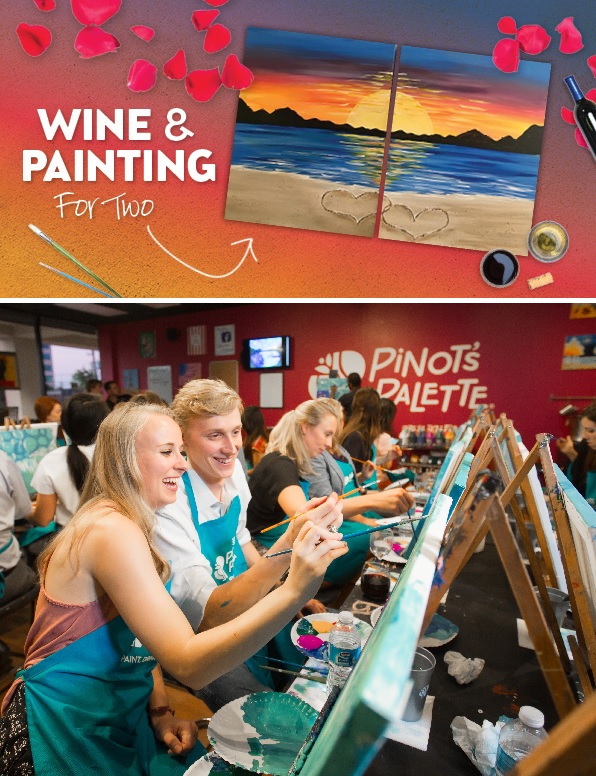 This year, add an UMPH to your usual Valentine date. Spice it up with new experiences and a creative twist! Did you know that being creative with your special someone is actually good for the relationship?! It's true! Breaking out of your normal routine and trying something new and creative together can truly ignite that romantic spark! Absorbing a little culture, with art and wine can be a very exhilarating hobby for couples. Also, give yourselves permission to be silly! We spend a lot of our daily routine being serious and stressed, and you know what? It's 100% good for your soul and relationship to laugh and have fun together! Our Date Night classes are the PERFECT opportunity to do this! We have 7 different painting events scheduled the week of Valentine's. We're also offering 3 'Date Night' paintings, which are paintings that spread across 2 canvases offering the opportunity for you and your date to work together and collaborate to create one large masterpiece!
While at Pinot's Palette, "Disconnect to Reconnect'. Not only are our daily routines filled with schedules, stress, meetings, practices, etc. Our lives are also spent with our eyes glued to the screens! Go the extra mile and give your partner the undivided attention they deserve! 'Disconnect to Reconnect'. Disconnect from your mobile devices to reconnect with those who matter most! Just for 2 hours, focus on having a great time and give your sweetheart your undivided attention the whole night!
GALENTINE'S CELEBRATION
Last, but certainly not least, we haven't forgotten about all our lovely ladies!! Whether you're single or in a relationship, celebrating Galentine's Day is a MUST! In case you're new to this totally awesome day/concept, Galentine's Day is the day where we celebrate all of our favorite lady friends in our lives! It's a fun and healthy way to celebrate independence, close bonds, and the strong beautiful women we can call our friends. Join us on Tuesday, February 12th for our Galentine's celebration!!
https://www..../event/291343
This Valentine's enjoy wine and painting for two at Pinot's Palette in Memorial City, Houston; and experience an extraordinary night out to win your Valentine's heart! Don't forget, our studio is BYOB – we will provide the wine glasses, ice buckets and corkscrews. You're also welcome to bring anything you'd like to snack on during class. Perhaps some chocolate covered strawberries? Or a Cheese and meat tray? We will provide paper plates, napkins, and plastic utensils here at the studio for you!
We can't wait to celebrate this amazing month of love with you all! Cheers!
"Love is a canvas furnished by Nature and embroidered by imagination" ~Voltaire
Get your seats TODAY and take advantage of $6 OFF each seat to any regular public class! Use code: HEARTS19 at checkout.
Share Book Your Valentine's Event! | Check out our Event Calendar!