Art Festivities in Houston Spring 2019
Daylight Savings signifies more than just losing an hour of sleep, it also means SPRING IS ON IT'S WAY!! Pinot's Palette in Memorial City has put together a little list of artsy happenings around Houston to welcome the Spring weather! Here we go!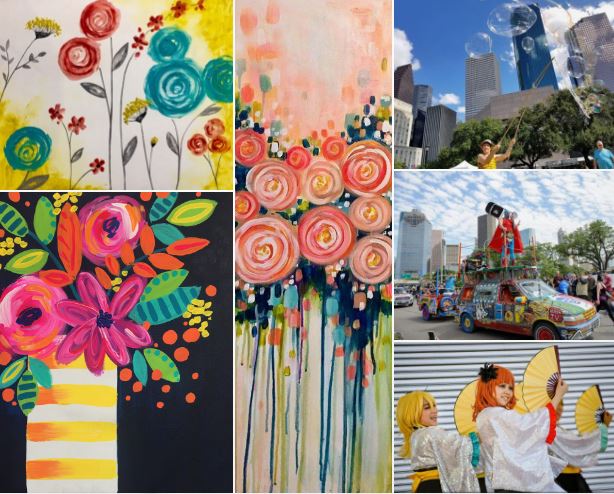 The Art Colony Association will be celebrating their 48th anniversary at the Bayou City Art Festival at Memorial Park from March 29-31st! The festival will feature local artists, live music, food vendors, entertainment and even a little art zone for the kiddos to enjoy!
Speaking of the kiddos, The McDonalds Houston Children's Festival is also happening at the end of this month on March 30-31st! They will have everything from circus acts to food and beverages taking place in Downtown Houston!
Houston also takes pride in something we call the Art Car parade, where hundreds of vehicles that are decorated will make an appearance through the streets of Downtown. The Art Car parade is also an opportunity to mingle with artists and their masterpieces. This event is coming up on April 11-13th!
Staying culturally aware is very important, especially in Houston! We're proud to call our city a melting pot of different cultures and to celebrate this, the Japan Festival is being held in Hermann Park! You can enjoy Japanese music, dances, and food! Other forms of art also include the Japanese Tea Ceremony, origami, and floral arrangements! The Japan Festival is happening April 14th – 15th.
Lastly, let your own creativity bloom this spring at Pinot's Palette in Memorial City, Houston. Our spring calendars are bursting with vibrant colors, that's sure to get you and your home ready for spring! Our Paint Nights are absolutely perfect for a fun girl's night out, romantic date nights, or celebrations of any kind! Also, don't forget you can host your next Team Building at Pinot's Palette – Memorial City! Our Team Building events foster team bonding, communication, ability to follow directions and creative thinking; AND your team will actually enjoy this team outing!! We also offer Mobile events where we bring the pARTy to you! You pick the location, and we'll bring all the supplies and fun! For more information please contact us at 713.973.2086, or visit our calendar of upcoming events! We look forward to painting, drinking and having fun with you this spring! Cheers!
Share Check out the Calendar of Events | Request Party Information